The world can be a perilous place with dangers to life and liberty round every corner.
To boost the odds of surviving, humankind has armored up in all manner of soft materials - - from natural stuff like animal hides and plant vines to synthetic silk and ballistic nylon.
Yet it wasn't until the early seventies, after hitting on two new wonder materials, that Soft Body Armor went mainstream.
From us at Bulletproof Zone, we're putting modern soft body armor under the microscope - - what's it made of, how protective is it, who wears it, and a whole load more.
But let's back up a minute first…
WHAT IS SOFT BODY ARMOR, ANYWAY?
It's one of the two kinds of body armor (the other, no prizes for guessing, is hard armor).
As such, soft armor gear is specially engineered to defend against physical attacks - - namely, from one or more of the following threats:
Bullets

Exploding munitions

Knives/spikes

Tasers/stun guns

Punches/kicks

Improvised weapons like a rock, chair leg, metal pipe, or broken glass bottle
Not to mention, soft body armor's even been proven to protect the occupants of a vehicle in the event of a road crash.
Soft body armor comes mainly as protective clothing and head gear, but also in non-wearable form.
Rather than rigid from using hard substances (like steel or ceramic), soft armor's cushiony and supple. That's because it's crafted from hi-tech man-made threads.
WHAT IS SOFT BODY ARMOR MADE OF?
The fabrics that make up soft armor are composed of fibers which are woven, laminated or, often, a combo of the two.
All boast a phenomenally high strength-to-weight ratio yet flexible. Though each type and grade of fiber lends its own unique qualities.
The first family of soft armor materials are the aromatic polyamides or aramids for short. The most familiar of which and, first produced by DuPont in 1965, still the show-stealing fiber for soft armor is Kevlar.
The next most common para-aramid used in soft armor is Twaron by Teijin.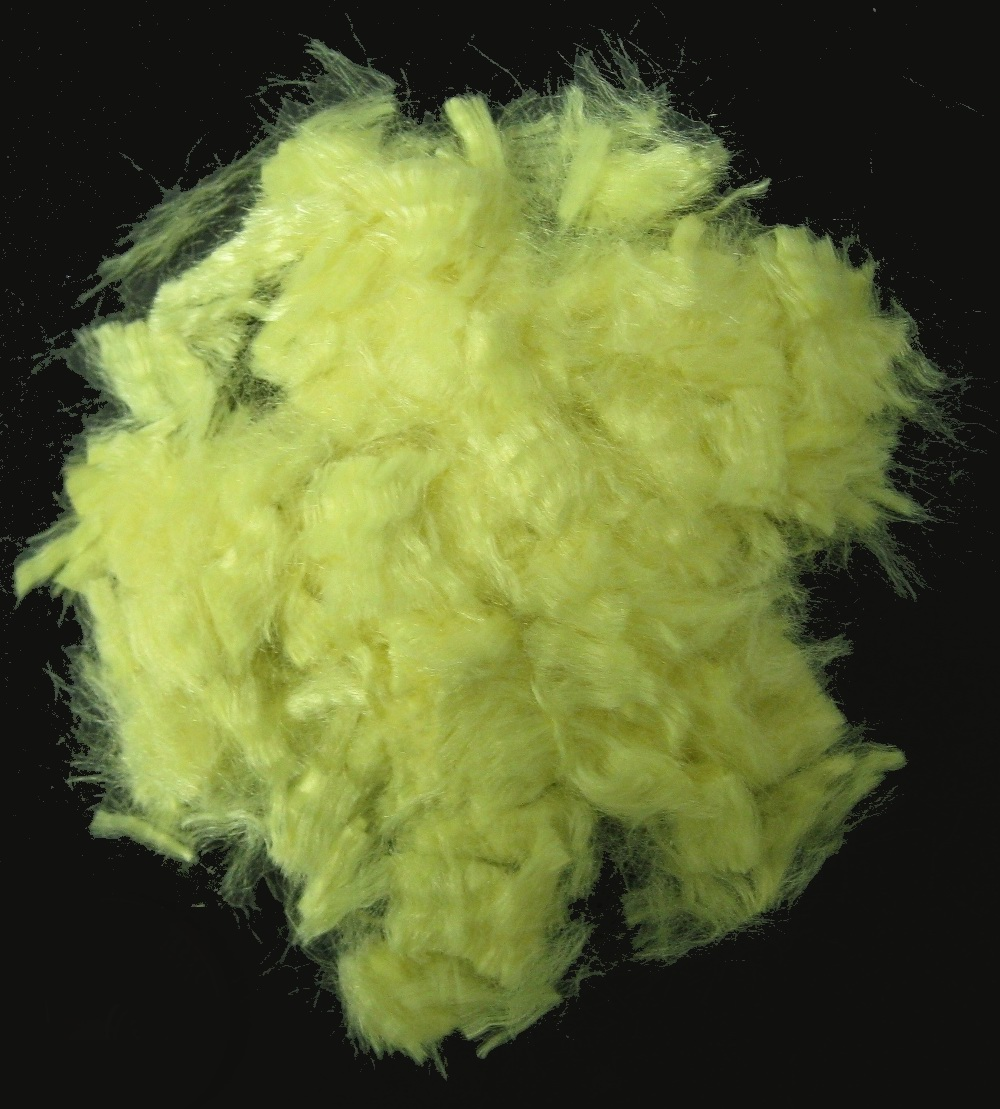 The other main material used in soft armor is Ultra-High Molecular Weight PolyEthylene (AKA High-Modulus PolyEthylene [HMPE]).
It was cooked up purely by chance at a DSM laboratory in 1963. Their Dyneema brand along with Honeywell's Spectra and Gold Flex are now the go-to UHMWPE materials used in soft armor.
While the soft armor of yesteryear was exclusively single fiber (termed 'monolithic'), these days it's normally a composite - - one or more layers of aramid fibers plus one or more layers of UHMWPE fibers working in synergy.
In total, a few to more than a couple dozen layers which are then stacked on top of each other.
HOW DOES SOFT ARMOR WORK?
To all intents and purposes, the fibers in the 'strike face' of a soft armor panel/plate act as a super strong web.
Upon contact, an incoming bullet, say, gets physically trapped in the fibrous netting. What's more, the tip of the projectile gets flattened ('mushroomed') making it far less damaging.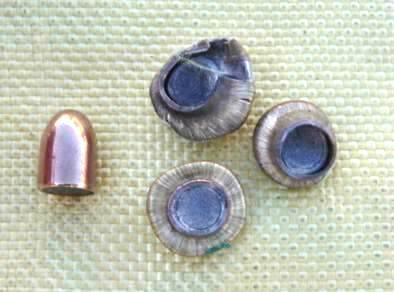 Within a split second of contact, the fabric forces the bullets to repeatedly change direction. In the process, robbing it of most of its impact energy. So significantly less is passed to the head/body.
What's left of the projectile's energy is spread across the entire surface of the soft armor. That way, it's not all focused in one small bullet shot-sized spot.
HOW EFFECTIVE IS SOFT ARMOR?
Nearly all soft body armor's designed, first and foremost, to protect against bullets. Unlike military spec soft armor, the performance of that for law enforcement and civilians differs.
The most internationally recognized standard for ballistic resistance is the United States' NIJ-STD 0101.06. Soft body armor's assigned one of three ratings depending on how bullet resistant it is.
Of the trio, NIJ Level IIA and NIJ Level II are the least protective and sought-after.
NIJ LEVEL IIIA BODY ARMOR
Although marginally pricier, stiffer, and more bulky than Level IIA and Level II armor, Level IIIA soft armor is now the most universally recommended.
Brand new and unworn, Level IIIA body armor is lab-tested to stop penetration of multiple hits from most small arms - - all those of Level IIA, Level II, and up to .357 SIG Full Metal Jacket Flat Nose [FMJ FN] and .44 Magnum Semi-Jacketed Hollow-Point [SJHP] pistol calibers.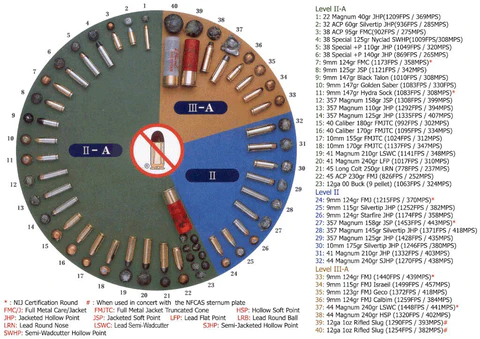 Though not an official rating, soft body armor is sometimes marketed as Level IIIA+. It's used to indicate that the armor can defeat Level IIIA hazards as well as one or more 'special threats' as specified by the manufacturer.
Most commonly, the likes of Liberty Civil Defense 9mm and Five-Seven [FN] 5.7x28mm bullets.
No matter how good it is at beating small arms fire, even the very best Level IIIA body armor is no defense against higher velocity rounds.
Rifle cartridges, for instance, will punch straight through soft armor.
For added protection from rifle rounds, NIJ Level III or NIJ Level IV hard armor inserts (or so-named 'rifle plates') are called for.
As a rule, you can't count on soft body armor providing much protection against bladed or sharp-tipped weapons either.
Seeing as soft armor's generally just fabric, knives and spikes can naturally slash or pierce the armor.
There are, however, a number of soft armor ballistic panels/plates which are embedded with hard materials. Then rated for stab resistance as per NIJ-STD 0115.00 Levels 1, 2, or 3.
And lastly, hardly any soft body armor has the ability to withstand a discharge from an electroshock weapon. Those that can feature a specialized fabric sheet where the current flows through the lining and not the wearer.
DOES SOFT ARMOR EXPIRE?
Just like the textiles in day-to-day garments, Kevlar and UHMWPE naturally break down over time. Usually, manufacturers warrant a shelf life of 5 years from the date the soft armor rolls off the factory line.
Beyond which, soft armor doesn't suddenly stop working. But there's no guarantee that it'll continue to offer the same degree of protection.
It's not so much the years, though, more the mileage - - if soft armor's not maintained or stored properly and worn a lot, then it won't last as long.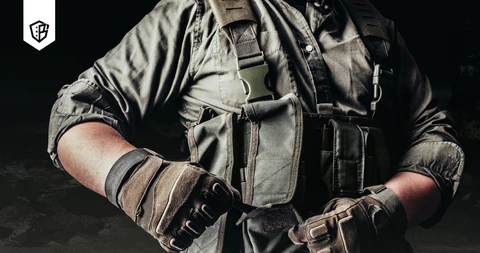 By the same token, excessive temperatures, moisture, and ultraviolet rays will wreak havoc with the fibers. So compromising protection and resulting in the soft armor needing to be replaced.
The same goes if soft armor takes a hit, even once – - otherwise, a second strike in the same or immediate area will likely penetrate the armor (and the wearer with it).
WHAT SOFT BODY ARMOR PRODUCTS ARE THERE?
Because its magic ingredients are lightweight and flexible, soft armor's unbelievably versatile.
Hence the bumper variety of protective wear and other merch featuring it. Here's a run-down:
WHO USES SOFT BODY ARMOR?
MILITARY
Military personnel frequently face a broad range of extreme threats head-on so their body armor is typically rigged with hard plates.
Even so, to achieve the max level of protection, the hard armor inserts are used In Conjunction With [ICW] Level IIIA soft armor.
Ballistic helmets issued to protect armed forces operators, on the other hand, are almost invariably constructed of soft armor materials.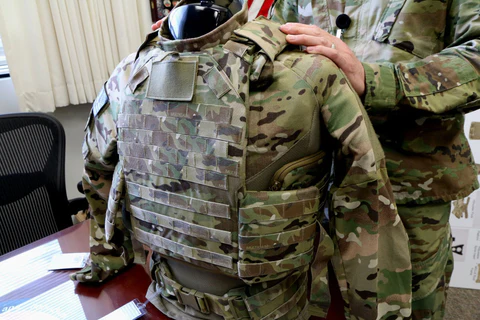 LAW ENFORCEMENT
Police tactical units, like SWAT and DEA, adopt a similar setup of hard armor plates with soft armor backers.
Reserve and regular peace officers stick to soft armor vests that protect largely from handgun fire.
Thanks to the virtues of soft armor, the lighter vests can comfortably be worn for extended periods. And conceal beneath plain clothes or a uniform - - in the case of street cops, so they don't alarm the public and enabling under cover detectives to go low profile.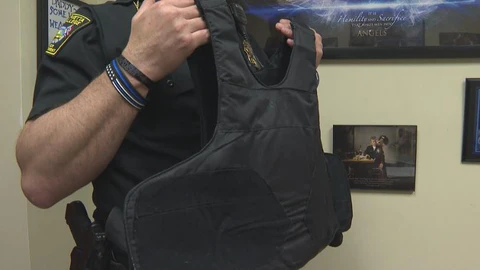 Corrections officers and courthouse bailiffs too plump for concealed soft body armor. Though since the greatest danger in such environments comes from makeshift knives and spikes, vests tend only to be stab resistant.
In both the military and police, point men on door-kicking duty also use bulletproof shields and ballistic masks on occasion; the majority of which are NIJ Level IIIA soft armor.
Bomb disposal technicians routinely gear up in a ballistic visor made of Kevlar/UHMWPE to protect from blast fragments.
Not forgetting military and police K9 dogs are outfitted in special harnesses made with soft armor inserts.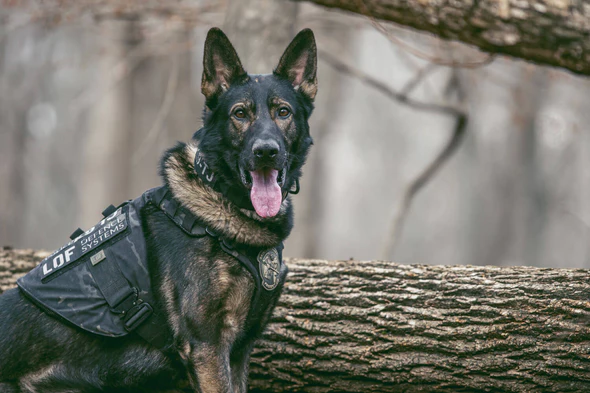 CIVILIANS
Otherwise, private citizens from all walks of life and all ages kit out in soft body armor.
For their job:
Other first responders (ambulance crews and firefighters)

Security guards

Armored truck drivers

Transit workers

Cash machine repairers

Bank and store employees

Bail bondsmen

Overseas journalists
As part of their hobby:
Shoot at the range, on a training course, or in competition

Hunting
in the event SHTF:
Home defense

Living in a high-risk neighborhood or else off-grid

At school
IS IT LEGAL TO BUY & WEAR SOFT BODY ARMOR?
U.S. law says that if you're 18 or over and not guilty of a violent felony, it's perfectly legal to buy, own, and wear soft body armor in public.
The only exceptions being:
NEW YORK SOFT BODY ARMOR BAN
As fallout from the latest spate of mass shootings, Senate Bill S9407B was pushed through. Now, the sale and shipment of 'body vests' (defined in state law as 'bullet-resistant soft body armor') throughout New York is barred outright.
Unless, that is, you happen to work in the military, law enforcement or 'other professions designated by the Department of State'.
And for the time being at least, everyday local residents are okay to still own and wear soft body armor.
In many other nations like America, it's just as legit to snap up or run around wearing soft body armor:
Chile

China

Hong Kong

India

Japan

Mexico

Russia

South Africa

South Korea

The European Union (though each member country may impose its own restrictions further to EU regs)

The United Kingdom

Turkey
Whereas a special license is needed to buy and/or wear body armor in these places:
Argentina

Brazil

Thailand

Several Canadian provinces

Most Australian states/territories
CLOSING OUT
In the last 5-ish decades, soft body armor has provided life-saving protection for untold military, law enforcement, and ordinary folk all over the planet.
Protect yourself by grabbing soft armor, in whatever format, from Bulletproof Zone and benefit from our:
Safe payment system

Complimentary shipping in the U.S. on all orders over 100 bucks

Hassle-free returns
Got a question on soft body armor or your experience thereof you'd like to share? Go for it in the comments section below!