Like extra ammunition during combat, men have been carrying tactical gear on their bodies for centuries.
The how of which has taken many forms over the years. But the go-to solution since the classic Chicom Type 56 of the mid-1950s has been the Chest Rig.
Here at Bulletproof Zone, we're diving deep into the world of chest rigs – – who wears them, their principal features, guidelines for buying, setting them up, the best chest rigs, and more.
Table of Contents:
EXACTLY WHAT IS A CHEST RIG, ANYWAY?
Technically speaking, a tactical chest rig (or tac rig) is a kind of Load Bearing Equipment [LBE].
It's worn around the midriff and used to carry mission-critical stuff (whatever the 'mission' might be).
WHO USES CHEST RIGS?
PROFESSIONALS
Such as those who carry a loaded weapon in the line of duty:
Military operators.

Private security contractors.
EVERYDAY CITIZENS
When taking part in certain leisure activities:
Airsoft and paintball.

Camping, hiking/trekking, trail running, mountain biking, and fishing.

Battle re-enactments.

LARPing and cosplay.

Movie and theater props.

Recreational gunning (at the shooting range, a training course, competition, or hunting).
For disaster or emergency preparedness:
For home defense:
Families keeping an ammo-stocked rig as a safeguard against intruders.
WHAT ARE THE MAIN FEATURES OF A CHEST RIG?
While there are scores of brands and models of tactical chest rig, they all share the same key components:
PLACARD
Oriented horizontally, the placard is the main panel of a chest rig. It may be just a small front panel or else wrap around the front and sides of the body.
The placard is the main place on a rig where gear is kept/attached.
CARRIER SYSTEM
Some rigs have a back panel, either built in or available to buy separately. Most chest rigs, though, feature a harness which hooks up to the placard via waist and shoulder straps. There are 2 major types of harness:
X-harness
More old school with the shoulder straps crossing at the back.
H-harness
Each of the shoulder straps is separated at the back by a cross strip – – and which is usually strengthened, it serves as a drag/grab handle to pull a downed wearer to safety or else as a means to carry the rig.
POUCHES & POCKETS
Not surprisingly, pockets and pouches are used to store things in. They may be supplied with the rig or not. If present, the compartments will either be permanently sewn in or detachable.
To stop the contents from falling out while on the move, it's customary for them to have some sort of closure (like a sealable flap or a zip) or retention (like a bungee cord or a non-slip lining).
ATTACHMENT POINTS
Whether just dotted about or found all over, such fixtures are there for accessorizing the rig. Extra gear or additional pouches can be tacked on in a couple of different ways:
What's more, rigs typically come with a number of Velcro platforms. Onto which can be attached the likes of an ID/Identification Friend or Foe [IFF] badge, insignia, flag, or morale patches/tags.
WHAT ARE THE BENEFITS OF A CHEST RIG?
More specifically, the rewards of bearing tactical equipment on your chest:
VERSATILITY
Whilst hitching gear to a plate carrier or tactical vest has its merits, they're also more time consuming to put on and take off. Neither is there a choice to wear the carrier/vest and the gear independently.
By segregating the carrier/vest and the gear, there's the opportunity to use either one alone or both at the same time.
SCALABILITY
Despite the fact that only a precious few models can carry protective plates, most chest rigs are easily worn over body armor.
STORABILITY
Without built-in armor, chest rigs can be rolled up or folded so take up minimal space when being put away.
PORTABILITY
No other load bearing solution is as plentiful or as open-ended for carrying tactical gear on the body as a chest rig.
ACCESSIBILITY
The gear in a rig is right at your fingertips so available in a flash. As long as it's organized, there's no need to dig around behind or beside you for items.
And because the load-out is raised on the body, you'll still have easy access to your gear when crouching, squatting, or kneeling.
MOBILITY
Chest rigs stay higher in your center of gravity so out of the way of the hips as well as freeing up your hands.
The majority of the weight is taken on your shoulders and off of your waist so you'll be lighter on your feet.
And since the weight's carried higher on the torso, chest rigs help to conserve energy when moving over level ground (though not when traveling uphill or over bumpy terrain).
Without any other tactical gear on your back, hopping into and out of a vehicle wearing a rig is far less troublesome. And perching on a chair or against a tree more comfortable.
WHAT SHOULD YOU LOOK FOR WHEN CHOOSING A CHEST RIG?
With so many on offer these days, selecting a worthy chest rig can be tricky.
Yet it can be paramount for those who engage in combat scenarios where the right rig could mean the difference between life and death.
Equally, needing a tactical chest rig to wear for days at a time won't be the same as one that's dumped in your car trunk in case of a local or national crisis.
With that in mind, here's some pointers on what to consider when in the market for a chest rig:
FIT
No matter how epic the features and specs of a chest rig, they'll pretty much pale into insignificance if it doesn't fit properly.
Other than less mainstream chest rigs with a back panel, first figure out which type of harness would best suit your build:
H harness
Greater carrying capacity and more efficient weight distribution.

Easier to don/doff.

Better adapted to work with body armor.

Might be too big for those with smaller bodies.
X harness
Tends to hug the body better on those with smaller frames, and gives better back and chest support for ladies.

Comfier to wear.

Goes well with low-profile chest rigs in keeping bulky articles out of the way.

More prone to riding up when running.
In any case, the harness straps should be fully adjustable and secure. Pay particular attention to those on the shoulders – – too chunky and they won't function well when low visibility is called for; too thin and they won't be able to cope with much load.
Unless you're planning to run the rig over armor, plump for padded straps to help reduce back strain when lugging your load-out.
MATERIALS
Originally, chest rigs were made from cotton. Though canvas can be supremely hard-wearing, nylon is the go-to material for tactical chest rigs nowadays.
Cordura in particular is reputed for being exceptionally rugged and long lasting. To say nothing of it's superior abrasion/tear resistance and water repellency.
Still, you don't want your rig busting a seam or, worse, the straps ripping at an inopportune moment. So make sure the stitching is tight, and preferably cross-stitched. And look for reinforced stitching in those parts of the rig which will be subject to the most abuse.
Aside from the threads, see to it the zippers are heavy-duty and go with a reliable brand such as YKK. Same goes for the buckles, like the quick-release clips from ITW.
Finally, for peace of mind, check that the rig comes with a manufacturer's guarantee.
COLOR/PATTERN
Deciding which color/pattern of rig to go for will depend on which environment(s) you'll be using it in.
Adequate for most situations are the likes of coyote brown/tan or olive drab. To best blend in with your surroundings, opt for multicam. If you'd rather stand out a mile, have the rig black.
MODULARITY
Chest rigs vary hugely in just how customizable they are.
Although rare, some types of chest rigs consist of nothing but pouches/pockets with no PALS rows/columns whatsoever. Hence, you're stuck with the size and number of pockets/pouches included and no opportunity to tweak the rig.
The positives are that at least there's no hassle or expense of having to add MOLLE pouches and extra gear. With the added advantage of being ready to go out of the box so ideal as a starter rig.
By far the most common chest rigs are those that come with a mix of modular pouches/pockets and some PALS attachment loops already installed.
These purpose-built rigs too are good for immediate use, but also offer a degree of flexibility for expansion.
Lastly, there are the chest rigs which comprise zero pouches/pockets and only PALS fields. Granted, there's no choice except to buy modular attachments to deck out the bare rig – – and that requires time, effort, cost, and some expertise.
But a full MOLLE chest rig is the most adaptable option of the lot – – with the freedom to choose both the type and position of extra gear to add on, the rigs can be tailored to your heart's content. They're the best bet for veteran rig users or those planning to use the rig for multiple applications.
STORAGE CAPACITY
Given the foremost reason for having a chest rig is to carry gear, it's only logical to invest in one with enough room to accommodate such.
Think about the type, size and amount of tactical necessities you'll be taking on-person into the field.
Specially so if you'll be cramming the rig with ammo - - what type(s) and how many mags will the rig need to hold?
Perhaps with a little extra space for redundancy; or if the circumstances under which you'll be using the rig changes and calls for adding other gear.
But not so much you can't lay your hands on the item you need at a moment's notice.
HOW MUCH DO CHEST RIGS COST?
It's seldom possible to shop for the best tactical chest rig without also factoring in the price.
At one end of the spectrum, you could snag a second-hand military surplus oldie for under 30 bucks. At the other, splash out 350 big ones and upwards on a shiny new modern rig with all the bells and whistles.
As a guide:
Budget chest rigs go for less than $75, but normally trade features and standards for affordable prices.

Mid-range chest rigs run to $150, but generally offer more features and improved quality.

Any more north a price and we're talking top-of-the-line chest rigs.
Besides the spend on the rig itself, you may have to fork out for extra pouches or other extra gear. Perhaps even to do your own mods.
Then there's the expense of the gear going into the rig – – and on that subject...
WHAT CAN YOU KEEP IN A CHEST RIG?
Precisely what bare essentials to stash in your rig will depend on the activity you're using it for.
A Law Enforcement Officer [LEO] on patrol, for example, will load up with radically different tackle to someone on a tenting trip.
Beyond the obvious firearms ammo (like pistol mags), to give you an idea of what other gear can potentially be put in a chest rig:
HARDWARE
Comms - radio and cell phone.

Navigational aids – GPS tracking device, compass, and paper map.

Flashlight or glow sticks.

Multi-tool.

Handcuffs (for LEOs).

Field knife.

Spare batteries.

Duct tape.
SELF-PROTECTION
Pepper spray (for LEOs).

Smoke canisters and stun grenades (for LEOs and military personnel).

Handgun holster.
HEALTH & SAFETY SUPPLIES
PERSONAL EFFECTS
Important documents.

Notebook and pen.

Wallet/purse or other valuables.
EATS
HOW DO YOU SET UP A CHEST RIG?
Once you've got your rig and the items to go in it sorted, you'll need to fix it up.
In a nutshell, so the rig fits correctly and feels comfortable with the load compact and readily accessible. At the same time, so the weight is minimal, and well balanced.
MOUNTING THE CHEST RIG
FITTING
Where the back straps cross (in an X harness) or connect (in an H harness) should sit in between the shoulder blades. Whereas the hip strap should rest around the lower back.
Work the various straps and buckles so the rig cinches up nice and snug to the body – – tight enough that it won't fall off under stress but loose enough to enable quick and free movement.
POSITIONING
Ultimately, the exact whereabouts of a chest rig on your torso will be influenced by the type of rig you're using as well as its load-out.
All the same, it's best practise to arrange the rig so that the bottom of the placard is aligned to the base of your rib cage; just above the belly button and at least an inch above the beltline.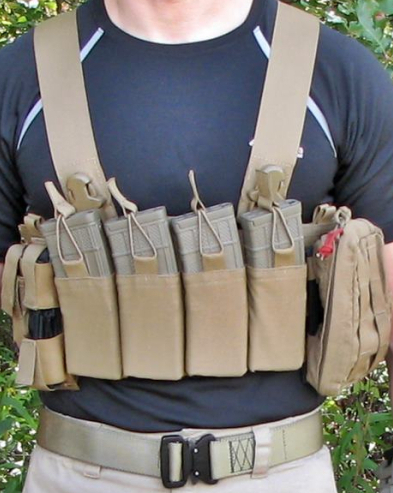 That way, the rig won't hang so low as to interfere with anything strapped around your waist. And won't be wedged awkwardly beneath your stomach if lying prone.
By the same token, the rig won't be set so high as to affect the ease and speed with which you can access the most important items.
LOADING THE CHEST RIG
PLACEMENT & ORGANIZATION OF GEAR
For sure, the most vital (or most frequently used) items should be within grabbing distance. In the midst of a firefight, say, when every second counts, you'll want fresh ammo mags for reloading placed at the very front of the rig.
By laying out gear in the same manner every time, you'll learn to memorize their position. Before long, you'll be blind reaching for items in an instant without taking your eyes off what's happening around you.
Less crucial stuff that doesn't need to be fetched in such a hurry can be put in harder-to-reach pouches/pockets.
To minimize bulk, load items in as streamlined a way as possible – – not jutting out or dangling everywhere off the rig.
That way, the gear doesn't hinder your freedom of movement, distract you or, if appropriate, impair your marksmanship.
Remember, pouches included can often be detached (and MOLLE pouches always).
Whilst MOLLE-compatible webbing allows you to control the horizontal and vertical position of attached accessories; and can also be used to feed through comms wires and a hydration drinking tube, to boot.
WEIGHT & DISTRIBUTION OF GEAR
As a rule, less is more when it comes to the mass of stuff in your chest rig. And this is more valid than ever if the rig is to be used for survival prepping or bugging out. It's okay to leave pouches/pockets unfilled and attachment points unused.
Along with keeping the rig light, it's imperative to spread the burden so as to avoid back strain. This can be achieved by doing one or more of the following:
Stowing the heaviest things as close to your center of mass as doable.

Splitting items evenly between both sides of the rig.

Offsetting a rig that's front heavy with a small similarly weighted assault backpack.
If unaccustomed to using a chest rig, don't forget to break it in fully loaded to condition your body posture. Yes, even if you're the athletic kind.
Then sport the rig every chance you get to the point where utilizing it becomes second nature.
WHICH ARE THE BEST TACTICAL CHEST RIGS?
Whatever your motive for seeking out a chest rig, there's one for every occasion, every level of experience, and every budget.
Of course, you can always browse the Bulletproof Zone chest rigs collection.
Or instead check out what we reckon are among the best chest rigs out there today – – kicking off with our most popular tactical chest rig of all...
BEST SELLER CHEST RIG
Warrior Assault Systems' kit is in service by some of the planet's most elite military and police crews. In a word, combat proven.
Features & Specifications
Slimline H-type harness with fully adjustable shoulder and back strapping.

4 open-top fixed bungee-corded inner pockets.

2 open-top removable elastic mag pouches with PALS coverage. Easily swapped out for any of WAS single, double, or triple stack mag pouches.

Plus detachable Velcro-flapped rubber-lined two utility pouches on either side.

The PCR can be worn as a modular stand-alone chest rig. Otherwise, it can be unstrapped and connected, via ITW clips and Velcro panel, to just about any other plate carrier – – including full contact with the Warrior Assault Systems' Recon Plate Carrier [RPC], Low Profile Carrier [LPC], or Covert Plate Carrier [CPC] for either of low or high viz ops.

Made from genuine U.S. Military Spec materials and hardware, all treated to give the lowest possible infrared signature (99.8%).

Mostly 500 Denier Cordura with robust stitching, reinforced in certain areas.

Black, Coyote Tan or, complete with Murdock webbing, official MultiCam.

One size fits most.

Roughly 660 grams (empty).
BEST VALUE CHEST RIG
If only thanks to millions of airsofters, Condor Outdoor has become the number one name in chest rigs bar none.
Admittedly, their battle-ready Modular Chest Set isn't something you're going to carry on a combat tour in the Middle East. But to get a feel for a MOLLE chest rig, and unbeatably priced, you just can't go wrong.
Features & Specifications
Sleek harnessless design for max comfort.

Fully adjustable wide cushioned shoulder straps and waist band for a personalized fit.

Removable chest bib.

Set in the uppermost section of the back panel is a strong drag/grab handle.

6 fixed open-top M4 carbine and AR/AK rifle mag pouches, each with bungee elastic loops.

Internal mesh pocket, on each side of the rig, for strategic storage.

Sturdy PALS loops across the shoulder straps, rear pocket, waist band, and front panel.

Stars an integrated 17" tall hydration pocket at the back of the rig which can hold a 3 liter water bladder (not included).

Solid 500D tactical nylon material with decent quality stitching throughout.

Black, Coyote Brown, Olive Drab, or splurge a little on the genuine Scorpion Operational Camouflage Pattern [OCP].

Sized from M to XXL (a waist size of 38" to 55").

Weighs a touch under 1.4lbs (without load).
RELATED MODELS
Though not as generously featured, an even bigger bang for your hard-earned buck are the Condor Modular Chest Panel and Condor Modular Chest Rig.
Honorable mention should also go to the equally raveworthy Condor Recon Chest Rig (MCR5) - - which includes no less than 3 kangaroo style mag pouches and holds up to six pistol mags.
BEST PREMIUM CHEST RIG
AKA the Disruptive Environments Chest Rig X, the expedition type D3CRX is 'designed and optimized for work in urban, vehicle, rural and other confined settings'.
A less civilian and more professional grade rig adopted by an array of armed forces and Special Weapons And Tactics [SWAT] units on deployment.
This particular model of Haley Strategic chest rig even stars in the first-person shooter video game Escape from Tarkov!
Features & Specifications
Detachable X type harness.

4 rifle mag pouches big enough to carry 5.56 AR, AK 7.62 x39mm, or 5.45 x 39 mags.

4 pistol mag pouches.

All 8 mag pouches can be secured by shock cord and Hypalon retention tabs.

Plus, flanking the mag pouches, a pair of Multi-Mission large pockets.

The D3CR-X can be used as a rig in its own right. Or, using either of the placard's full backing field of hook-and-loop or with the matching quick-connect system (such as SwiftClips), run over a plate carrier.

Materialed in 500D Cordura with a good amount of reinforced stitching in those areas subject to the most abuse.

Black, Coyote, Disruptive Gray, MultiCam, Ranger Green, MultiCam Black, MultiCam Arid, MultiCam Tropic, or M81 Woodland.

Universal sizing.

Around 1.5lbs (empty).
RELATED MODELS
The D3CRXH (Disruptive Environments Chest Rig X Heavy) is an upgraded version of the D3CR X and adds support for nearly any .308 caliber rifle mags.
BEST MINIMALIST CHEST RIG
The uber-slender Ten-Speed M4 is for those after a concealable chest rig – – even loaded up, it can be worn discreetly under loose fitting clothing without printing on the garment above. But works just as well worn overtly on top of body armor.
Like all Blue Force Gear merch, the Ten-Speed M4 comes with a lifetime warranty.
Features & Specifications
The ergonomic H style harness is very adjustable courtesy of the wide shoulder and back straps.

The connecting strap at the rear can also be used as a drag/grab handle.

4 sewn-in Ten-Speed® mag pouches. When not at stretch, they rest almost completely flat against the chest rig.

2 wings, on either side of the front pouches, each with a 3x3 PALS grid for pistol mag pouches or utility pouches.

A couple of pull tabs at the top of the placard provide quick access to an 18"x6" inside hook-and-loop-fastened admin/document pocket.

Backing fabric crafted from 500D Cordura.

Each Ten-Speed pouch is made from Blue Force Gear's own hi-tech laminate, ULTRAcomp®, for exceptional retention of the contents. Not to mention, it sheds liquids, is flame resistant and can even self extinguish in the event of catching fire.

Either of Black or MultiCam.

Single size fits a wide variety of users.

A mere 0.7lbs unloaded – – narrowly missing the title of world's lightest chest rig by its relative, the Blue Force Gear MOLLEminus.
BEST MICRO CHEST RIG
From Helikon-Tex's RANGE line of products, the TMR is a true all-rounder – – designed particularly for competitive and recreational shooters, but no less capable for those who aim to use the rig for a 'fighting load'.
Features & Specifications
H-harness with detachable, adjustable shoulder straps and hip belt, and Woojin Plastic composite buckles.

4 AK/AR rifle mag pouches (2 built-in and 2 removable), each with bungee retention.

4 fixed pistol mags pouches with Velcro-secured flaps adjustable with position markers.

Front and center of the army-trended mini chest rig is a large zippered cargo pouch with internal organizer and mesh pocket.

Underneath which, a slightly smaller removable zippered accessory pouch.

Hook-and-loop mesh pocket behind the main pouch.

A scattering of PALS attachment straps.

3 Velcro patches for attaching morale patches or mounting MOLLE gear.

500D Cordura with reinforced stitching in places.

Black, Olive Green, US Woodland, Coyote, Adaptive Green, Flecktarn, MultiCam, Shadow Gray, A-TACS FG, Pencott Wildwood, Black/Shadow Gray, Coyote/Olive Green, or Shadow Gray/Black.

One size fits most body types.

622 grams.
BEST RECCE CHEST RIG
An earlier form of Blackhawk's iconic Commando rig was worn by many a Western military contractor during the War on Terror campaign.
This iteration of the rig stems from the United States Navy SEAL Commando Chest Harness. And adopted by a range of special forces squads in the U.S. Army and Marine Corps.
Features & Specifications
Wearable as either an H-strap harness or an X-strap harness.

Broad fully adjustable waist and shoulder straps contain closed cell foam padding for increased comfort.

Sans pouches, almost the whole rig is covered in Blackhawk's very own 'Soldier Tactical Retro Integrated Kit Enhanced' webbing system. With virtually no space between the attachment strips, users are free to lash on just about any S.T.R.I.K.E. or MOLLE add-on.

The front chest panel houses a pocket which accepts a single Small Arms Protective Insert [SAPI] plate up to 10.5"x13.25" (sold separately).

When not carrying a ballistic plate, the pocket can be used to store paperwork and whatnot.

Made of heavy-duty tactical nylon with stitching stout and reinforced in spots to take extreme treatment.

Whichever of Black or MultiCam.

Regular size fits girths up to 50".

Approximately 1.5lbs (empty).
WHAT ARE THE ALTERNATIVES TO A CHEST RIG?
Chest rigs aren't the only option for hauling tac gear in the field. Save shoving tactical bits and pieces into trouser or jacket pockets, there's also:
Bandoliers.

Battle belts (with or without suspenders).

Carrier bags.

Fanny packs.

Leg rigs.

Rucksacks and sling packs.
Each have their virtues and shortcomings, and actually sometimes worn in combo with a chest rig.
Overall though, chest rigs can carry more stuff than a bandoleer, combat belt, thigh rig, or waist pouch. And provide speedier access to items versus a pack or bag.
Not forgetting that plate carriers are also engineered to load carry. Plus, they provide ballistic and/or stab/spike protection – – which begs the question…
WHAT IS THE DIFFERENCE BETWEEN A CHEST RIG & A PLATE CARRIER?
With the clue in the name, plate carriers hold hard armor inserts largely made out of steel or ceramic. Worn with the plates at the front, usually the back and sometimes the sides, their purpose is to safeguard the wearer's life.
Chest rigs, on the other hand, are designed expressly for load bearing and that's it.
SO WHICH ONE SHOULD YOU GET?
When the threat of a physical attack is likely (and stealth less of a concern), plate carriers are the order of business.
When direct action isn't the priority but reaction and response time is, chest rigs worn on their own will get the job done perfectly fine.
As it happens, though, chest rigs and plate carriers aren't necessarily mutually exclusive.
In the armed forces and law enforcement especially when incoming fire is expected, the two are often twinned – – either by simply throwing the rig over the plate carrier or, via a Velcro backing panel and corresponding clip system, the rig docking directly with the plate carrier.
SUMMING UP
From wilderness adventures and survival prepping to airsoft tournies and front-line conflicts, the chest rig is an indispensable means for toting around task-essential tools and supplies.
What's more, snap up the best tactical chest rig or add-on through Bulletproof Zone and enjoy:
Secure payments.

Free shipping in the U.S. on orders over $100.

Easy returns.

Satisfaction guaranteed.
As the proud owner of a good chest rig, care to share your experiences of using one? Have your say in the comments box below!