As a local, state, or federal police or law enforcement officer [LEO], unless you're tied to your desk day in, day out, you know the job's inherently dangerous.
And how, no matter how well-trained you are, sometimes situations can turn ugly, fast.
What with gun crime and especially knife attacks on the rise, you don't need to be reminded of the value of being kitted out in protective vests or similar body armor whilst on sworn duty.
Though bulletproof gear in its strictest sense is still firmly in the realm of science fiction, bullet-resistant tactical vests and the like are proven lifesavers for police in particular.
During the last 3 decades in the United States alone, the lives of several thousand law enforcement officers (not to mention countless military personnel) have been spared thanks to wearing bulletproof tactical vests and plate carriers.
Sadly, not all serving police officers are fortunate enough to be supplied vests by their precinct or receive donated protective gear from a charitable organization.
Even those police officers for whom it's mandatory wear may be issued hand-me-down tactical vests and such which have been poorly maintained, compromising the level of protection.
That, or peace officers find new department regulation vests uncomfortable, ill-fitting, or too hot to wear.
Yet other police, in the interests of self-preservation, have little choice but to dip into their own pockets to pay for personal body armor.
The Police Vest from Yesteryear to Today
Body armor for police and law enforcement officers has come a long way since Smith & Wesson marketed the 'Barrier Vest' back in the early 70s.
Now, there's a head-spinning amount and variety of modern day body armor up for grabs – soft armor panels and hard armor plates; ballistic, stab/spike, and multi-threat resistant gear; and concealable versus overt vests, to name just a few sorts.
Quite apart from knowing what to look for when choosing police body armor, remember also that what may work for one particular role in police/law enforcement may be far from ideal for another.
So at Bulletproof Zone, to save you the time and trouble, we've curated a line-up of some of our top picks of body armor engineered especially for police and other law enforcement officers.
TABLE OF CONTENTS
Vests
Plate Carriers
Auxiliary Body Armor
Top Police Vest & Law Enforcement Body Armor
VESTS
Concealable Vests
Concealable bullet/stab-proof vests are meant to be worn beneath casual wear or a police uniform and go unnoticed by both regular citizens and criminals.
As such, these vests are most suitable to wear for undercover detectives, plain clothes investigators, FBI agents, and even front-line police officers who need to be approachable to the public yet protected throughout extended shifts.
Stealth PRO Concealed Bulletproof Vest Body Armor
• Soft armor panels made of 100% Dupont Kevlar. Customizable to National Institute of Justice Standard 0101.06 Level II or IIIA ballistic protection, NIJ-STD 0115.00 Level 1 or 2 edged blade protection, as well as Level 1 or 2 spike protection.
• SAPI pockets on the front and back of the vest can each accommodate a 10"x12" NIJ Level III or Level IV hard armor plate for additional rifle and sub-machine gun round protection.
• Durable, body contoured, and lightweight (5.5lbs) vests.
• Coolmax mesh lining provides improved breathability and moisture wicking, leaving the wearer cooler and more comfortable.
• Quickly adjustable waist straps and side panels for extra protection and an optimum fit.
• Available in either black or white, a choice of 7 sizes (small to 4XL), and a trio of lengths (short, normal, and long).
• Also available in FemPro version vests specially made for women police officers.
Overt Vests
Bullet/stab-proof tactical vests are designed to be worn over plain clothes or a police uniform, and to stand out as a visible deterrent.
At the same time, not surprisingly, tactical vests are most suited to be worn by tactical ops crews given the added benefits of being modular for carrying service gear, and quicker to remove should the vested police officers' be injured on duty.
Legacy Level IIIA Tactical Vest
• Highly popular and affordable vests.
• Front shooter's cut soft armor panel composed of aramid fibers, and dual-threat rated for NIJ Level IIIA ballistic protection plus E1 spike/stab protection.
• Optional armor inserts for back panel (10"x12"), side panels (6"x6"), or both.
• Compact, low weight (under 5lbs fully armored), positively buoyant carrier vest with fully adjustable shoulder straps and quick release hook-and-loop belting.
• Modular Lightweight Load-carrying Equipment [MOLLE] webbing front, back, and sides for mounting police gear.
• Legacy's tactical vest comes in 4 colors (black, coyote, green, and gray) as well as half-a-dozen sizes (small to XXXL).
Covert/Tactical Vests
BulletSafe
BulletSafe Bulletproof Vest VP3 Level IIIA - NIJ Certified
• Hands down, the best value concealable body armor for police/law enforcement officers there is.
• NIJ-certified wrap-around ballistic panels consist of a unique blend of aramid and polyethylene fibers - classed among Level IIIA+ since the vests are also capable of protecting against most stab/slash attacks from edged/spiked weapons.
• Small signature, gender-neutral carrier complete with breathable lining; carrier itself is made of rugged 600 Denier polyester fabric and features a hook-and-loop area for placement of an identity badge.
• Now with Action Flex Technology offering extra cushioning for an even more flexible and comfortable wear.
• Up for grabs in 8 sizes (XS to 4XL) with vests weighing only 3.39lbs to 6.90lbs.
• Can be accessorized with...
BulletSafe Tactical Front Carrier
• Turns the covert VP3 vest into a tactical vest complete with multiple rows of MOLLE straps for holding police service tools/supplies/gear such as a baton, pepper spray, or stun grenades.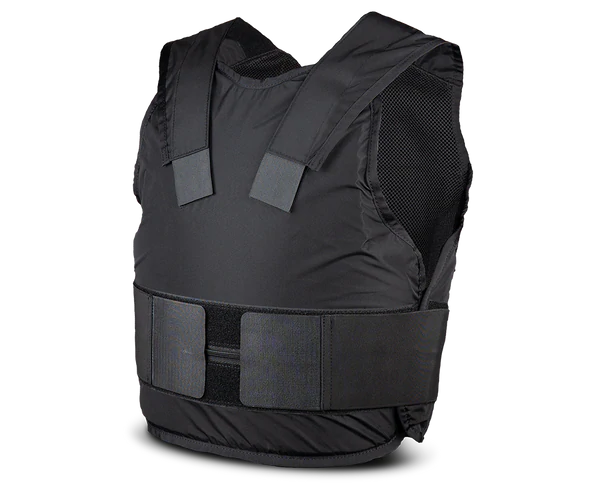 • Minimalistic design of carrier with a custom spacer mesh that circulates air, keeping the body cool.
• Very thin shoulder and side straps make the vests far less conspicuous.
• Ultra lightweight (averaging just 4lbs) vests.
• The vest comes in black or white.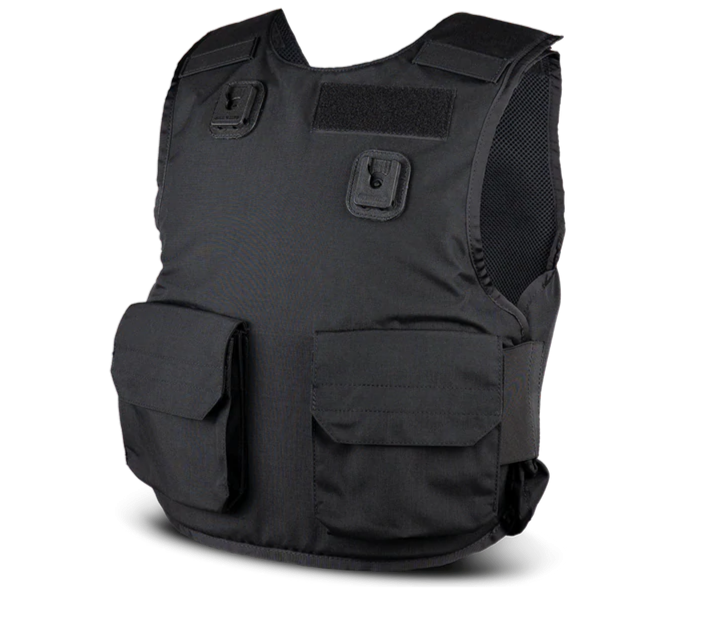 • Twin KlickFast compatible docks on the front to securely attach police gear like body cams and radios.
• Dual front-facing utility pockets.
• These tactical vests can be had in plain black, or otherwise in yellow, navy blue or black with hi-viz reflective tape.
K9 Vests
Let's not forget armored vests for police dogs.
Especially since canine officers are often sent in ahead during the apprehension of suspects, when detecting narcotics, sniffing out explosive devices, tracking fugitives, or engaging in search and rescue.
Armor Express
• The K-9 body armor of choice for German Shepherd Aston of the Evanston Police Department and endorsed by the Wisconsin Vest-A-Dog program.
• Wide range of pricing from economical upwards.
• The vests are produced by one of the top ten body armor manufacturers in the U.S.
• Affords belly and chest coverage with bullet resistance to NIJ Levels IIA, II, or IIIA and stab/spike protection at Level 2 or 3.
• Covered zipper closures to prevent snagging of the dog's fur and skin.
• BOA System with micro-adjustable dial and hidden dynamic cummerbund for a precise custom fit.
• Front and side insignia patches, GPS tracking pocket, 3D spacer mesh lining, and in-line crowd control handle.
• Available in 8 colors (black, coyote, LAPD navy, multicam, OD green, ranger, tactical gray, and tan 499) with alpha sizing.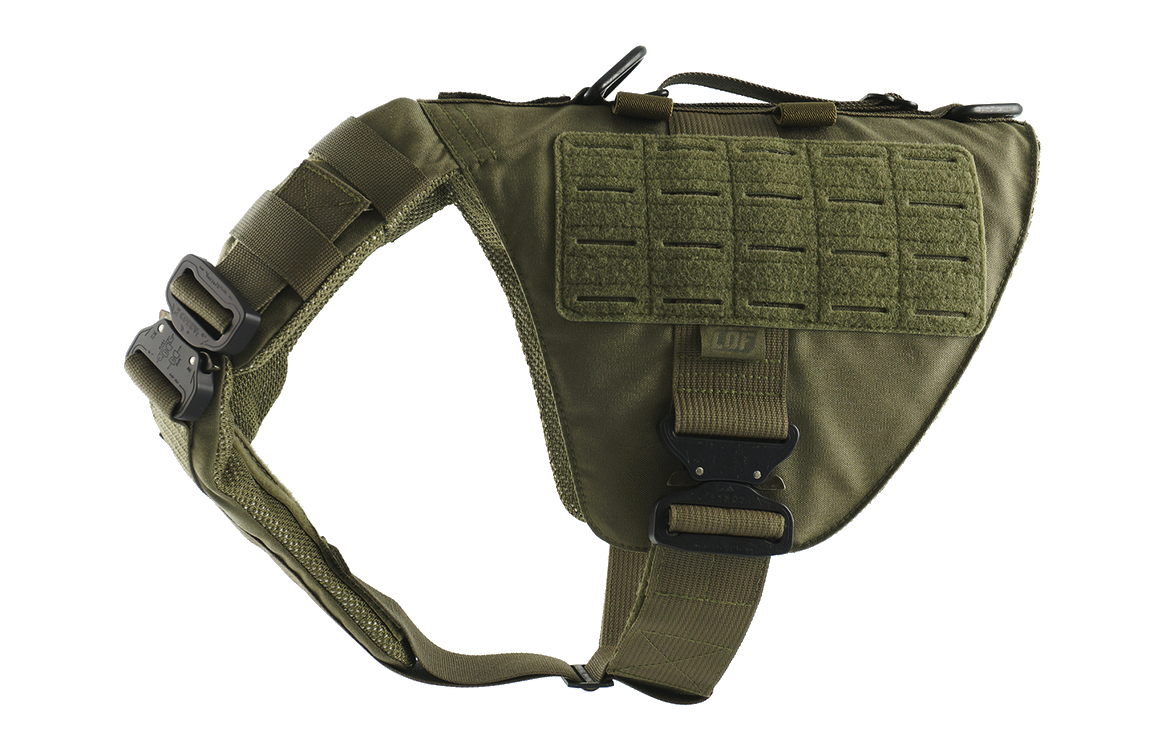 • Rigs out K9s in Mendon, Abbotsford, Lawrenceville, South Fulton, Pendergrass, Westport, Parma, and Austell Police Departments, among others.
• Interchangeable soft armor panels rated at NIJ Level II or IIIA for ballistic protection, and Levels 2 or 3 for stab/spike protection.
• Long-lasting, ergonomically cast, and lightweight (up to 4.4lbs) carrier vests.
• Built-in layer of Outlast thermo-tech fabric helps keep the dog's body temperature cool.
• Floatation-assisted harness.
• Selection of 10 colors/patterns (Multicam, Multicam Black, Multicam Alpine, Black, Navy Blue, Ranger Green, Wolf Gray, Coyote Brown, OD Green, and Blaze Orange) with specially tailored sizing options.
PLATE CARRIERS
Concealed Plate Carriers
DL Concealment Plate Carrier & Flex Fused Core Soft Armor Panels
• Supremely cost-effective all-in-one covert plate carrier.
• Bottom-loading carrier vest running on either of 10"x12" or 11" x14" NIJ Level IIIA ballistic-only panels.
• Else, switch out the supplied soft armor with the manufacturer's own Level III AR500 Omega or Level III+ AR550 hard armor plates.
• Extremely low profile, ultra-minimalist design using 500 Denier nylon/polyethylene material mix, making for a particularly rugged, comfy carrier that flexes and bends with the wearer.
• 4" fully adjustable elastic cummerbund and 2" shoulder adjustment with integrated mag holders for speedy reloading.
• Sold in a handful of colors (Black, White, Tan, Multicam, and OD Green).
Tactical Plate Carriers
Banshee Elite 3.0 Plate Carrier
• World-renowned overt plate carrier used during critical incidents by Special Weapons And Tactics [SWAT], Multi-Assault Counter Terrorism Action Capabilities [MACTAC] units, and officers of the Los Angeles Police Department.
• Bottom-loading vest pockets accept SAPI or shooter cut hard armor inserts up to 10"x12"; cummerbund pockets accept two Banshee Elite 3.0 NIJ Level IIIA soft armor inserts.
• Super lightweight, streamlined design perfectly balances mobility, utility, and protection.
• Constructed of rip-stop and water-repellant 500 Denier Cordura with 3-dimensional spacer padding on the front, rear and shoulders for better ventilation and lessened pressure points.
• Laser-cut load-bearing MOLLE platform on the front, back, and removable cummerbund for carrying police gear.
• 34 inch-extendable drag handle; incorporated vertical nylon strips for connecting to Quick Attach Surface Mount [QASM] chest rig buckles; and a rear hydration pocket that can accommodate a 2 liter bladder.
• Choose from 4 colors (Black, Coyote, Ranger Green, or Multicam), and either of small/medium (32"-39") or large/extra large (39"-46") cummerbund sizes.
AUXILIARY BODY ARMOR
Tactical headgear functions to safeguard one of the most vulnerable parts of the body from thrown projectiles and impact weapons as well as bullet rounds.
In fact, where police/law enforcement officers are concerned, the head is the area most targeted by felons.
Plus, so-called battle helmets normally incorporate a rail system for attaching additional gear.
Although not standard issue wear for regular police officers, they're especially worthwhile during active shooter incidents or when at risk of a violent assault.
Galvion Batlskin Armor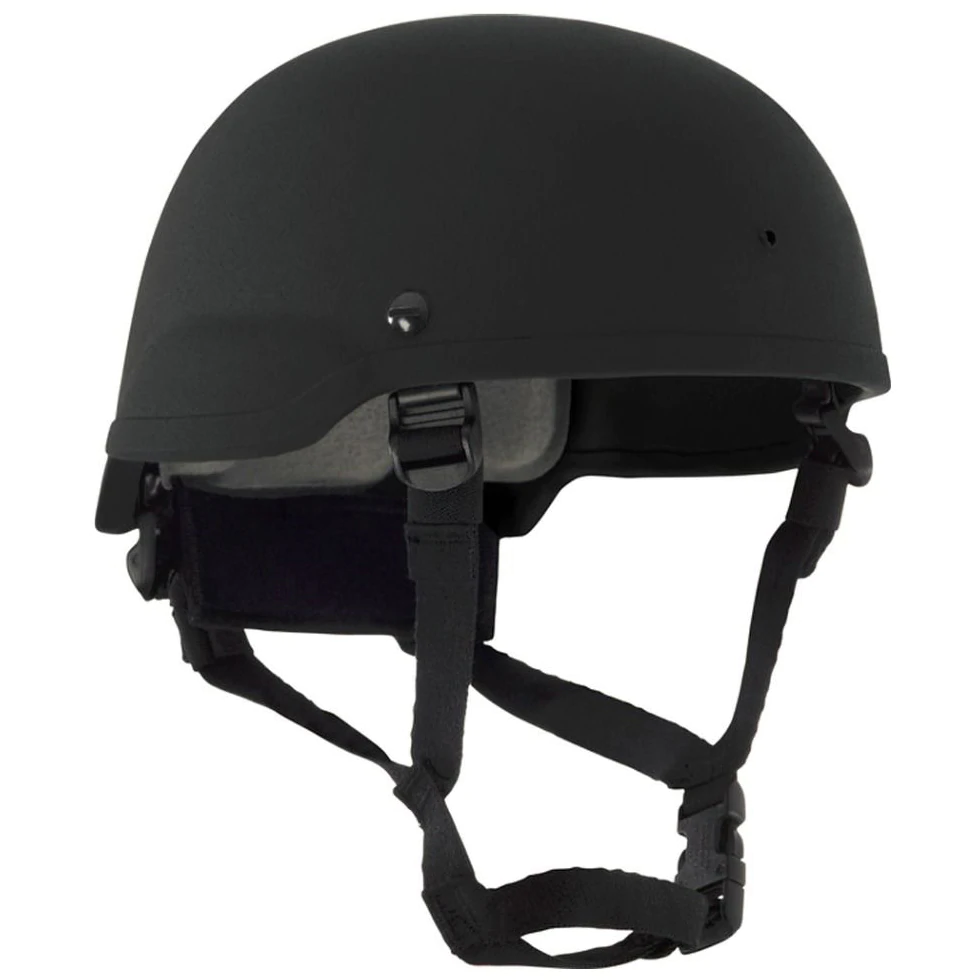 • In service with the Galveston Police Department, and helped an Orlando SWAT operative survive an otherwise fatal head shot.
• Advanced Combat Helmet [ACH] type, and mid cut at the ears for integration with a chem/bio mask, face shield, comms, Night Vision Goggles, and related articles.
• Made of monolithic aramid material, and provides bullet resistance to at least NIJ Level IIIA.
• Scalable with a suite of modular components including front mount, interlocking rails.
• Set of 7 liner pads for added impact protection, and which can be moved for optimal weight distribution and a more comfortable fit.
• Supplied in Small (2.54lbs), Medium (2.70lbs), Large (2.89lbs), or Extra Large (3.23lbs); and in Black, Tan 499, or other colors by special order.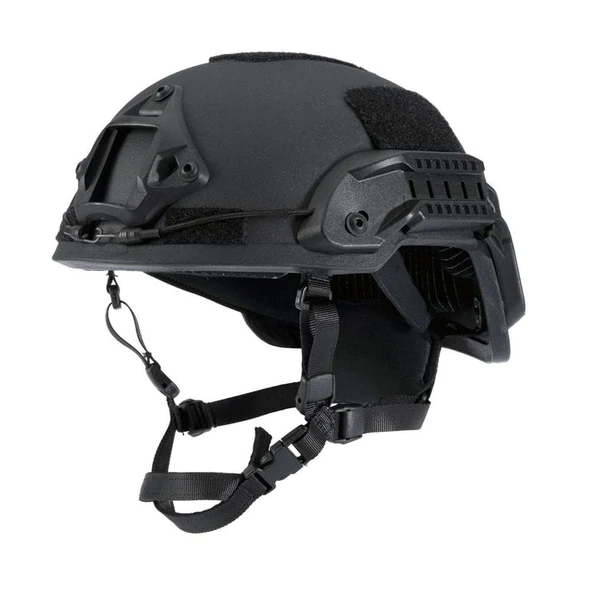 • Future Assault Shell Technology [FAST] style Accessory Rail Combat Helmet [ARCH] high cut at the ears, leaving room for comms gear or hearing protection.
• Manufactured from high grade Dupont Kevlar, and ballistic rated as NIJ Level IIIA.
• Outer layer of polyurea paint able to withstand temperature extremes, rain, oil and similar liquids.
• Rotary dial-adjustable BOA Fit System and 10 memory foam pad inner lining not only allows for a custom fit and makes the helmet exceedingly comfortable, but also greatly reduces the impact from a bullet or other projectile.
• Highlight modularity with side and front shroud ARC rails supporting mounting of all manner of add-ons from an oxygen/gas mask and Picatinny adapter to NVGs and GoPro action camera.
• Weighs a mere 2.5lbs for the clean helmet itself; sized large or extra large; and a selection of 6 colors (Black, OD Green, Multicam, Multicam Black, Khaki/Sand, and Coyote Brown).
Ballistic Shields
Tactical shields provide not only an additional safety barrier from potentially armed individuals, but also cover to minimize exposure of police officers.
Most often, they're deployed for tactical entry scenarios such as executing search/arrest warrants, hostage rescue, and drug den raids. But they're also used by anti-riot squads and even police patrol officers first on the scene.
Chase Tactical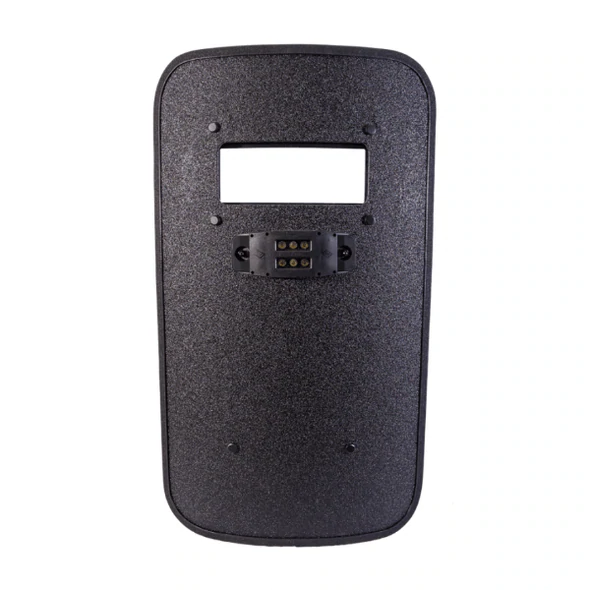 • Adopted by police Special Response Teams [SRTs] throughout America, the Mexican National Guard, and other law enforcement agencies globally.
• Consists of Ultra-High Molecular Weight Polyethylene [UHMWPE] based ballistic material rated at NIJ Level IIIA, and multi-hit capable to NIJ-STD 0108.01.
• Rhino Extreme 1150FR anti-spall, flame retardant, and weatherproof exterior coating.
• Ergonomically designed ambidextrous handle for better portability and maneuverability; quick-release shoulder strap; and a 4"x10" see-through viewport.
• Available in 6 sizes from 18"x24" (8lbs) to 24"x51" (17lbs).
• Though adding 2lbs, can be upgraded to include in-built high-power LED lighting on the strike face.
Vector Defensive Systems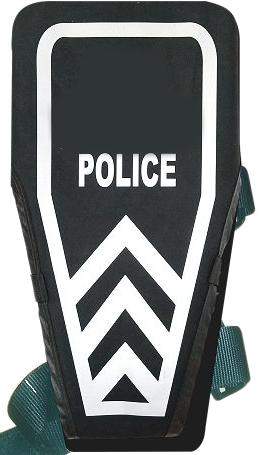 • Used as a de-escalation tool by Boston Police Department, Shenandoah County Sheriff's Office, Massachusetts Department of Correction, Federal Bureau of Investigation, as well as officers of the U.S. Marshal Service and Customs and Border Protection.
• Rifle-rated NIJ Level III protects the police officers' center line (head, neck, and upper chest) from bullets, machetes, needles, baseball bats, and even dogs.
• Lightweight (8lbs) and highly mobile shield features energy-dispersing handle, blast-resistant PAXCON coating, and 3-point retention system for opening doors.
• Every purchase comes with complimentary electronic training and a lifetime warranty.
Vector Protective Barrier accessories
• Include identifying cover with 3M reflective dazzle strips, sling, seat-mounted storage bag, and tactical flashlight.
Trauma Pads
Must-have wear for police officers, trauma pads are inserted behind the armor panels of tactical vests and plate carriers.
Although trauma pads don't offer any defense against bullets, they do enhance protection by further decreasing the felt shock and impact from any kind of blunt force trauma.
Because of this, in real-world conflict situations, they buy the wearer more time, letting them take cover, return fire, or flee the scene.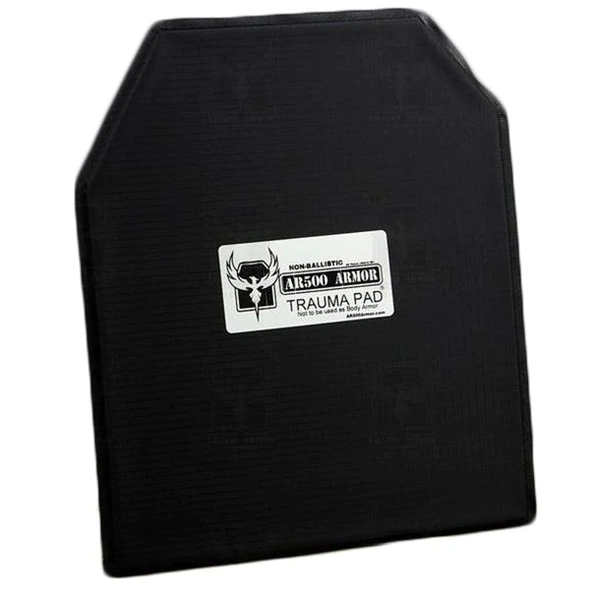 AR500 Armor Trauma Pad (Generation II)
• Feature non-Newtonian fluid which instantly hardens upon impact, reducing back face deformation.
• Comes in the form of a single Advanced Shooter's Cut [ASC] pad in 9"x9", 10"x12", or 11"x14" sizes.
• Ultra-slim (0.25") profile and tips the scales at approximately 6 ounces.
Wrapping up
As police/law enforcement officers, you just never know the moment you could be confronted by a criminal with a concealed kitchen knife during a routine traffic stop or a crazed psychopath wielding a high-powered assault rifle in a public space.
And body armor like tactical vests, plate carriers, and other protective gear often means being able to live to see another day.
What's more, to help ease the financial burden in these unprecedented times, we let you spread the cost of body armor and accessories with a number of payment plans.
In addition, every order over $100 from Bulletproof Zone qualifies for free shipping anywhere in the continental United States and is backed by our price match guarantee.
Whether you're a former or serving police official, we'd love to hear from you! Exactly what kind of vest or other body armor did/do you wear and how did/do you find it? Let us know in the comments section below!