If recent events such as the COVID-19 pandemic and the Russia-Ukraine war have taught us anything, it's that none of us ever know the moment a natural or man-made disaster or emergency can strike (and strike suddenly).
Yet worryingly, according to the latest National Household Survey by FEMA, more than half of respondents reported they hadn't put together any survival supplies in case things went south.
Whilst we can't predict what may happen and when, we can -and really should- plan for such eventualities.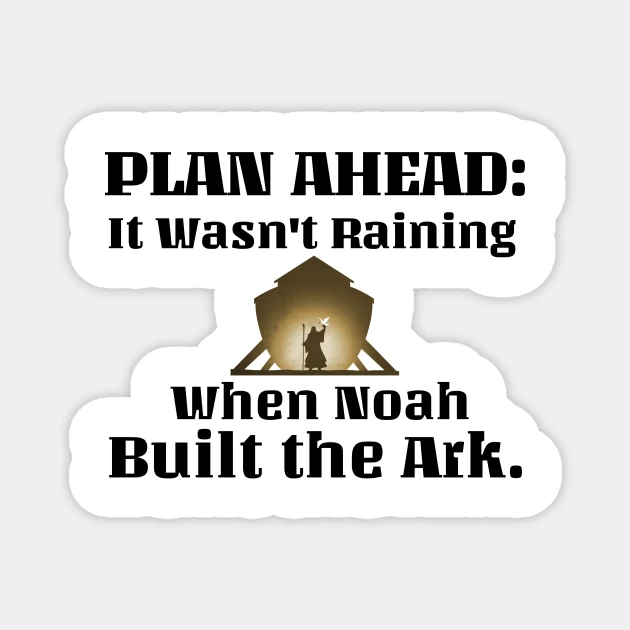 Key to preparing for the worst is readying an emergency go bag. Working out what's needed and then assembling one, though, can be quite a challenge.
Worry not, Bulletproof Zone has got your six. Here, we're exploring why you'd want an emergency go bag, which one to get, what should go into it, how to pack it, where to keep it, and even how to maintain it.
But let's start at the very beginning with exactly what is an emergency go bag...
What is an Emergency Go Bag?
In a word, it's an emergency kit containing enough essential supplies to stay alive at least three days after fleeing from one's workplace/home quickly.
The emergency go bag also goes by a multitude of other names - a battle box, disaster bag, Get Out Of Dodge [GOOD] bag, get-home bag, bail-out bag, evac bag, Quick Run Bag [QRB], and an Escape & Evasion [E&E] bag.
Most descriptive of all, a 72-hour bag or a Bug Out Bag [BOB].
Why 72 hours, you ask?
Because in the aftermath of major disaster/emergency situations, it usually takes three days for government departments like the Federal Emergency Management Agency [FEMA] or first responders (police, firefighters, and emergency medical technicians/paramedics) to arrive at the scene.
So when a disaster/emergency is declared and hunkering down in situ isn't an option, an emergency go bag serves as a short-term solution to keep you hydrated, fed, warm, dry, and physically unharmed until official help reaches you, or the threat has passed and you can safely return home.
Why do you need an Emergency Go Bag, anyway?
When disasters/emergencies hit with little or no warning and every second counts, having a bug out bag ready to grab in a split second means you won't be stressfully scrambling to get what you need and confused trying to figure out what do after.
Instead, you'll be able to coolly abandon ship and direct all your time, energy, and attention on getting to safety.
Preparing a bug out bag is an integral part, indeed half the battle, when it comes to disaster/emergency preparedness – or getting ready in advance to survive any number of possible Acts of God or man...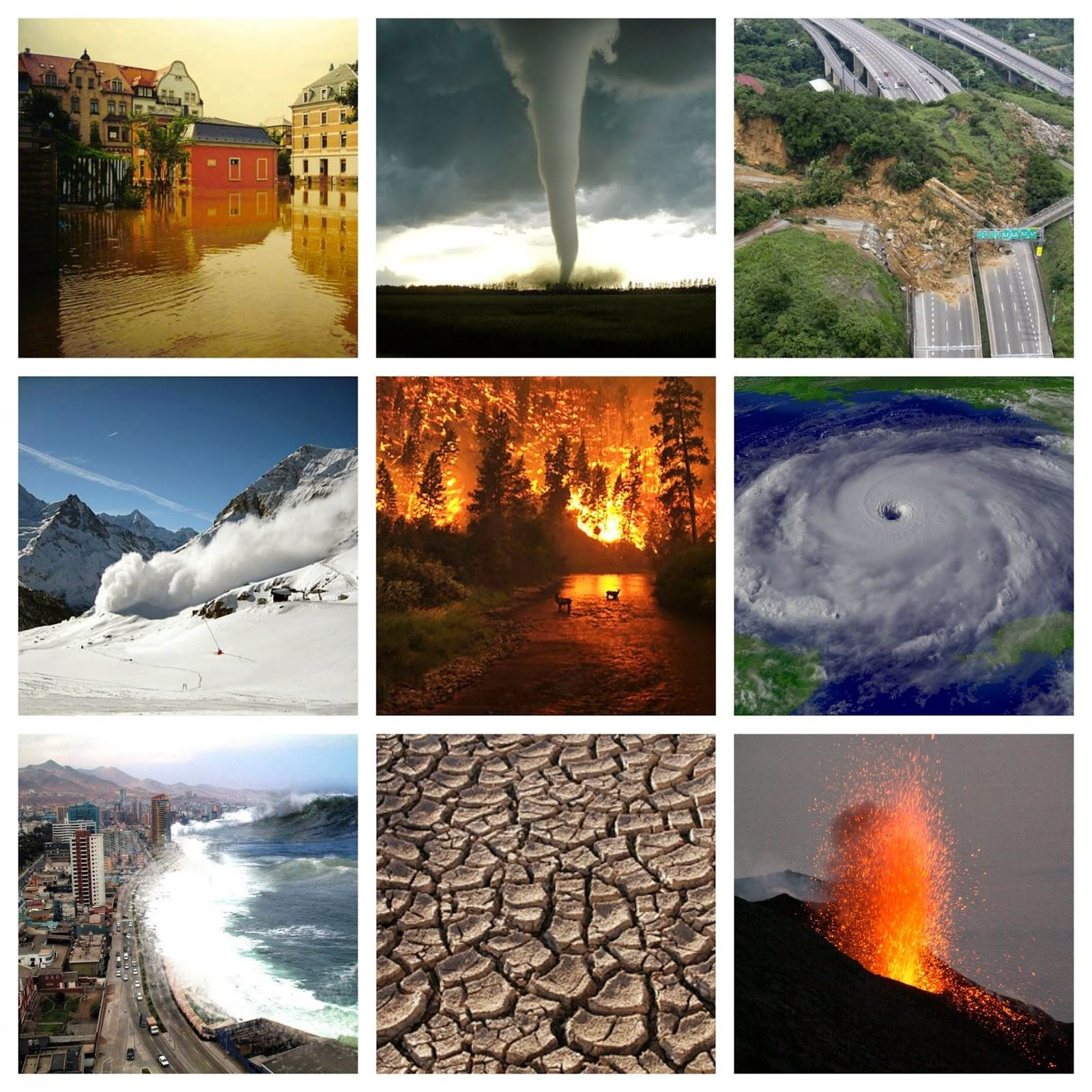 ...everything from severe storms, earthquakes, and volcanic eruptions to active shootings, bioterrorism, and hazmat spills.
Now that, wisely, you're sold on the idea of having an emergency go bag, next you need to know what goes into one...
How do you build an Emergency Go Bag?
For folks who haven't the time or inclination or are on the very tightest of budgets, you can buy all manner of pre-made emergency go bags.
While better than nothing, just be aware that you run the risk of being stuck with inferior quality items, not to mention stuff that you yourself would never use in the event of a man-made or natural disaster/emergency.
Besides, there's no one-size-fits-all when it comes to a bug out bag; there are just too many factors at play.
Though it does take more money and effort, by DIYing an emergency go bag, you'll have complete control over every aspect of this potentially life-saving asset. First up…
The bag itself
For most of us, an emergency go bag normally takes the form of either a tactical rucksack (more hardwearing and customizable) or a hiking backpack (more comfy and low-profile).
Whatever your preference, it's got to be up to the job - a flimsy everyday carry made of cheap material just isn't going to cut it, not even for 3 days.
Of course, you can always browse our bag and backpack collection. But in terms of price versus performance, the last word in extended-range bags is the second generation (2.0) 5.11 RUSH72 Backpack.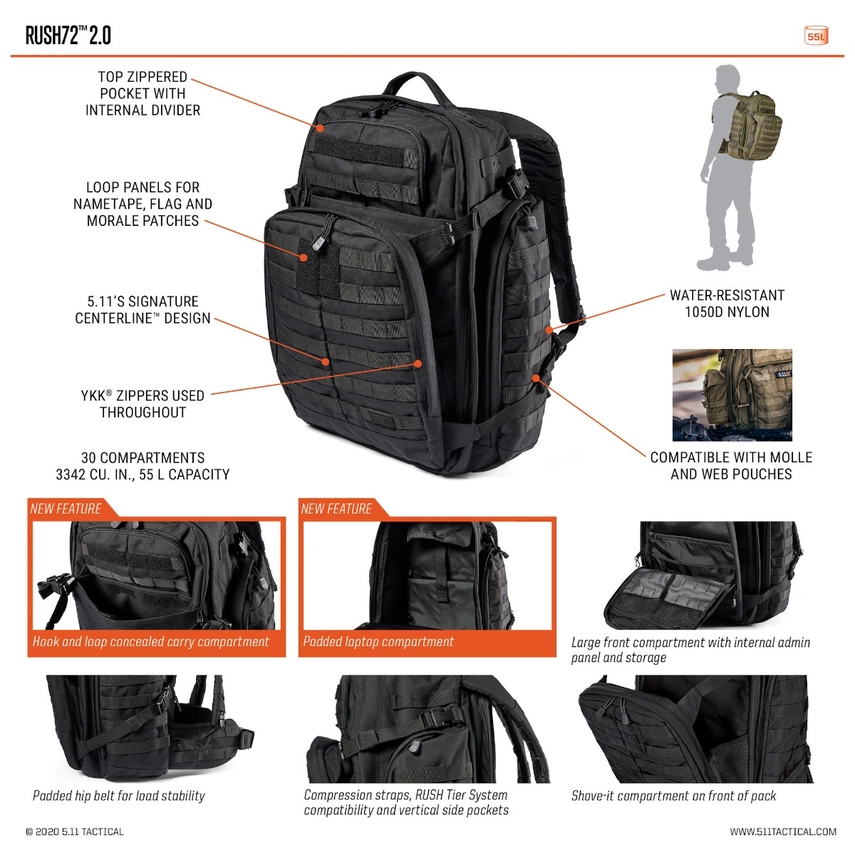 Specially engineered to be a full featured bug out bag

Generous 55 liter capacity with a weight (empty) of only 5.3lbs

Available in a pick of 4 colors (black, double tap, kangaroo, and ranger green)

Tough, water-repellent 1050 Denier nylon fabric construction with reinforced stitching throughout

Signature CenterLine design

Rugged, self-healing zippers

Wrap-around SlickStick-compatible Modular Lightweight Load-Carrying Equipment [MOLLE] webbing for mounting accessories and gear

Integrated drainage grommets and lashing points on the bottom of the pack

Back panel ventilation channels

30 compartments in total – including dual-zippered front and main partitions with molded grip pulls; 3 liter hydration pouch with hangers and toggles; left and right vertical zippered side pockets; top zippered pocket with internal divider; suitably positioned Concealed Carry Weapon [CCW] secret compartment with break-away hook-and-loop; gusseted Shove-It compartment; fleece-lined eyewear/media pocket; inner admin organizer panel and padded sleeve to hold a 15-inch laptop

Contoured yoke harness with adjustable quick-release closed-cell foam-padded shoulder, sternum, and waist straps/belt for load stability and optimum comfort/fit

High density polyethylene/stay frame sheet with ergonomic aluminum stay bar for enhanced back support

Grab and go handle

Expanded storage capability by connecting a RUSH MOAB Sling Pack via the RUSH TIER 4-piece strap system

A worthy addition to which is an outdoor rain cover for added water resistance and inconspicuousness
The contents - Emergency Go Bag checklist
After luggaging up, it's time to decide what to actually put in your emergency go bag.
Again, we're talking about only the absolute basic items; stuff that'd be truly necessary in a life-or-death situation. Remember: you're not packing for a vacation or to survive off-grid for months on end.
For sure, it's okay to bring along a small creature comfort or two for morale's sake; your fave Mad Magazine or whatever - just don't go crazy!
When thinking about your bug out bag checklist, always take into account:
The specific needs of yourself and any family members (adults, children, and furry/feathered companions) in your party – things such as dietary and medical/first aid requirements

Your environment and what hazards you're likely to encounter - factors like the type of terrain, the climate/season, urban/wilderness setting
At the same time:
Don't cut corners when it comes to the standard of gear - you don't want it to let you down at a critical moment.

Rein in the spends and keep the weight down by going multi-purpose - a tarp, for instance, can serve as a makeshift shelter, bedding, rain collector, emergency stretcher, and much more. Just be mindful that some single-use gadgets can be infinitely better than multi-function ones.

Build in redundancy by sourcing items with overlapping capabilities - for example, pack enough food but also take gear which would allow you to hunt, fish, or forage.

Pack spares of the most high-value items - extra batteries, first aid kit supplies, duct tape, important documents, and the like.

Keep the final weight of your emergency go bag to a minimum. The sweet spot for most wearers is 15 to 20% of their body weight. The more articles in your backpack, the heavier the bag will be to haul, and the slower you'll be on foot. You'll also tire faster, cover less distance, and whatnot.
Although the precise loadout that goes into an emergency go bag would vary from person to person, we've developed a categorized compilation of indispensable gear and supplies - kicking off with the most precious commodity of all:
CLEAN DRINKING WATER
To stay hydrated, reckon on at least 1/2 gallon of potable water per person, per day.

Store water in a couple of single-walled stainless steel canteens.

At about 8.3lbs per gallon, water's heavy. Rather than lug around the extra weight, a good compromise is to carry enough for the first day supplemented by safe water treatment (filtration is preferable to purification since it gives instant results).
FOOD
Bank on no less than 1000 calories of food per adult, per day.

Always keep foodstuffs in tightly sealed containers (especially if you find yourself bugging out in bear country)!

Prioritize edibles by nutritional value (maximize calories), by size and weight (packaged small and light), by shelf life (non-perishable food), and finally by preparation required (minimal if any).

Popular rations include military style self-heating Meals Ready-to-Eat [MREs] and freeze-dried food, a huge range of which can be gotten from our collection of ReadyWise Survival Kits.

Otherwise, plump for energy-rich snacks like peanut butter, dried fruits and nuts, pemmican, and flapjacks. Steer clear or go real easy on canned foods given their weight (and the fact that they often need to be opened manually and stove cooked).
HEALTH & SAFETY
In terms of medical supplies:
No less than a week's worth of personal meds

Prescription eyeglasses/contact lens and solution

Surgical masks/respirator

Mobility aids

Insect repellent

Hand sanitizer

Sunscreen

Trauma/first aid kit including medical gloves, broad-spectrum antibiotics (such as ampicillin), EpiPens, antiseptic/anti bacterial wipes, pain relievers, gauze pads, bandages and band-aids, burn gel, and tourniquet
TOOLS & EQUIPMENT
Communication
Navigation
Paper map of local vicinity (overlain with bug out route)

GPS tracking device/mobile app

Compass
Lighting
Glow sticks

Flashlight and headlamp (ideally LED bulbed since they're brighter and longer lasting)
Firestarting
Waterproof matches, windproof lighter or ferro rod

Tinder of some description
General hardware
Field knife

Hand-crank or solar charger (to save on extra batteries)

Duct tape

Multi-use utensils (like a spork)
SELF-PROTECTION
As a defense against would-be hostiles and unforgiving territory, expert survivalists often incorporate a pistol, body armor (such as a ballistic vest), and even a bulletproof backpack insert.
PERSONAL EFFECTS
Wearables
Fabrics should be breathable, durable, moisture wicking, quick drying, and retain heat.

Dress in layers.

Pack only one change of clothing per person.

Footwear should be sturdy and already broken in.
Toiletries/Personal hygiene items
Moist towelettes/wet wipes

Bio-degradable toilet paper

Mini toothbrush and paste

Dental floss

Soap bar
Important documents
Original and laminated copies of ID/passport, insurance policies, bank records, and prescriptions
Emergency cash
In the form of small bills
Once you've settled on what's going in and made a tickable itemized bag checklist of everything you've chosen, then you're good to bag it all up...
Packing
The virtues of a properly packed bug out bag are four-fold:
It's easier to speedily retrieve the survival gear you need.

More supplies can be accommodated.

Distributing the load helps avoid back strain.

Items can be easily rearranged or swapped out.
Though it might take a bit of experimenting, you'll want to organize the items in your emergency go bag by weight, then by urgency, then by frequency of use:
WEIGHT
As a rule of thumb, weight should be distributed so that the heaviest paraphernalia is further down, centered, and closest to your spine.
The lighter and bulkier gear should sit toward the base of the bag or securely attached to the outside via carabiner clips, fasteners, MOLLE, and the like.
URGENCY
For the same reason, minor basic items would go into the bag first with the most crucial of which either a quick unzip away or else transported on your person.
SPACE SAVING
Don't overload your emergency go bag; better to leave some room in case you happen upon something beneficial while bugging out.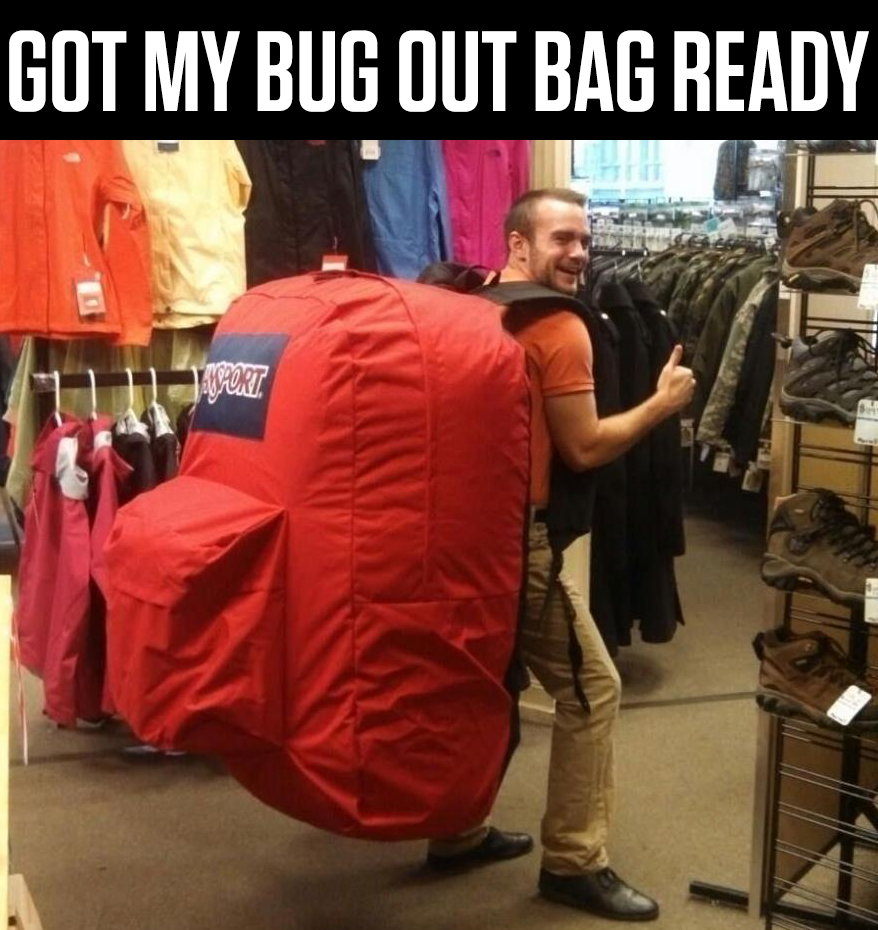 Look for clever ways to save space and fill gaps. Some time-honored hacks include stacking items inside other items, and ditching a duct tape roll after tearing off strips to wrap around a water bottle.
And take care where you put fragile or especially valuable items; you want to keep them at the top of the main compartment or in side pockets.
Once you've finished tricking out your emergency go bag, put it on and hoof it for a few miles around the neighborhood as well as on hilly ground to see how it feels.
If it's too heavy and/or overly uncomfortable, simply lighten and/or rearrange the load.
As soon as it's manageable, you're ready to stash your emergency go bag somewhere appropriate.
Where should you store an Emergency Go Bag?
Provided it's financially doable, the Ready Campaign recommends having not one bag but several across different locations. That way, you won't find yourself in a scenario where you limited your gear to a single place and you can't get to it.
No matter the whereabouts of your emergency go bags, store them somewhere cool, dry (out of direct sunlight), and secure (out of sight and locked) so the contents don't get damaged, broken, punctured, contaminated, or stolen/raided.
Additionally, keep them somewhere immediately accessible should you have to drop everything and get the heck out in a heartbeat.
Although where you keep an emergency go bag will have both advantages and shortcomings, the most common locations are as follows:
At home – the prime spots suggested by the American Red Cross would be in a closet or storage area near an exit, under the bed, or in the garage

At work

In your vehicle

At a self-storage facility (albeit at a cost to rent the unit)

At school/daycare (if you have kids)

With a trusted friend or neighbor

At one or more back-up cache sites along your emergency evacuation route
With your emergency go bags strategically stowed, you'd imagine your disaster/emergency planning days would be done and dusted. But not entirely – it's no less imperative to take stock of your emergency go bag periodically...
How do you maintain an Emergency Go Bag?
So your chances of survival aren't compromised, it's good practice to review the make up of your emergency kit from time to time to ensure it's still fully usable and relevant.
At regular intervals (quarterly/twice yearly/annually) – Check edibles, water, medicines, first aid, and anything else with an expiry date, and replace/replenish as needed; inspect electricals/electronics to confirm they're still in working order; test fire a random sample of firearm ammo, and resharpen knives.

As and when your circumstances change – Reassess then refine/tweak the contents if the dynamic of your bug out group changes (for example, a newborn, a new medical/optical prescription, significant weight loss/gain); if you move home (from urban to rural or vice versa, or cold to hot zones or vice versa); after learning of a new or upgraded natural/man-made threat; in the wake of improved survival gear appearing on the market; upon upskilling in bushcraft.
If you do make any alterations to your emergency go bag inventory, don't forget to update your checklist.
Wrapping up
Don't get caught off guard when the proverbial SHTF. A fully equipped, carefully curated emergency go bag is all the peace of mind you'll need if ever faced with an unexpected disaster/emergency.
We guarantee our guide here will save you time and trouble when preparing the right gear for your emergency go bag.
What's more, financing options, free shipping anywhere in the United States on orders over US$100, and the Bulletproof Zone price match promise will help ease the economic load.
What basic items do you have in your own emergency go bag? Or share your top tips and tricks about building, storing, or maintaining a 72 hour bug out bag.
Knock us dead with your survival kit wisdom in the comments section underneath!
Relevant sources:
https://healthstandards.org/standard/emergency-disaster-preparedness/