(Updated September 2023) Why are body armor levels an important factor when purchasing body armor? If you're new to the world of ballistic protection, it might seem like armor is armor is armor. Aren't all bulletproof vests basically the same?
Heck no! Not all body armor is created equal. Different pieces of gear are designed to protect against different threats, whether we're talking ballistic threats or something else. You probably already know that handgun rounds are not the same as lead core rifle ammunition, and a stab from a shiv is a completely different threat than both.
But the thing is, the kind of body armor it takes to resist one of those threats might not do squat against the other! If you're looking into body armor, you have to know what kind of threat you're most likely to come up against and get gear tested to provide protection against that particular threat level.
The threat levels for ballistic vests are set by the NIJ (National Institute of Justice). There are currently five levels in use - Level IIA, II, IIIA, III, and IV - and each covers a different caliber of bullet. There're also stab-proof/spike-proof vests, which we'll touch on briefly too.
We'll help you understand all the NIJ levels so you can assess which level defeats the range of threats most likely to come your way.
TABLE OF CONTENTS
NATIONAL INSTITUTE OF JUSTICE (NIJ) PROTECTION LEVELS
The National Institute of Justice (NIJ) was formed in 1968 as part of a wider network of federal institutes aimed at addressing the rising crime rate in the U.S. at the time.
NIJ research is focused on the advancement of technology for criminal justice purposes. They also support equipment performance standards and carry out compliance testing, and that's where the protection levels for bullet resistant vests come from.
When it comes to quality body armor, NIJ tests are the gold standard. There are pieces of ballistic gear out there that aren't NIJ certified, but you don't want to mess with those -- not when your life's at stake.
This chart gives a detailed rundown of different weapons Levels II to IIIA defend against and other variables (muzzle velocity, etc.).
We'll provide more explanation and context and also include links to featured armor of different levels from our body armor collection.
Keep in mind that each level can protect from its own threat range AND those of the previous levels. So a level IIIA armor protects from the same threats as level II and below.
NIJ LEVEL I BODY ARMOR
The original NIJ Level - now out of commission
The Level I protection rating was created in the 1970s and is now obsolete. If you come across a Level I vest, consider it either memorabilia or junk.
NIJ LEVEL IIA BODY ARMOR
The current lowest level of protection
Level IIA armor is the lightest and most flexible armor available today but largely out of date. Usually soft armor, it's easily concealed beneath clothes.
LEVEL IIA PROTECTS AGAINST:
.9mm FMJ (Full Metal Jacket) at 1165 feet per second (ft./s) (low velocity)

.40 S&W (Smith & Wesson) FMJ at 1065 ft./s
In this day and age, we would recommend at least a Level II vest, but IIA could be useful for people like nightwatchmen or security guards in places not known for violence. Still, this protection level is getting harder to find as more and more people consider Level II, one step up, the unofficial lowest protection level now.
The NIJ is also in the process of revising their current standards, and one major revision will be the retiring of the Level IIA ballistic protection level.
NIJ LEVEL II BODY ARMOR
"HANDGUN ARMOR," DEFEATING UP TO .357 MAGNUM ROUNDS
Level II vests are still relatively light, flexible, and easily discrete under clothes, and they can defeat a higher range of ammunition types than Level IIA. They also offer more blunt force protection than IIA.
LEVEL II PROTECTS AGAINST:
all handgun rounds, up to and including .357 magnum jacketed soft point (JSP)
Level II vests are typically made of lightweight ballistic resistant material like Kevlar, Twaron, or Dyneema.
This level of ballistic protection could be useful to law enforcement on patrol in relatively low-crime areas, but it's also potentially a good fit for regular citizens who need something very lightweight to wear under their clothes in places where handgun attacks could occur.
FEATURED LEVEL II ARMOR FROM OUR COLLECTION:
Blade Runner Lightweight Stab proof/Bulletproof Vest
NIJ LEVEL IIIA BODY ARMOR
Good all-round for concealable, lightweight protection
Level IIIA is the most common protection level you'll see when browsing for soft body armor.
Found in everything from bulletproof vests to bulletproof backpacks to inserts meant for use in conjunction with hard armor plates, IIIA is a bit heavier than Level IIA or II but still largely concealable.
LEVEL IIIA PROTECTS AGAINST:
9 mm rounds traveling at speeds of up to 1400 ft./s.

.44 magnum rounds.
If you ask almost anyone in law enforcement or military personnel what the lowest level of protection is that they'd recommend in general, they'll say Level IIIA. If you're a civilian looking to feel less vulnerable in these trying times? Level IIIA vest. Police officer on regular patrol? Level IIIA vest.
With this body armor, you're also looking at materials like Kevlar or Twaron, but you'll also find ultra-high-molecular-weight polyethylene (UHMWPE) a common material.
FEATURED LEVEL IIIA ARMOR FROM OUR COLLECTION:
ProtectVest 10"x12" Level IIIA Bulletproof Vest
LEVEL IIIA+
Some suppliers offer level IIIA+ vests that protect against shotgun rounds, 9 mm Civil Defense rounds, and FN 5.7. While such vests aren't officially certified by the NIJ, this protection level is becoming a popular option for niche use.
NIJ LEVEL III BODY ARMOR
Rifle-defeating armor
Level III body armor is the first level that protects against rifle rounds. This armor usually consists of hard plates as opposed to soft plates, so it's not concealable.
Hard armor is also heavier than soft armor, but with that weight comes greater protection.
LEVEL III IS DESIGNED TO HANDLE:
Six shots from a 7.62x51 NATO round traveling up to 2780 ft./s
With its ability to stop the 5.56 mm ammunition commonly used in hunting, sport shooting and hunting are two obvious scenarios where Level III is what you'd need. It's also used by federal agents and law enforcement: The FBI uses it as do police officers in situations where rifle threats are imminent.
Materials for hard armor plates are typically ceramic, polyethylene, steel, or titanium.
FEATURED LEVEL III ARMOR FROM OUR COLLECTION:
ProtectVest® L3 Air- 10"X12" Extremely Lightweight Level III Bulletproof Vest
LEVEL III+ BODY ARMOR
Like Level IIIA+, III+ isn't an official NIJ rating. However, it's used by some manufacturers to indicate that this armor has the same protective capacity as Level III but can handle extra threats like M855 "green tip" ammo or M193.
Level III+ is becoming a popular option for those who face additional threats, law enforcement officers and the like, or anyone who just wants the extra protection. You'll find it available as everything from backpack armor now to SAPI plates.
In terms of materials, you're looking at basically the same kinds of components as Level III: steel, composite ceramic, and UHMWPE.
Featured Level III+ Armor From Our Collection
DFNDR Armor Lightweight Level III+ Bulletproof Backpack Armor
LEVEL IV BODY ARMOR
Top level protection
Level IV body armor offers the highest level of protection of all the ballistic protection levels. Level IV armor achieves this standard by stopping a single bullet as opposed to Level III's six, so it isn't necessarily "better" than a Level III armor.
Like Level III armor, it consists of hard plates as opposed to the soft Level IIIA plates and below.
LEVEL IV IS DESIGNED TO HANDLE:
One hit from 7.62MM armor piercing rifle (APR) bullet with a velocity of 2880 ft./s. 
The most common users of Level IV armor plates are the military, but they are also worn by law enforcement offers who face the likelihood of encountering high-caliber ballistic threats.
Level IV armor materials consist of the same options as Level III -- ceramic or steel, often in a composite with the lighter polyethylene (UHMWPE). This level of ballistic protection is heavier and pricier than Level III and can require some training to get used to.
Featured Level IV armor from our collection:
Legacy Lightweight Multi-Hit Level IV Body Armor Plate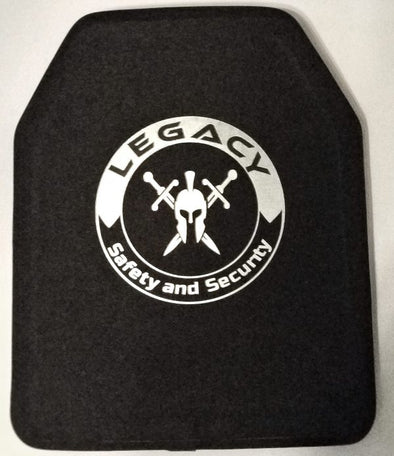 SPECIAL LEVEL ARMOR
Special type body armor can go beyond the standard protection rating. Level IIIA+ falls under this classification, for example.
Special threat tested armor usually has very specific protection ratings in terms of caliber and traveling speed of the round.
Body Armor Level FAQs
How often are NIJ protection levels updated?
The NIJ revises their standards for body armor protection levels roughly every 8 years. Since 2018, they have been preparing for the next revision in performance standards: NIJ Standard 0101.07, which will supersede the current standard NIJ Standard 0101.06.
What kinds of changes will the next NIJ protection level update make to the current standards?
The upcoming revisions will present some major changes and improvements to the way we classify body armor in the U.S.
Improvements to the way shaped or female body armor is tested. This will include, among other features, more robust testing protocols, such as more strenuous testing along the bust area to ensure protectiveness.

Updates to the types of rounds used in testing. This is because testing must reflect the current reality of the ballistic threats body armor wearers typically face out in the field.

Collaboration with the American Society for Testing and Materials (ASTM) as a recognized standards development organization.

A new naming system for the NIJ protection levels that will make it more more immediately obvious what they protect against: "HG" for handgun and "RF" for rifle rounds.

New testing goals for hard armors. There are two main goals the NIJ can work toward when it comes to hard armor: Maintain the protective capabilities of hard armor while attempting to make it lighter, or increase the protection capabilities of hard armor while increasing the weight of the armor (by as small an amount as possible.) The revised NIJ standards are going for option 2 (more protection, slightly heavier armor) to meet the realities of threats the wearers are facing now.
Can you combine 2 armor plates to increase the protection level?
Sure, to get the utmost in personal protection, you technically could stack armor plates or vests. But in real life applications, this would be impractical due to heaviness and bulk.
That said, you can use Level IIIA soft plate backers beneath hard armor for extra protection.
How does weight and comfort vary across levels?
It varies a lot! Greater protection comes with higher weight and less comfort. It's just the nature of the beast. The lower the number, the lighter the armor and the higher the comfort.
The lightest of Level IIIA bulletproof vests can weight 2.5 pounds (like the ProtectVest.) On the opposite end of the spectrum, a steel core hard plate can weight anywhere from 6 to 10 pounds -- and remember that you're not going to be wearing just one of those plates.
IS THERE A LEVEL 5 BODY ARMOR?
As of this writing there isn't, but in the future? Who knows!
HOW ARE STAB PROOF/SPIKE PROOF VESTS RATED?
Stab and spike proof vests are designed to fend off slashes or powerful stabs instead of ballistic threats.
The NIJ rates stab / spike proof vests by their ability to resist a certain number of joules of energy behind a blade or spike attack.
Level 1- 24 joules

Level 2- 33 joules

Level 3-43 joules
WHAT SHOULD I KNOW ABOUT NIJ STANDARDS?
The National Institute of Justice (NIJ) currently does testing for five different levels of protection, each designed to resist certain ballistic levels.
The different levels are meant to fit a certain need or situation, and it's these NIJ protection levels that tell you whether your specific personal protection needs could be met by this armor. Remember, the highest rating possible isn't necessarily the best choice for you. Consider factors like cost, weight, or comfort of the gear.
If you need to be light on your feet and don't have any reason to suspect a rifle threat, a soft body armor rated NIJ Level IIIA is probably optimal for you. If you're out hunting with a rifle or if you're going into a situation where you could be the target of one, you'll need hard armor: NIJ Level III or IV protection.
And of course, as always, you need ballistic protection tested to defeat your own firearm, so use that as a starting point and work your way up from there if needed.
With this knowledge, we hope you can browse body armor collections with more confidence.
Have a question about protection levels? Contact us and our experts will help!