Whether you're trying to keep safe at home, at work, or are interested in trying out something new in your workout routine, armor plates are an integral piece of any body armor set. But there are so many options available to you, it can be overwhelming to know which ones are worth your time—especially when you're new to the protective gear world.
There's a lot to consider before making your purchase, including materials, manufacturers, ballistic performance ratings (i.e., what type of bullets the gear's rated to withstand), weight/thickness, and your reason for wearing the armor.
In this article, we'll show you exactly what to look for when you're in the market for plates and share some of our top picks in the extensive Bulletproof Zone collection!
Body armor plates - what to consider?
When it comes to the best ballistic plates for you, the key things to keep in mind are :
Budget - There's no need to break the bank, but you also shouldn't skimp on quality when your life's at stake. That's why Bulletproof Zone offers a financing plan if you need it. And if you happen to find gear you bought with us at a lower price elsewhere within six months after buying, we'll price match it.
NIJ certification - Every quality piece of body armor has an NIJ (National Institute of Justice) certification label on it. No label means no guarantee the armor was tested to rigorous standards, and you should steer clear.
NIJ protection level - All NIJ certified armor are able to withstand penetration from a certain range of ammunition during testing and receives an according NIJ level. Make sure to know what the NIJ levels mean before you buy. Then figure out what you're most likely up against and get gear proven to handle it.If handgun threats are your main risk, Level II or IIIA are your best bet. Anything above NIJ Level III body armor resists heavy rifle and armor piercing threats. If you want to add green tip protection, you'll want III+. There's also special threat rated armor.
Steel plates are cheaper and offer the best protection against armor piercing ballistics. The disadvantage of steel is that it's much heavier and thicker, which can make it uncomfortable to wear for long periods of time. If you're only planning to wear body armor while at target practice or during short active shooter training sessions, steel plates are a good option.
Ceramic plates cost more than steel and aren't nearly as effective against multiple hits to the same spot, but the material is lighter yet still durable.
UHMWPE (Polyethylene) plates are much lighter than either ceramic or steel plates. They can take a lot of hits to the same area before obvious damage, but they don't currently come in Level IV for civilians. The price also runs a lot higher.
There are three primary cuts of plates you'll run into:
SAPI/ESAPI cut - SAPI (Small Arms Protection Inserts) is used by the military but they are also popular in the civilian world for good reason. SAPI cut allows for better ventilation during use. This can prevent overheating and allow you to wear your armor longer without getting too hot and uncomfortable.
Shooters cut - weighs more than SAPI and Swimmers since it covers a larger area of your body. This wider coverage is great for more protection but might decrease mobility.
Swimmers cut - offers more protection to your shoulders, heart, and lungs, but other vitals are less protected. They're lighter than Shooters cut but offer more mobility.
Recommended Plates for Different Needs
The best bullet resistant armor is the one that satisfies your needs in terms of purpose, weight, NIJ rating, and modularity. Below are our picks for plates that hit the sweet spot for a range of situations.
Best plate for home defense
Protecting your family and home is more important than ever. More people own guns than ever before, and an increasing number of homes in low-crime areas have guns for defense.
For a reliable piece of home body armor that adds a feeling of security and safety and allows you to sleep easier at night, we suggest:
The ShotStop Duritium® LEVEL III+PS Ballistic Plates are perfect for home defense due to their durability, long shelf life, and stopping power. ShotStop's patented Duritium technology makes these plates extremely lightweight and less bulky, allowing you to quickly put them on in an emergency.
Features:
protective - Level III+ protection; S. NIJ Level III 0101.06, German VPAM Level 6 and NATO STANAG 2920 Level B4 tested compliant by accredited independent laboratories
with special threat testing - 5.56x45mm 55 grain ball (M193), 7.62x39mm PS ball (MSC), 7.62x51mm 149 grain M80 FMJ
durable – made with Duritium technology – the next generation polyethylene that has high tensile strength. Multi-hit; Stand-alone.
Great for:
civilians
security guards
Best plates for active shooting situations
People like law enforcement officers and bodyguards have a greater chance of running into larger firearms and armor-piercing ballistics since it's their job to put themselves in harm's way if an active shooter situation arises. For a piece of stronger body armor that's up to the job, we recommend:
Made in the USA, the RMA Defense Level IV NIJ .06 Certified Hard Armor Plates (1155) are an ideal choice for anyone who might need ballistic protection against larger ballistics or firearms. This is the best-selling armor plate brand among law enforcement officers in the US.
Features:
highly protective - multi-hit rated NIJ Level IV protection
durable -monolithic ceramic & polyethylene; 600 denier water resistant cover
comfortable - SAPI/ESAPI-cut for better ventilation
Great for:
police officers
bodyguards
SWAT teams
What about everyone else? Nowadays, anyone could run into an active shooter. It's important to know what to do if this happens (though hopefully, you never need to experience this).
For a civilian, Level IV protection is too heavy to wear on the day to day, so below we've got a couple of options for the regular folks.
Best hard plates for lightweight defense
Sometimes, weight is the priority. If you need to be light on your feet with the best mobility possible, go for:
This is a lighter alternative to the RMA option mentioned above. Made with the highest grade polyethylene, the DFNDR Armor Lightweight Level III ++ Bulletproof Armor Plate is remarkably lightweight while packing a lot of ballistic resistance.
Features:
lightweight - only 2.5 lbs. per plate
protective - special threat tested to defeat the 7.62x51mm steel jacket NATO M80, 5.56x45mm M193, 7.62x39mm Ball, MSC Chinese, and the 7.62x39mm PS Ball Russian
comfortable - conforms to body with multi-curved design; SAPI cut allows for better ventilation; trauma reduction technology minimizes impact energy
durable - 20-year shelf life
Great for:
civilians who don't mind wearing an overt plate carrier (outside your clothes, where everybody can see it)
police officers
security guards
Best soft body armor inserts
If you need concealable defense against handgun threats or if you're looking for a good soft backer on a hard armor system, our recommendation is:
Spartan Armor Systems Flex Fused Core IIIA Soft Body Armor
The Spartan Armor Systems Flex Fused Core IIIA Soft Armor inserts can be worn alone against handguns or used in conjunction with (ICW) any hard armor system as a backer.
Features:
protective - Level IIIA Flex Fused Core stops most handgun ballistics (including .44 Mag and .357 Sig FMJ).
versatile - can be placed behind hard armor or a ballistic shield; comes in multiple sizes
lightweight -just 1.14 lbs.
Great for:
police
civilians wanting lightweight but concealable protection against handgun attacks
security personnel
Best armor plates for your backpack
For those who want extra protection for themselves or their kids, backpack armor might be a good option. Bullet resistant backpacks have become more popular in recent years due to the rise in shootings in schools and other public venues.
If you're looking for a backpack insert to protect yourself or your children, the Tuffypacks 11" X 14" Ballistic Shield Level IIIA Bulletproof Backpack Insert is a great choice. This low-profile, lightweight armor panel is small enough to fit into any children's or smaller backpack.
Features:
protective - NIJ IIIA certified against multiple handgun rounds up to .44 Magnum; also provides stab/pierce protection
comfortable – lightweight (only 19oz!) as it is designed with children in mind
convenient – fits most regular backpacks and children's backpack; covered with UV-resistant nylon for easy cleaning and maintenance
 Great for:
students, teachers, school staff
travelers

The Spartan Armor Systems Flex Fused Core Level IIIA Soft Armor 11 x 14 panel fits into any backpack chamber with the right dimensions. It's light and flexible so you won't feel weighed down or awkward. Best of all, it also works as a backer on any hard armor system.
Features:
protective - Level IIIA rated to stop .44 MAG SJHP, as well as Special Threat Rated to stop .357 SIG FMJ; multi-hit rated to stop 6 rounds
discreet - 0.35" profile (thickness)
light - 1lb 9.4 oz.
versatile - also function as a backer ICW hard armor systems
Great for:
students, teachers, school staff
travelers
Best armor package for newbies to shooting / body armor
Newcomers might be in need of a range of gear at an affordable price. If you like the sound of having everything you need in one package, we say to go for:
The Spartan Armor Systems Omega Level III AR500 Armor and Shooters Cut Plate Carrier Package is perfect for new shooters and those who are looking to add some extra protection without breaking the bank.
Features:
inclusive - comes with 1 plate carrier, 2 10x12 Shooters Cut Omega plates, 2 6x6 plates, and free shoulder pads
adjustable – size adjusts between medium to XL for perfect fit; comes in multiple colors
protective - Level III AR500 steel armor tested to defeat rifle rounds; drag handle
modular - MOLLE on front, back, and sides
Great for:
newbies
anyone who might need to share their carrier with others
anyone on a budget
Other Tactical Gear
Best for CrossFit/fitness/exercise
CrossFit athletes are known for wearing plate carriers during training to increase strength and stamina. If you're an athlete looking to up your gains, we recommend:
The 5.11 Tactical TacTec Plate Carrier is one of the most recommended options for CrossFit and fitness use. Put a pair of non-ballistic training plates in this carrier and reap the rewards.
Features:
durable - made of 500D Cordura nylon; water-resistant coating; internal plate pockets support plates up to size XL
modular - includes open cummerbund with MOLLE webbing & Velcro hook and loop system
comfortable - padded yoke shoulder straps, perforated mesh, front & back padded panels with built-in airflow channels; innovative design for best range of motion
protective - low-profile Grab-Drag handle; single-handed quick-release cable escape system-
versatile - fits medium or large Rogue® Men's and Women's Weight Vest Plates
Great for:
CrossFit athletes
civilians
bug-out gear
police or military training scenarios
Trauma Pads
Trauma pads don't add any protection against bullets themselves, but they can save you a lot of the inevitable pain and soft tissue injury from an impact's blunt force trauma.
In other words, if a bullet hits your vest without a trauma pad, it's still going to do some pretty sizeable damage to you despite not entering your body. With trauma pads, that damage is lessened.
If you want to test out whether or not trauma pads are something you need, we recommend getting just one pad as an add-on when buying armor plates (plate + single trauma pad).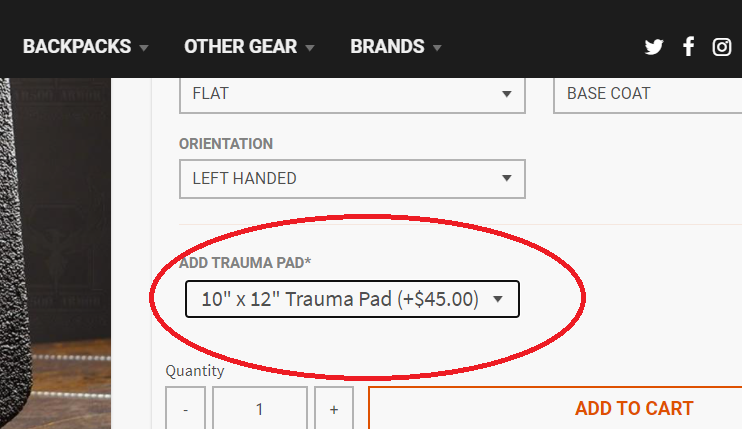 For those of you who already know the value of trauma pads, we recommend:
Features:
protective - non-ballistic but reduce the force transmitted by ballistic impact by absorbing energy over increased surface area
Armor Plate FAQs
Is it legal for civilians to own body armor plates?
Yes. The use and possession of body armor is federally permitted in the US to anyone over 18 who hasn't been convicted of a felony. Even Level III and Level IV hard armor plates are legal.
State laws vary, though, so check the status on your own state before buying body armor. If you're in Connecticut, for example, you have to show up in person to get your gear.
Is it legal to ship body armor?
Short answer: yes.
Slightly longer answer: Within the USA, yes, it's legal to ship both hard plates and soft armor bulletproof vests and inserts.
Internationally, shipping soft armor is legal, but hard armor plates (NIJ Level III and IV) is prohibited by ITAR.
If you're interested in learning more on this, we've got a whole article on whether body armor can be shipped internationally

What size plate should I buy?
You should get the size that best suits your body's measurements and protects your vital organs.
The unofficial standard size for plates is usually 10" width by 12" height. This corresponds to a Medium in many brands and fits most people, but be aware there are other sizes that may be better for you based on your height.
Ignore any tips that tell you to buy the biggest size possible. That advice doesn't take into account that schlepping around an oversized plate is likely to slow you down with weight, hampering movement. The plate can also jam into your throat when you sit down because it's too tall for your torso.
For the best estimate of what size plate you need:
Under 5'2" (157.5 cm) -- 9" x 9" or 8" x 10" plates
Taller than 5'2" and under 6'3" (190.5 cm) -- 10" x 12" plates
Taller than 6'3" -- 11" x 14" (OR  10" x 12" for a lighter plate, though with less protection at the bottom)
To measure yourself for the surest fit possible:
Measure across the chest from nipple to nipple for width.
Measure from the very top of your sternum to your navel. Subtract about 2" to 3" (51-76 mm) from that measurement for the plate height.

How do I maintain and care for armor plates?
Knowing how to take care of any protective equipment is key to staying safe, but some general tips for cleaning plates are:
clean plates with damp cloth (not soaking wet!) or sponge
don't use ANY home cleaning appliances (e.g. dishwasher)
be careful cleaning ceramic plates, as they're fragile when handled improperly
For storing plates, we suggest:
don't put anything on top of ceramic plates
store in a cool, dry place out of sunlight
steel core can lay flat
both steel and ceramic can be stored hanging in carrier vests, but be aware this can degrade the vest over time
How do I choose the best plate for me?
First decide your reason for wearing armor. Are you involved in high-risk scenarios with a likelihood of facing larger ballistics, or is general protection against handguns during home invasion your main concern? Do you just need added weight on your body for training scenarios or fitness endeavors? There are body armor levels for each of these needs.
Once you know why you need body armor plates, identify your main priority. If you want a high protection level, you're a good candidate for hard body armor worn in a plate carrier (Everything you need to know about plate carriers is here!)
If you want a light plate for better mobility, soft armor is more common, but there are some hard plates that satisfy the requirement, too.
Then there's the question of material. Steel plates are heavy but protective. Ceramic plates are lighter but less tough after multiple same-spot hits. Polyethylene is pricier but durable.
You may even decide a plate for a backpack is the best option for you, in which case you may want to check out our guide to buying a bulletproof backpack.
Did you find this article helpful? Leave us a comment below! And if you have any questions, don't hesitate to reach out to us. Our experts are waiting to help you get armored up and ready for whatever comes your way.