Ever found yourself in a high-stakes situation where every move could be the difference between safety and peril? Whether you're part of law enforcement, military, private security, or just a cautious citizen, securing the best ballistic helmet is not just a wise choice—it's essential.
But with countless options flooding the market, how can you distinguish the lifesaving gear from the rest?
That's where we come in. We've been busy bees, researching, scrutinizing, and analyzing the latest gear to comprehensively review the best in the ballistic helmet market for this year.
We're gonna dig deep into their unique features, weigh their upsides and downsides, and hear from the experts and folks who've actually used them, all to help you land on the perfect ballistic helmet for you—one that will keep you safe.
So, what do you say? Let's dive into this journey together!
An Overview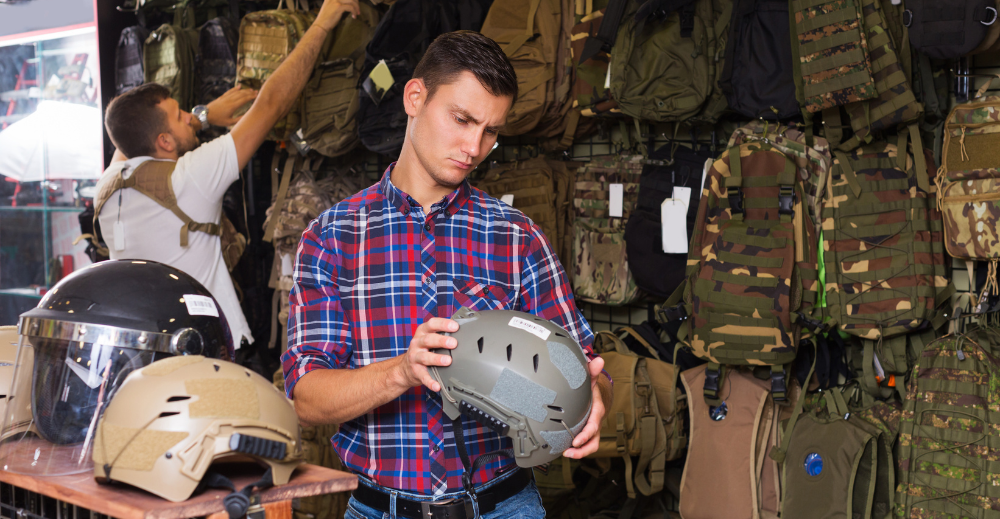 Ballistic helmets, also known as combat or tactical helmets, are a kind of personal armor specifically made to shield your head from any ballistic threats. Originally developed for our brave military folks, these helmets are now worn by law enforcement officers, private security squads, and even everyday civilians.
Unlike standard or bump helmets, ballistic helmets are assembled using specially designed materials like Kevlar or other high-tech Aramid fibers with crazy tensile strength and flexibility. But why are they so important? Let me break it down for you:
Protection from ballistic threats: These helmets are built to deflect anything from bullets to shrapnel. Their number one job? Keeping your head safe.

Minimizing concussion risks: Wearing one can seriously reduce your risk of getting a concussion from explosions or blunt force trauma. They're pretty much a lifesaver in risky situations.

Last line of defense: A ballistic helmet could be the difference between a close call and a fatal blow in high-stakes scenarios. It's like your very own headguard.

Shock absorption: Designed to soak up the hit from a projectile, these helmets spread the force over a larger area, meaning less damage to your head.

Versatility in use: These aren't just for warfare or police work. You'll see these helmets at shooting ranges or worn by folks in high-risk jobs like bomb disposal.

Enhanced focus: With the peace of mind that comes from wearing a protective helmet, you can zero in on your mission objectives. So, they're not just about defense - they're also part of your offensive strategy.
Ballistic helmets are more than just a piece of gear. They're your personal shield, your head's bodyguard, and your quiet supporter in times of potential danger.
Types of Ballistic Helmets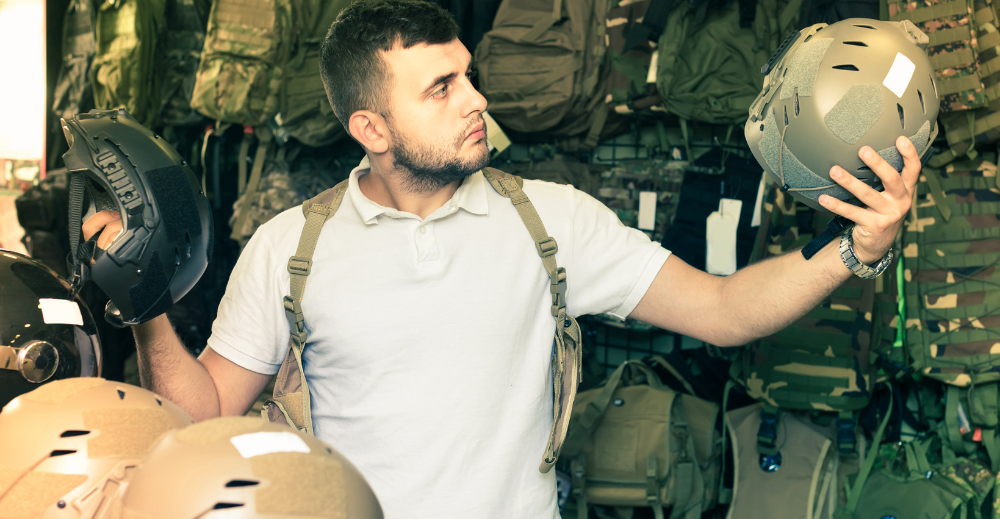 Ballistic helmets have changed a lot over the years. Each design is like a reflection of the unique needs and experiences on the battlefield.
PASGT (Personnel Armor System for Ground Troops) Helmets

Born in the 1980s, these helmets were the go-to for U.S. military forces for more than twenty years. They look like a "steel pot" and give much coverage, including your ears and the back of your neck. They do a decent job of protecting and deflecting bullets and shrapnel, but they're heavier and not as comfy as newer models.

MICH (Modular Integrated Communications Helmet) Helmets

in the early 2000s, the MICH helmet came on the scene. Thanks to its reduced ear coverage, it was like a new and improved version of the PASGT, specially designed to let soldiers use communication devices. They also have a lower profile, which makes them easier to use with night vision equipment and other tactical gear.

FAST (Future Assault Shell Technology) Helmets

Fast forward to the late 2000s, we got the FAST helmets. These are known for their lightness and ability to mount cool stuff like night vision goggles or cameras. They're like the poster child for the modern military helmet, balancing protection and utility in the field. Plus, they're comfy and adaptable with rail systems for attaching things like lights and communication devices.

ACH (Advanced Combat Helmet) Helmets

A variant of the MICH, the ACH has even better impact protection and is designed to play nice with other combat gear, like body armor. Its more streamlined design means better movement and compatibility with your other equipment.

ECH (Enhanced Combat Helmet) Helmets

The ECH is the newest evolution in U.S. military helmets. It's made from advanced materials that provide top-notch ballistic protection compared to its older siblings while maintaining the same weight and comfort levels needed for extended use.

Special Forces Helmets

For special forces units, they have their own custom helmets. These bad boys often come with integrated communication systems, accessory mounting points, and advanced materials to handle tough environments.
And it's worth noting that another kind of helmet, known as the bump helmet, is used in non-ballistic situations. Unlike a ballistic helmet, a bump helmet keeps you safe from impacts or 'bumps' rather than things like bullets or shrapnel.
You'll see these used in jobs like construction or outdoor activities like rock climbing, where the risk of head injury comes from falling objects or smacking into hard surfaces.
So, remember that each type of helmet is designed for different scenarios, and the best one for you depends on what you need and where you'll be using it.
And, of course, always double-check that your helmet meets the right safety and ballistic protection standards. You can never be too safe!
Must-Have Features for an Effective Ballistic Helmet
Choosing the best tactical helmet? Here's what you should be eyeing:
Material and Construction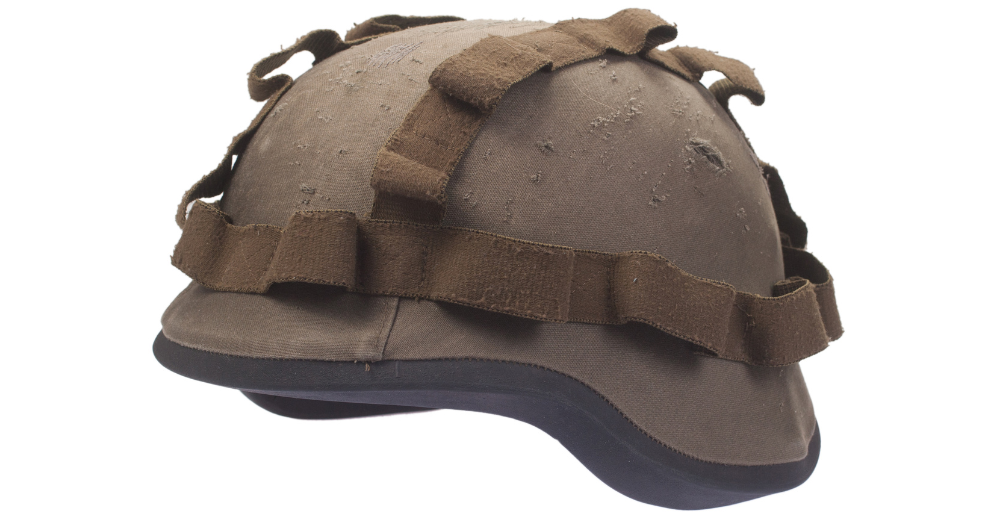 Modern ballistic helmets are usually made of advanced materials like Kevlar or other Aramid fibers known for their high tensile strength, flexibility, and ballistic resistance. These materials are layered for maximum impact resistance and energy absorption.
Ballistic Protection Level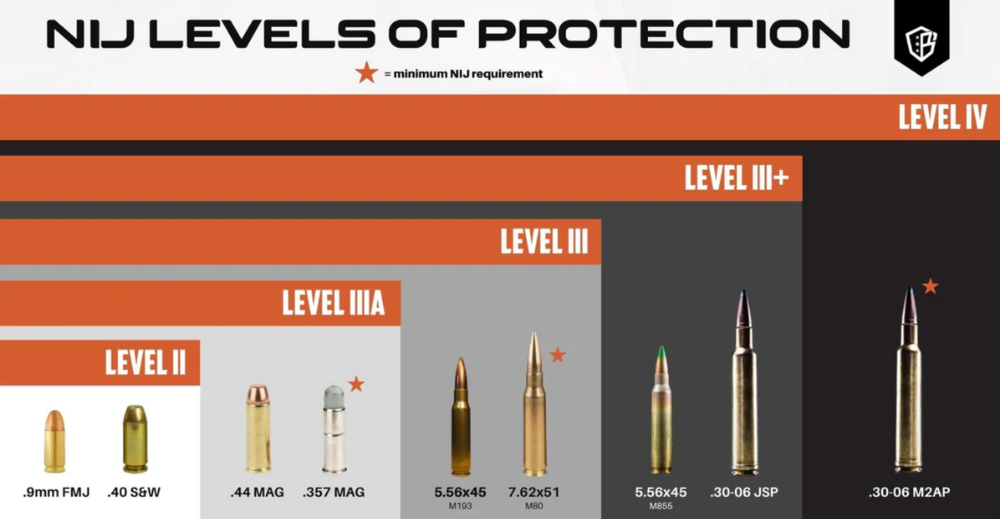 Helmets are rated according to their ability to withstand different levels of ballistic impact. These ratings are usually determined by standards organizations, like the National Institute of Justice (NIJ) in the U.S.
The NIJ provides ratings such as Level IIA, II, IIIA, III, and IV, with Level IV being the highest. Higher levels provide better protection but often come with an increase in weight.
Weight
Your helmet's weight can affect your comfort, especially if you wear it for long periods. Lighter helmets mean less neck strain and tiredness, but remember, there's usually a trade-off between weight and protection.
The golden rule is finding a helmet that balances these aspects. It offers as much protection as possible without feeling like you're wearing a brick on your head. Some newer models use cutting-edge materials and manufacturing methods to lessen the weight while still meeting or beating safety standards.
Comfort and Fit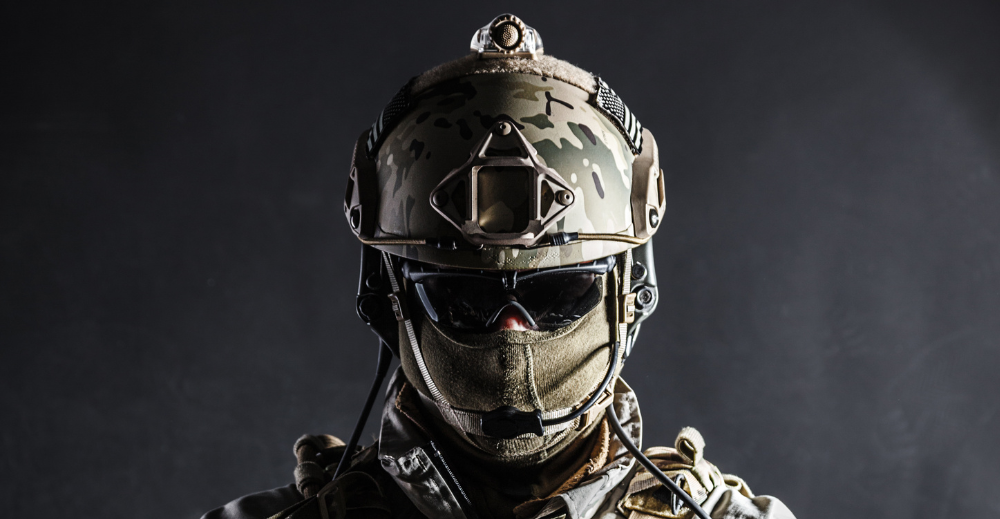 Finding a helmet that fits like a glove is essential for comfort and safety. Hunt for a helmet with adjustable padding and straps for a secure fit. But don't make it too tight. It should be snug, not headache-inducing.
Many top-notch helmets come with customizable padding systems to tailor the fit to your head shape. And don't forget about ventilation for comfort.
Things like ventilation holes or linings that wick away sweat can make your helmet much more pleasant to wear, especially in hot environments or during long periods of use.
Accessory Mounting Systems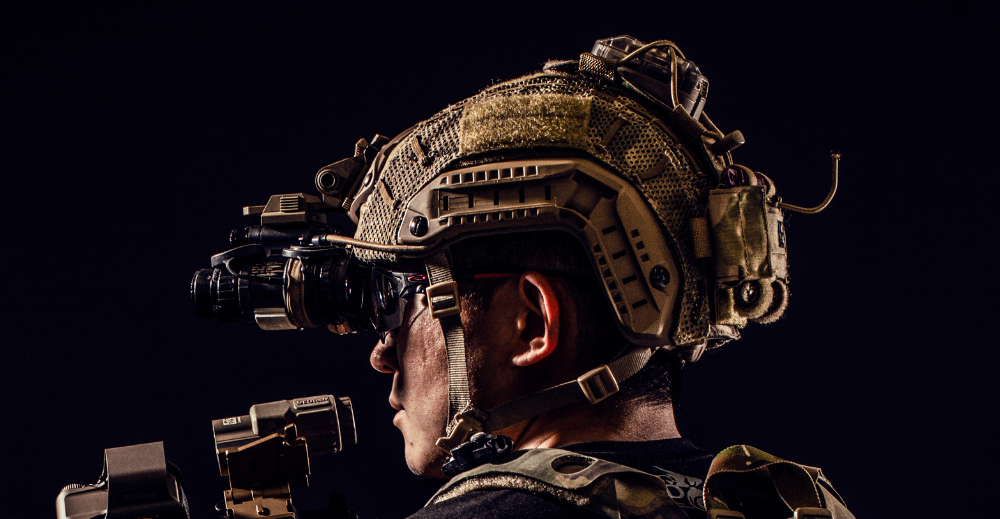 Modern helmets usually come with built-in systems for mounting your tactical accessories. We're talking rails on the sides for attaching stuff like lights or cameras and a shroud on the front for mounting night vision goggles or other head-mounted devices.
Design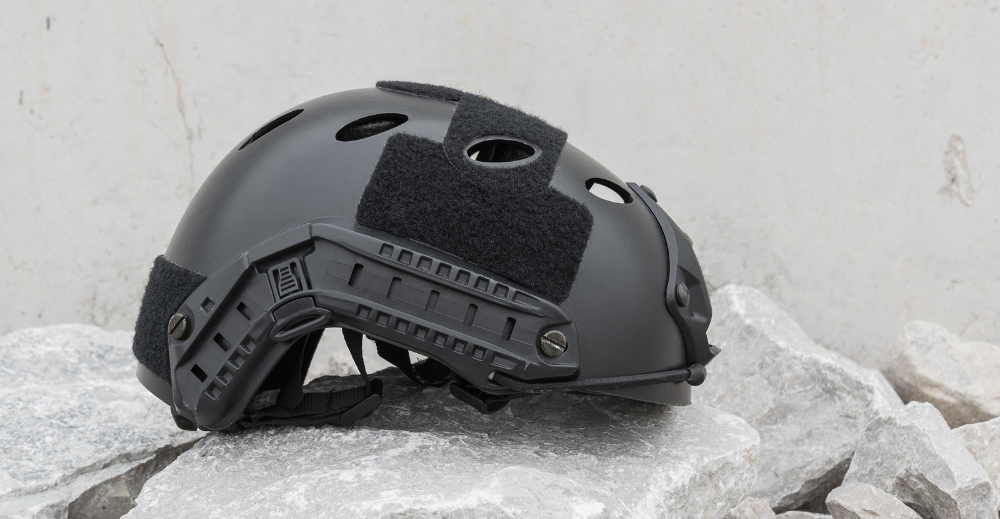 Your helmet's design can affect how it works and how comfy it is. For instance, high-cut or "special forces" style helmets give you more room around the ears for better hearing and communication device use, but they cover less of your head.
On the other hand, full-cut or "military" style helmets give you more coverage and protection but can make hearing harder and might not work as well with certain devices.
Price and Affordability
Top-end helmets with the best protection, lightweight and advanced features aren't cheap. The price should match what you need, how often you use it, and your budget.
But remember, while affordability matters, it shouldn't compromise the protection level. Ballistic helmets are a crucial piece of safety gear; they're primarily there to protect your head in dangerous scenarios. So it's essential to find a helmet that gives you the best balance of price and protection.
Why Quality and Certification Matter in Ballistic Helmets
Let's get one thing straight: Quality is king when it comes to a ballistic helmet. Why? Because it's not an exaggeration to say that your life could depend on it. Top-notch helmets are crafted using the latest materials and tech to offer the best protection, even in extreme situations.
Certification and Safety Standards for Ballistic Helmets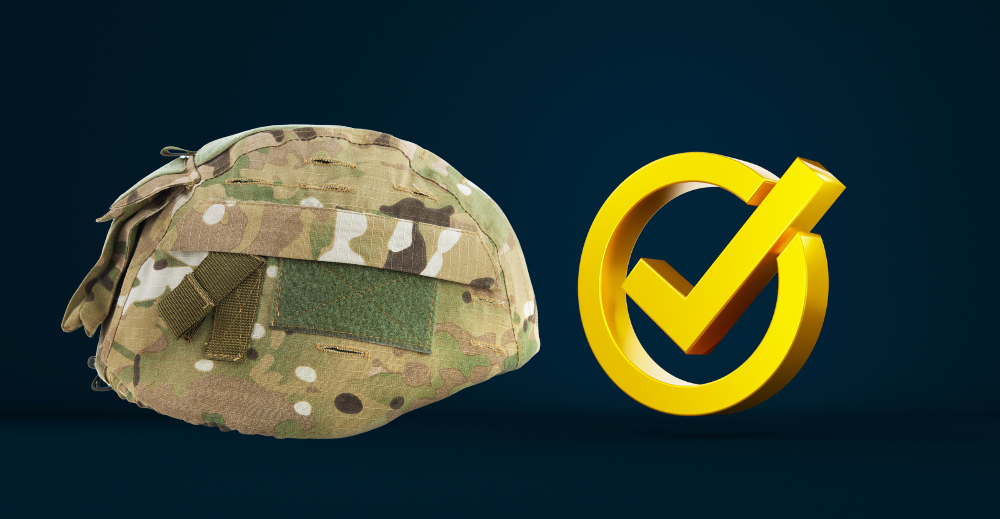 Ever wondered what's the big deal about the certification process? Let's put it in perspective. It's like the helmet's ultimate stress test, done by neutral third parties. These helmets go through a series of trials: being shot at with different types of ammo, weights being dropped on them, and even braving extreme temperatures and moisture.
Without certification, we'd have to trust the manufacturer's promises and let's be honest. They can be hit or miss. Plus, it gives us a standard yardstick to measure up different helmets against each other.
The most recognized standards for a tactical helmet include the following:
National Institute of Justice (NIJ)

You've probably heard of the National Institute of Justice (NIJ). Based in the U.S., they're a big name in the ballistic protection product testing world. They have this rating system, from Level IIA to Level IV, that basically says how good a helmet is at withstanding bullets of different types and speeds.

So, if a helmet has an NIJ certification, you can trust that it's been through a tough grind to prove it's as tough as the makers say it is. Remember, the higher the NIJ rating, the stronger the helmet - but that also means it might be a bit heavier and less comfortable.

VPAM (Vereinigung der Prüfstellen für angriffshemmende Materialien und Konstruktionen)

VPAM is a European standard for tactical helmets and other protective equipment. The VPAM standard covers a range of protection levels like the NIJ standard but uses different testing methods and criteria.

Helmets with VPAM certification have been tested against the standard's stringent requirements, offering users assurance of their protective capabilities.

U.S. Army's ACH Test Procedure

Even though it's not a formal standard, don't be fooled - it's a grueling process where helmets go through ballistic testing, blunt impact tests, extreme temperature tests, moisture resistance checks, and even tests to see if they can stay on your head during intense activities.
It's important that the helmet you choose has got the right credentials. Trustworthy manufacturers should be able to show you evidence of their helmets passing these tests if you ask. After all, when it comes to safety, you should never settle for anything less than the best. Your helmet's got a vital job to do, so make sure it's up to the challenge.
Unveiling the Ballistic Helmets of 2023: Reviews & Features
We've researched and compiled a thorough list of the Best Tactical Helmets of 2023 to help you decide.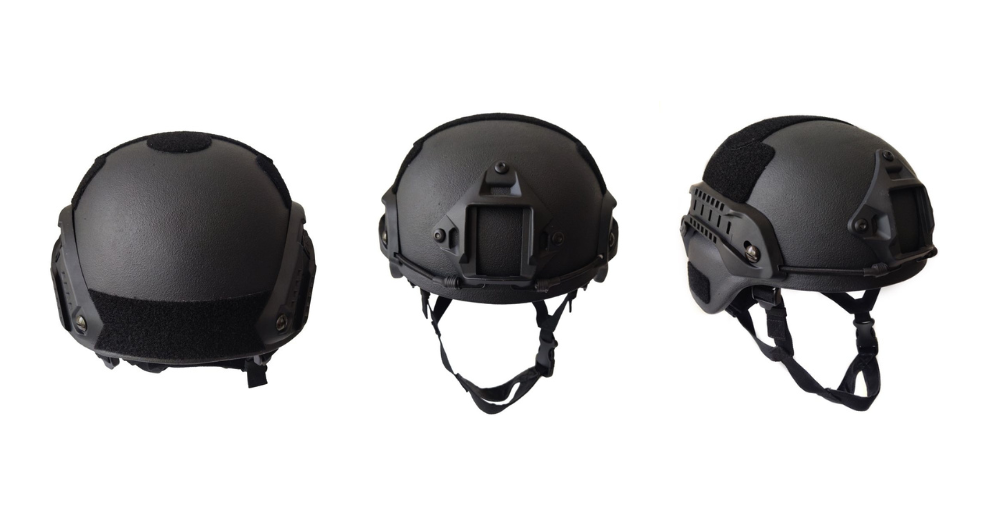 Protection Level: This ballistic helmet has an impressive Level IIIA rating - certified by the U.S. National Institute of Justice. What does that mean for you? It's proven to protect against bullets like .357 Sig full metal jacket flat nose rounds and .44 Magnum semi-jacketed hollow point rounds, whizzing at speeds up to 1450 ft/s.

It's a top pick for law enforcement and military folks who often find themselves in the thick of things. Plus, it's got an excellent fragmentation protection rating too.

Weight: It's been crafted to deliver high protection while keeping the weight down, which means less strain on your neck during those long days.

Comfort: This ballistic helmet comes with standard MICH/ACH pads and suspension that are designed for comfort and stability, making it easier for you to wear it longer without feeling uncomfortable or distracted.

Design: It's got this high-cut style that doesn't skimp on coverage but still lets you stay alert. Plus, it has an extra layer of protection over the ears and back where you often need it most.

Additional Features: The helmet comes with side rails so you can mount your must-have accessories. There's also a front shroud for night vision goggles, making it a good fit for night ops.
The Legacy MICH Level IIIA Ballistic Helmet packs a punch with its perfect balance of protection, comfort, and adaptability. It's designed to handle the rigors of modern combat and law enforcement situations.
Summary of User Reviews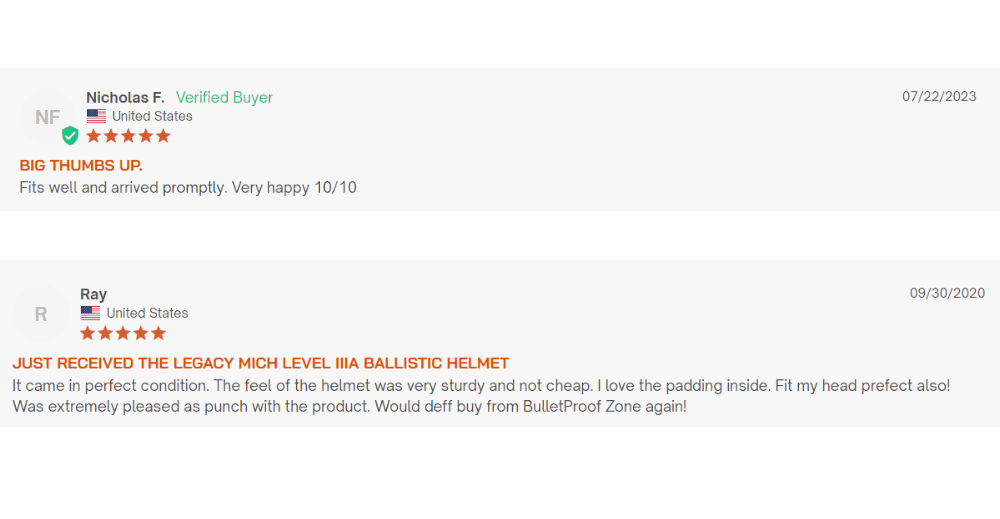 Based on the reviews, folks are pleased with their purchases. They've mentioned that these helmets have a solid feel - nothing cheap about them. Plus, the padding on the inside seems to be a big hit - it's not just comfortable, but it also fits like a dream.
And the cherry on top? The buying experience with BulletProof Zone was so good they'd gladly return for more. It looks like these helmets are a real winner!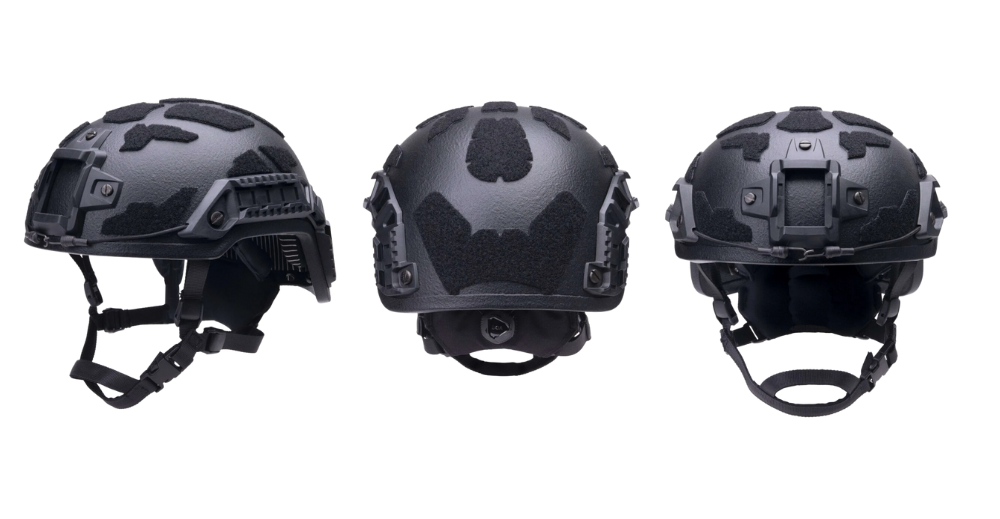 Protection Level: Protection Group Denmark is on our radar with their Level IIIA Arch Ballistic Hi-Cut Helmet. This thing doesn't just look cool. It really walks the walk when it comes to protection. It's got the NIJ 0106.01 Level 3A certification, meaning it can take on bullets from a .44 Magnum, .357 SIG, and 9mm. It even holds its own in a V50 ballistic test, offering impressive protection against fragments and shrapnel.

Weight: Despite its strong protection, it's not going to weigh you down. For a size Large, it weighs just about 2.97 lbs. (or 1.35 kg), while a size XL comes in at approximately 3.1 lbs. (or 1.4 kg), and that's with all the side rails and front shroud included.

Comfort: Comfort is another high note for this helmet. It's been designed with a 10-soft padding system of high-quality memory foam.

These helmet pads help to protect against blunt force trauma impacts and falling objects while ensuring the helmet covers a comfortable fit.

You can adjust the fit to your preference with a 4-point retention system and a supporting nape pad. And it features the user-friendly BOA Fit buckle system, making fit adjustments a breeze.
Design: This helmet rocks a high-cut design, providing versatility and robust protection. It's decked out with a standard Picatinny rail and front shroud, giving you plenty of options to attach all your needed accessories.

It's available in several colors, including Black, OD Green, Multicam, Multicam Black, and Coyote Brown, so you can pick what suits you best.
Additional Features: The ARCH helmet has a polyurea spray paint layer that gives it resistance against elements like rain and oil. Its lining system includes 10 memory foam pads specifically designed to reduce blunt force trauma from bullet impacts. The rail system can accommodate headset adapters such as 3M Peltor, Sordin, Ops-core AMP arms, Earmor, and Unity Tactical MARK 2.0.
The Protection Group Denmark Level IIIA Arch Ballistic Hi-Cut Helmet is a real champion in the world of tactical helmets. It offers an unbeatable combination of protection, comfort, durability, and style.
Summary of User Reviews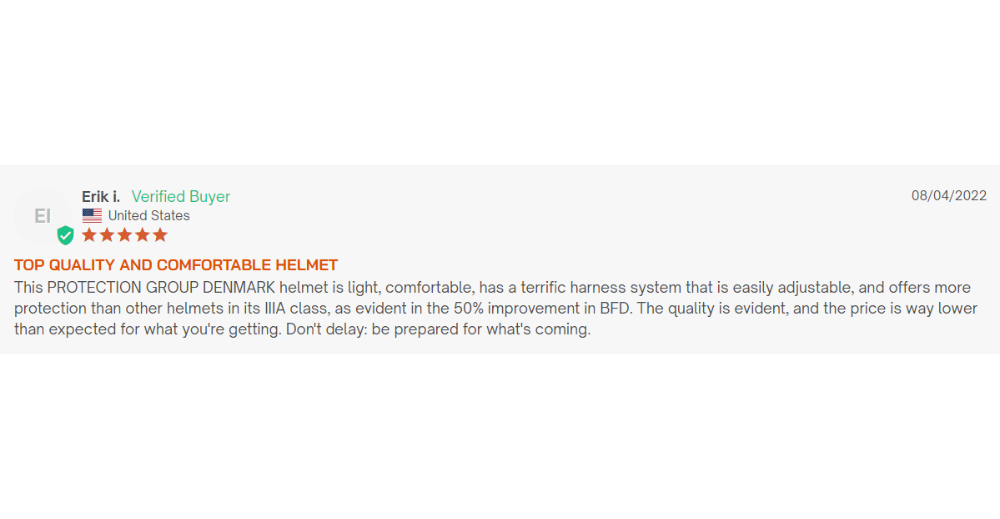 Users are impressed with its light and comfort, and the easily adjustable harness system is a definite win. But the real standout feature seems to be its protection - it goes above and beyond, with an impressive 50% improvement in Backface Deformation (BFD) compared to other helmets in its IIIA class.
The quality of this helmet is apparent, and users have noted that the price is surprisingly affordable for what you're getting. It seems this helmet is an investment in safety and in value for money.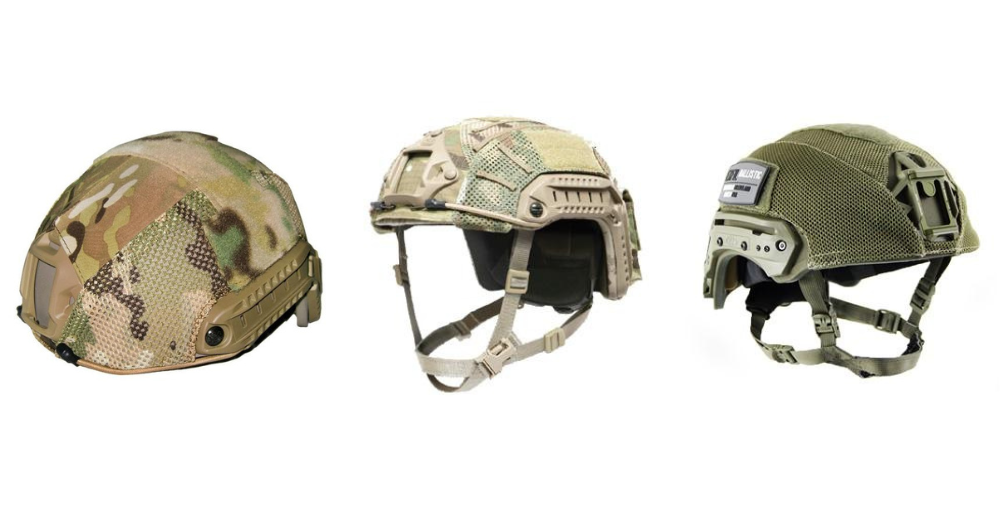 Protection Level: The Compass Armor Fast Ballistic Helmet provides NIJ Level IIIA protection. This means it is designed to protect against certain types of ammunition, including 9mm, 115gr 1400fp/s (428m/s), and .357 SIG FMJ FN 1430 Fps (435.8m/s).

The helmet also offers high fragmentation protection against fragments from V50: 17gr (1.1g) .22 FSP with speeds of up to 2212 ft/s (674.2 m/s), conforming to the NIJ Standard-0101.06 for Ballistic Resistance of Body Armor.

Weight: The helmet is designed to be lightweight, coming in at 1.4 kg or approximately 3.1 LBS. This helps to reduce strain and increase comfort during use.

Comfort: This helmet includes a 4-point adjustable chin strap system designed to give you a customized fit. And there's an Occ-Dial Liner included in the liner system, which comes in handy when working with heavier NVG accessories. It lets you adjust and stabilize the weight, ensuring your tactical helmet setup is right for your mission.

Design: This helmet isn't just functional, though. It's also durable, made with high-quality materials that ensure it's a long-lasting product. It provides NIJ Level IIIA protection and comes in M/L for those with a head circumference of 54-58cm and L/XL for those with a 59-62cm head circumference.

Additional Features: What's unique about this helmet is its above-the-ear rail system with a 2-point bungee system. It's not just comfortable but convenient. It offers impressive protection against specific ammunition, including 9mm and .357 SIG FMJ FN, and fragmentation from specific fragments.
Summary of User Reviews
The Compass Armor Fast Ballistic Helmet impresses with its high-level ballistic rating and a design that closely mirrors the respected OPs Core fast helmets. The user was satisfied with the design compatibility, stating that OPs Core replacement fast rails fitted seamlessly onto this helmet. The suspension system is a solid OPs Core dial system clone, indicating excellent construction and close attention to detail.
The helmet's fit is exceptional, conforming perfectly to the user's head size. This helmet was praised for its remarkable value for money, with the reviewer appreciating that he did not have to spend over a thousand dollars, as he would have done with other popular brand names.
This helmet was highly recommended for its affordability, ballistic protection level, quality, and superior fit. It is an excellent option among other helmets in the same category, often costing around or over a thousand dollars.
Hard Head Veterans ATE Ballistic Helmet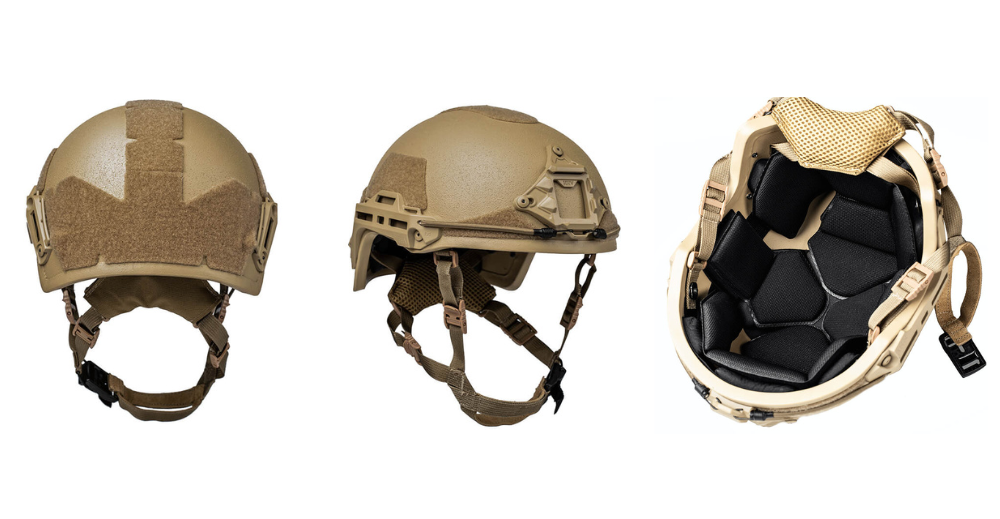 Protection Level: The Hard Head Veterans ATE Ballistic Helmet got an NIJ Level IIIA rating, which means it can take a hit from serious ammo, like .357 SIG and .44 Magnum from short-barrel handguns. It's resistant to fragmentation threats too. They use these super tough ballistic fibers from Dupont® in the USA or Teijin® in the Netherlands to make the helmet shell, so you're getting top-notch protection!

Weight: With a focus on user comfort and usability, this helmet has been designed to be lightweight. It only weighs in at 3.00 lbs, so you won't get that neck strain you might with other, heavier helmets.

Comfort: The helmet has an initial impact padding system and a customizable comfort padding system, so you can tailor it to fit your noggin just right. It also has a quick attach/detach Fidlock suspension system for easy adjustments.

Design: This helmet has an Above The Ear (ATE) or high-cut design. This design is a winner if you need to hear and communicate clearly. It fits law enforcement, the military, or private security well. The helmet shell is crafted overseas in China, but they use these awesome ballistic materials that provide top-level protection.

Additional Features: Let's talk extras. This helmet has an A3S Night Vision Shroud for your night vision gear, M-LOK mounting rails for your other accessories, and Velcro mounting panels for even more customization. They offer a 10-year shell performance guarantee, so they're really standing by their product!
The Hard Head Veterans ATE Ballistic Helmet is one serious piece of kit. Whether you're in the line of duty or need high-level personal protection, it's got your back... or your head!
Summary of User Reviews
Almost everyone raves about how modular and adaptable this helmet is. Users have been thrilled to be able to customize it to their needs. No worries if something isn't working - you can switch it out!
Comfort is another big win for the ATE. One user did mention that while the pads are comfortable, they tend to move around once stacked. But they're considering trying the lattice system, which might be a solution. Aside from this minor gripe, the overall comfort rating is high, with many users finding the fit perfect.
Users found the assembly straightforward and were able to easily position the padding. This made it an extremely comfortable helmet to wear. One user was pleased that the helmet fits well with their ear protection - a bonus for those needing additional gear.
All in all, these users give the Hard Head Veterans ATE Ballistic Helmet a solid thumbs up. Between its comfort, modularity, and overall usability, it's clear why this helmet has won over so many fans.
Team Wendy EXFIL Ballistic Helmet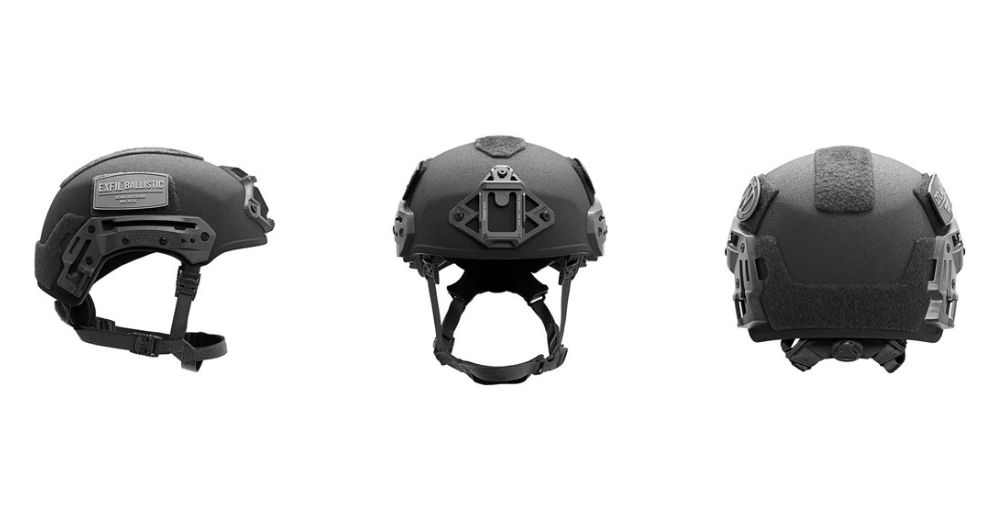 Get a load of the Team Wendy EXFIL Ballistic Helmet! This top-tier piece of kit is made for those who won't settle for anything but the best in protection, comfort, and flexibility. And let's not forget - it uses some really cool tech to ensure it's both light and strong.
Protection Level: It's been rated NIJ Level III-A, which means it can stop a .44 magnum or a 9mm round in its tracks. It can even take on fragments flying at a speed of around 2400 ft/s (731 m/s) - now that's something!

Weight: Depends on the size you're going for. Size 1 (M/L) is about 2.6 lbs (1.18 kg), and Size 2 (XL) clocks in at 2.75 lbs (1.25 kg). And that includes everything - the shell, rails, liner, and retention system. It's designed to keep you agile and less tired, even after hours of wear.

Comfort: Comfort is a big deal for this helmet. It uses a nifty boltless CAM FIT™ system that shapes itself to your head for a snug, stable fit. Plus, you get a set of comfort pads you can rearrange to get it feeling just right.

Design: It has a tough hybrid shell and can accommodate two types of accessory rails. Whether you need to mount an NVG or keep a lanyard handy, this helmet's got you.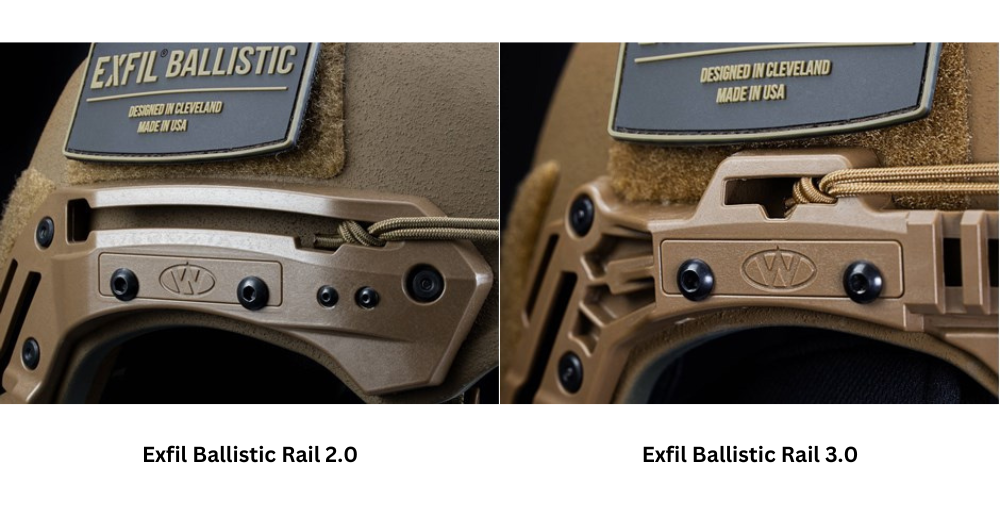 Additional Features: The Zorbium® foam liner helps with impacts and is cut to accommodate an overhead comms headband. And it offers some serious impact protection. With a BFD of less than 25.4mm and an average of below 70G across all impacts and temperatures, it meets and exceeds current ACH Blunt Impact Protection standards.
Summary of User Reviews
The Team Wendy EXFIL Ballistic Helmet is lauded for its exceptional performance, premium construction, and innovative features, making it the best tactical helmet currently available in the market.
The BOA Fit System, the easy-release dial, and the one-hand-adjustable chin strap - users love these features. The Zorbium foam liner is a fan favorite for comfort, and the versatility offered by the helmet is a big plus.
Despite all these features, the helmet still feels light. It sets new standards in protection, handling everything from shrapnel to small arms rounds. Users are hard-pressed to find any faults and are praised for its build quality and the thought of its design.
Key Takeaways
The world of ballistic helmets is always on the move, getting better as we discover new tech and innovative ways to make them. It's really about our relentless push to keep our brave folks safe in risky jobs - it's pretty amazing if you think about it.
Choosing your helmet is a big deal - it's your first line of defense. So, don't rush it. Remember everything we've discussed, and ensure you're going for something that offers solid protection, feels comfortable, and fits you perfectly.
Feel free to browse our range of ballistic helmets or read our articles on tactical helmets. It's packed with insights that could help you make the right call. Above all, remember that we're all about your safety. That's our number one priority.