With the holidays fast approaching, 'tis the season to give back to family and friends. Shopping for a Christmas stocking filler, but can't think what? Hoping to score the present to end all presents, but in need of inspiration?
If so, you've come to the right place. We've gathered together our most fave, and potentially life saving, items of Body Armor and Tactical Gear for your gifting pleasure - - what better way to show loved ones you care.
Enough said, on with the Bulletproof Zone shortlist of the best tactical gifts to give this year…
GREAT TACTICAL GIFTS UNDER $50
When expecting to get shots off, why settle for single, double, or triple magazine pouches when you can have four! Cue the G2 Series double stack magazine shingle.
HIGHLIGHT FEATURES & BENEFITS
Twin M4 carbine or M16/AR rifle mag pouches with pull-tabbed bungee retention cords.

Dual pistol ammo pouches with hook-and-loop-closable flaps.

Rear MOLLE straps for lashing onto a chest rig, tactical vest, plate carrier, duty/battle belt, or any other kit with PALS webbing.
SPECS
Material: nylon

Colors: Black, Tan, or Green

Size: 6"x6"

Weight: 0.36lbs
Introducing the shemagh, AKA a keffiyeh or Arab scarf - - a wrap-around headpiece traditionally worn by desert dwellers throughout the Middle East.
HIGHLIGHT FEATURES & BENEFITS
Quite possibly, the most versatile wearable you'll ever own.
Protects the head and neck from the sun's rays, wind, and rain/snow.

Shields against airborne sand and dust particles, even insect swarms.
To say nothing of the shemagh's truckload of other practical uses:
Towel

Sarong

Hobo sack

Pillow or blanket

Coarse water filter

Signalling device

Emergency bandage

Arm sling

Tourniquet, you name it!
Little wonder the shemagh's standard issue for military service men and women operating in the harshest environments/climates. Not to mention, wildly popular with bushcrafters, preppers, and travelers. Heck, they're even all the rage among the tacticool crowd.
SPECS
Material: 100% cotton

Colors/patterns: Coyote Tan, or Olive Drab

Size: 43"x46"

Weight: less than half a pound
One of our best seller accessories, these tech gloves are no ordinary mitts.
Boasting superior protection, high tactile sensitivity and snug fit, they're among the must-have tactical gloves for lead-slingers the planet over.
HIGHLIGHT FEATURES & BENEFITS
Wafer-thin material on the thumb and index finger makes triggering, working a touch screen, or tying a shoe/boot lace a complete breeze.

HPX-lined palms offer ANSI Level A5 cut resistance, even when soaking wet.

Armor-Skin on the fingertips and palms for an uncompromising shooting grip.

Injection molded rubber-covered knuckles provide better than adequate protection, bend, and movement.
SPECS
Colors: Black, Desert Tan, OD Green, or Gray

Sizes: 7, from XS to 3XL
GREAT TACTICAL GIFTS $50-$99
If your body armor's uncomfortable to wear, you jeopardize your own safety and that of others.
Roll on this Super Light, uber low profile, and impressively effective piece of tactical clothing.
Dreamt up to be donned instead of costly moisture-wicking shirts which aren't meant to be worn beneath body armor. Adopted by tens of thousands of Law Enforcement Officers globally, plus endorsed by the NTOA.
HIGHLIGHT FEATURES & BENEFITS
Creates a teeny gap between body armor and base layer letting cool, fresh air circulate in between, and heat and moisture escape more easily.

Together with the honeycomb structure, keeps the wearer infinitely drier and cooler in the heat (or drier and warmer during cold weather).

Antibacterial and antifungal properties to stay smelling sweet and say goodbye to sweat rashes.

Hitches onto the body armor, with Stay-put Grip technology to stop the vest from shifting.

Engineered to more equally spread the weight of body armor so it actually feels lighter and comfier.

Manufacturer's lifetime warranty.
SPECS
Material: patented polyester derivative

Color: Black

Sizes: XS/S, S/M, M/L, XL/XXL, or 3XL/4XL

Thickness: 6mm

Weight: about 0.75lbs
Whether adventuring outdoors, bugging out, or traveling, don't get caught out in the field. Get tooled up with this multifunctional tactical accessory.
HIGHLIGHT FEATURES & BENEFITS
Rugged, handy-sized, and shockproof portable carry case.

Jam-packed with such goodies as:

- Folding tactical knife with integrated carabiner clip.

- 220 lumen LED flashlight (requires one AA battery).

- Compass.

- Tactical pen with tungsten carbide tip for breaking glass or for use in self defense.

- Keychained 120 decibel high frequency whistle.

- Wire saw.

- Stainless steel saber card with bottle/can opener, screwdriver, butterfly wrench, ruler, and more.

- Emergency space blanket.

Add-on 9" 5-in-1 paracord wristband includes a fire starter and emergency blade.
In search of camping grub for your next wilderness trip? Looking to stockpile 72 hours worth of rations for after a disaster/emergency? Had an insanely busy day and can't be bothered cooking?
Try chowing down on ReadyWise's premium survival food. Oh, and save on the washing up while you're at it.
HIGHLIGHT FEATURES & BENEFITS
Six main meals, a trio of breakfasts, as many snacks, and a shake.

Seriously decent variety of nutritionally balanced, belly filling, and surprisingly tasty eats.

Simple and speedy to prepare - - just add water (preferably hot) before tucking straight in.

Individual pouches are resealable, with the contents lasting up to 15 years if unopened.

All conveniently stowed in a re-usable dry bag.
SPECS
Overall servings: 13

Dry bag capacity: 10 liters

Net weight: 7lbs
GREAT TACTICAL GIFTS $100-$199
Our number one selling med kit. Period.
And an absolute no-brainer if working/playing around firearms, edged weapons, or explosives.
HIGHLIGHT FEATURES & BENEFITS
Compact rip-away pouch with MOLLE strapping for fastening to anything with PALS webbing.

Bundled with industry-leading IFAK equipment/supplies to patch up and stabilize a casualty:

- North American Rescue Combat Application Tourniquet [CAT] and emergency pressure bandage.

- Hyfin vented chest seals.

- Rusch Nasopharyngeal Airway [NPA].

- TritonGrip nitrile exam gloves.

- Mylar thermal blanket.

Highly recommend also investing in a haemostatic agent such as Celox granules or, better yet, QuikClot combat gauze.
SPECS
Material: 600 Denier nylon

Colors/patterns: Black, Coyote Tan, Olive Drab Green, or MultiCam

Size: 6"x5"x3"
Making for an ideal bug out bag, trekking pack, hunting/range bag, or just as EveryDay Carry [EDC], how about our combo brand bullet-resistant backpack.
TACTICAL RUCKSACK FEATURES & SPECS
DIGBUG armed forces style clamshell design 3 Day Assault Pack starring:

- Five compartments all told - - counting a roomy main section with armor insert/laptop sleeve, and a zippered front pocket with organizer panel.

- Plenty PALS attachment points for hooking up MOLLE equipment, and velcro platforms for mounting ID badges/morale tags.

- Ventilated mesh-padded shoulder straps and back.

- Upper Y-strap for securing a sleeping bag or tent.

- Rear hydration pocket for water bladders up to 2.5 liters (sold separately).

Material: Tough 600 Denier fabric with double-stitched seams and polyurethane coating to repel water

Colors: Black, or Tan

Size: 13"x20"x11"

Capacity: 40 liters

Weight: approximately 3.2lbs
BACKPACK ARMOR FEATURES & SPECS
As a bulletproof backpack insert, TuffyPacks 'Ballistic Shield' is second to none.

Otherwise, as a stand-alone armor panel, can be swapped out for use in a school daysack, briefcase, or computer or messenger bags.

Rated NIJ Level IIIA+ - - can repel a minimum of six rounds from most handguns and, unofficially, spike/stab resistant.

Ballistic material: high-performance polyethylene soft armor

Panel curvature: flat

Panel cut: round-top

Color: Black

Dimensions: 12"x18"x0.36"

Weight: 1.69lbs
Crafted by a trusted name in tactical gear, this latest generation Rampage is a shockingly affordable and solidly constructed entry-level armor carrier.
HIGHLIGHT FEATURES & BENEFITS
Broad, fully adjustable, and thickly cushioned shoulder straps with cable/antenna routing guides.

Go modular crazy thanks to laser-cut PALS grids on the front, back and sides for customizing with MOLLE gear.

Detachable placard can be switched out on the fly for different mission/activity load-outs.

Front and rear pockets accept 10"x12" shooters, swimmers, or SAPI cut ballistic plates.

Fully adjustable cummerbund has six in-built storage pouches, and can take 13.75"x5.50" side armor panels.

Sturdy grab/drag handle for hauling a downed wearer to safety.

Manufacturer's lifetime warranty.
SPECS
Material: hard-wearing 500 Denier Cordura with heavy-duty bar tacking throughout

Colors/patterns: Black, Coyote, Ranger Green, Navy Blue, Wolf Gray, or genuine MultiCam

Size: universal sizing (fits waists up to 55")

Weight: 2.6lbs
GREAT TACTICAL GIFTS $200-$299
When facing off against lower velocity rounds, you could do a lot worse than these lightweight, flexible and built-to-last ballistic inserts.
HIGHLIGHT FEATURES & BENEFITS
Rated NIJ Level IIIA - - tested to defeat multiple strikes from common handguns including a .44 Magnum.

Optional trauma pad integrated into each panel for added comfort and extra protection against blunt force injury.

Can be used either stand alone or as a hard armor backer.
SPECS
Bulletproof material: hybrid Kevlar (para-aramid) housed in a ripstop, waterproof ultrasonic-sewn cover

Panel curvature: flat

Panel shape: shooters cut

Panel dimensions: 10"x12"x0.45"

Total weight: 2.52lbs
On the scout for swell quality, unbeatably priced, and ready-to-go body armor? Look no further than our very own ProtectVest bulletproof vest.
HIGHLIGHT FEATURES & BENEFITS
Removable 10"x12" front and back soft armor plates - - certified NIJ Level IIIA and capable of resisting at least six shots from the majority of handguns.

Boost protection by dropping in a same-size Level III or Level IV hard armor insert or two.

Like a life jacket, goes on in seconds.

No-frills everyday protection for civilian folk with zero tactical background.
SPECS
Ballistic material: Ultra-High Molecular Weight PolyEthylene [UHMWPE], with the carrier made of 600 Denier Cordura

Color: Black

Sizes: single size fits medium to extra large

Total weight: 2.5lbs
GREAT TACTICAL GIFTS $300-$499
If exposed to threats from higher velocity rounds, pop a pair of these babies into any plate carrying vest.
HIGHLIGHT FEATURES & BENEFITS
Rated NIJ Level III - - up to taking a half-dozen hits of a 7.62x51mm NATO FMJ (M80) rifle round. And all lesser caliber bullets.

Low viz fabrics and paints make for better stealth in low-light conditions.
SPECS
Bulletproof material: composite of military-grade ceramic and polyethylene for enhanced stopping power

Plate curvature: single curve

Plate shape: SAPI cut

Plate dimensions: 10"x12"x0.60"

Total weight: 9.2lbs
For times when maximum ballistic protection is called for, slip these inserts into Shellback's Rampage 2.0 to turn it into an active shooter kit.
HIGHLIGHT FEATURES & BENEFITS
NIJ certified Level IV – - safeguards against a single shot of a 30-06 (M2 AP) armor-piercing cartridge, as well as lesser threats.
SPECS
Bulletproof material: high-density aluminum oxide ceramic core backed by fiber-reinforced polymer, and finished in Cordura

Plate curvature: single curve

Plate shape: swimmers cut

Plate dimensions: 10"x12"x0.73"

Total weight: 16.50lbs
GREAT TACTICAL GIFTS $500 & UP
Taking top spot in our bulletproof clothing collection, we give you the world's first bullet-resistant hooded top with head armor. And where under-the-radar protection meets super insulating qualities and cool street looks.
HIGHLIGHT FEATURES & BENEFITS
Removable soft armor panels in the front and rear of the torso section, and lining the back and sides of the hood.

Rated NIJ Level IIIA - - able to withstand some handful of rounds from handguns as powerful as the .44 Magnum.

Complimentary trauma pad backing every ballistic panel.

Double layer stab proof fabric across the front, back, sides, sleeves, and hood.
SPECS
Ballistic material: all-Kevlar, with the hoodie itself a mix of polyester and cotton fleece

Colors: Bold n' Black, or Natte Navy

Sizes: 7, from small to XXXXL

Weight: 6-9lbs
COMING SOON
Hitting our inventory in the very near future, the newest version of Wonder Hoodie comes with a detachable hood.
HONORABLE MENTION
To extend protection to the legs too, check out Wonder Hoodie's NIJ Level IIIA Bulletproof Pants.
The ultimate in discreet daily protective wear, the PTT is Miguel Caballero's flagship and our most sought-after bulletproof garment.
Yours in either of his or her forms.
HIGHLIGHT FEATURES & BENEFITS
Removable soft armor inserts in the front, back, and sides.

Rated NIJ Level IIIA - - can hold out against several .44 caliber Magnum SJHP rounds and less.

Famed for its sleek ergonomic fitting, breathability, lightness, and comfort.
SPECS
Bullet-resistant material: Ultra-High Molecular Weight PolyEthylene [UHMWPE] with non-Kevlar aramid

Colors: Black, or White

Sizes: 6, from small to XXXL

Weight: roughly 2.4lbs-4.5lbs
BULLETPROOF ZONE GIFT CARD
Still can't decide which tactical gift to choose? Or perhaps you're fretting the guy or gal on the receiving end won't dig what you get? Do away with the guesswork and the worry by giving them something they're sure to love.
The Bulletproof Zone e-Gift Card comes in seven different denominations, from 10 bucks to a grand.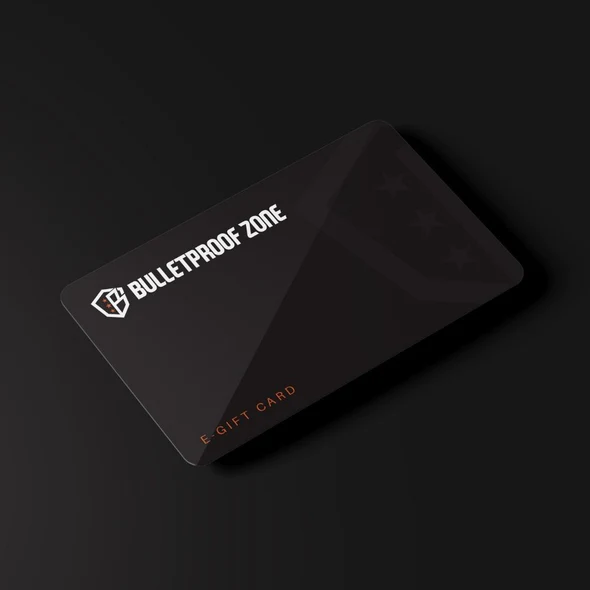 No matter the amount, the lucky recipient's free to pick what they want from our entire line-up of body armor and tactical stuff. And redeem at their leisure.
On top of which, they can take advantage of free shipping anywhere in the States on orders over 100 dollars with purchases backed by our price guarantee - - you're welcome!