What substance is found in bathroom tiles and has been saving lives for more than half a century? The answer: ceramic. Okay, so the ceramic in body armor is different chemically to that in your household mug. Above all, it's phenomenally tough yet low in weight. The very reason ceramic's become the preferred pick of hard armor material in plate carriers for military operators, law enforcement officers, and civilians.
If you too are in the market for superior protection, as always, Bulletproof Zone's got your back. In this comprehensive guide, we explore ceramic armor's beginnings and cast a spotlight on how RMA Defense is helping to shape its present and future. Wrapping up with what you need to know when shopping for ceramic plates. But to kick off, what's meant by ceramic body armor and how it stacks up against steel body armor...
What is Ceramic Body Armor?
Up to the early 1990s, armor plates made out of ceramic were exclusively monolithic. Nowadays, they're normally a composite consisting of a ceramic strike face with an Ultra-High Molecular Weight PolyEthylene [UHMWPE] backing.
TYPES OF CERAMIC USED IN BODY ARMOR
Whether used on their own or in combination, the most common ceramics in modern body armor are as follows:
Aluminum Oxide (Al2O3) Ceramic
Otherwise known as alumina, it's the most widely used ceramic in ballistic plates. Boasting a hardness on a par with sapphire. Although aluminum oxide ceramic armor is the heaviest and bulkiest of the lot, it's still quite low density. Not to mention, the most affordable and least brittle.
Silicon Carbide (SiC) Ceramic
Harder and slightly lighter, silicon carbide is most often found in mid-range ceramic plates.
Boron Carbide (B4C) Ceramic
After diamond, boron carbide is the hardest substance known to man. The lightest weight of the three, it's typically found in high-end ceramic inserts. So, not surprisingly, the priciest type of ceramic.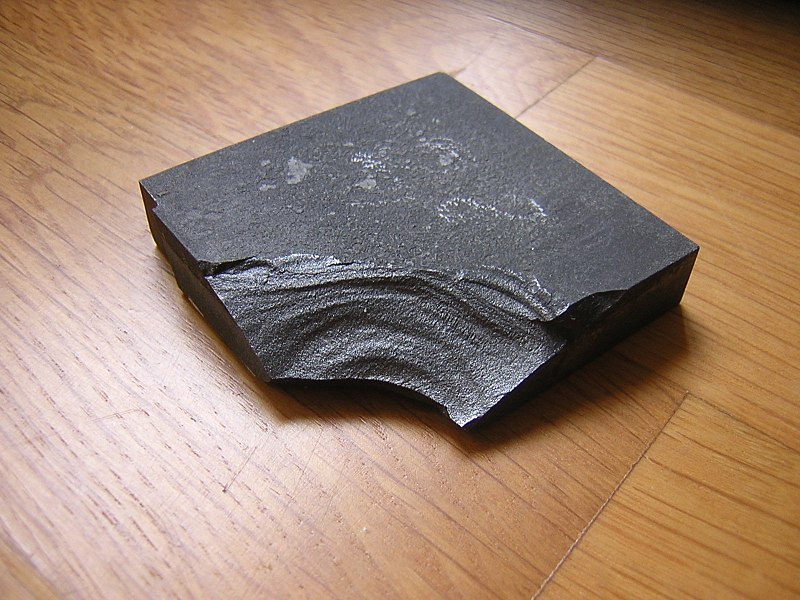 Comparing Steel Armor & Ceramic Armor
STEEL BODY ARMOR PLATES - - PROS & CONS
ADVANTAGES OF STEEL ARMOR
More weather resistant and hard wearing

Longer shelf life

Less costly
Steel is naturally more resilient as well as a lot more durable.
The upshot being steel plates don't expire for some 15 to 20 years. Even longer if stored properly and the metal is coated.
Plus, on price, rather easier on the pocket so more accessible as entry-level body armor.
DISADVANTAGES OF STEEL ARMOR
Heavier and rigid

Suffers from spalling and fragmentation
Steel inserts are thinner but far weightier and stiff. So tiring to wear and restricting movement.
Granted, steel body armor's better at taking repeated hits to the same spot. If struck one too many times though, bits of steel (spall) can break away from the back face of the plate and penetrate the body. With pieces of the shattered bullet ricocheting off the front face endangering the wearer and others nearby.
CERAMIC BODY ARMOR PLATES - - PROS & CONS
ADVANTAGES OF CERAMIC ARMOR
Lighter and more flexible

More effective against higher velocity rounds

Better and safer at absorbing the energy from a projectile
Sure, ceramic plates are thicker but much less heavy and firm. Meaning they're considerably more comfortable to use, particularly for long stretches. Added to which, ceramic body armor's easier to maneuver in allowing the wearer to react faster.
Ceramic inserts are arguably the best at beating high-powered and armor-piercing ammo. Also highly capable defeating multiple bullet strikes as long as the impact points of which are spaced enough apart.
Admittedly, versus steel, ceramic experiences greater Back Face Deformation [BFD]. On the flip side, however, it absorbs and disperses a projectile's force way more efficiently. Safer too, with no spalling behind the plate and bullet fragments caught by the armor's backer material.
DISADVANTAGES OF CERAMIC ARMOR
Can be fragile

Shorter lifespan

Relatively expensive
A ceramic plate may be incredibly strong, but it can be brittle. Susceptible to cracking or chipping if it's accidentally dropped, not handled or stored correctly, or after taking a hard fall while wearing it. And when exposed to excessive moisture and other extreme conditions, ceramic quickly degrades.
What's more, a ceramic insert has a much briefer service life, just 5 to 7 years on average.
Coupled with the fact that ceramic armor isn't exactly the cheapest option, especially for those on a budget.
A Brief History of Ceramic Body Armor
The origins of modern ceramic body armor can be traced back to the swinging sixties. Introduced in 1965, the T65 was a plate carrier vest loaded with one or two 'chicken plates' made of alumina ceramic. They debuted during the Vietnam War to defend American helicopter crews from small arms enemy fire.
Despite being cumbersome to wear, the ceramic inserts had a seriously positive effect. Among pilots and gunners, more than halving fatalities and reducing non-lethal injuries by 27%.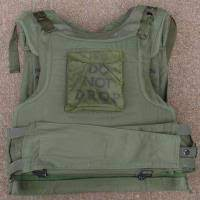 For all the T65's success, it'd be another 30 years before ceramic -this time boron carbide- would be used to armor up US ground troops. To this day, ceramic is still the go-to hard armor issued to Armed Forces personnel. Besides being regularly deployed by tactical police units and special response teams. Not forgetting its widespread use by ordinary folks in a variety of situations.
Thanks to advances in science, technology and manufacturing, ceramic armor has continued to evolve for the better. And over the last decade, one company in particular has been tirelessly breaking new ground in that respect…
RMA Defense & Ceramic Body Armor Innovation
As an ex-Marine and former peace officer, Blake Waldrop understands the need for truly reliable body armor. After losing a Corps member to a roadside bomb, his mission became to engineer ceramic armor that outrivals the competition.
Starting out in his garage, Blake came up with a unique design of ceramic plate. Instead of having a single solid piece of ceramic, it was divided up into an array of 22 tiles.
When struck by a round, the crack in the plate would be limited to only one small section and wouldn't spread. Leaving the rest of the plate undamaged and able to take more bullets. The result was a plate offering much greater multi-hit performance.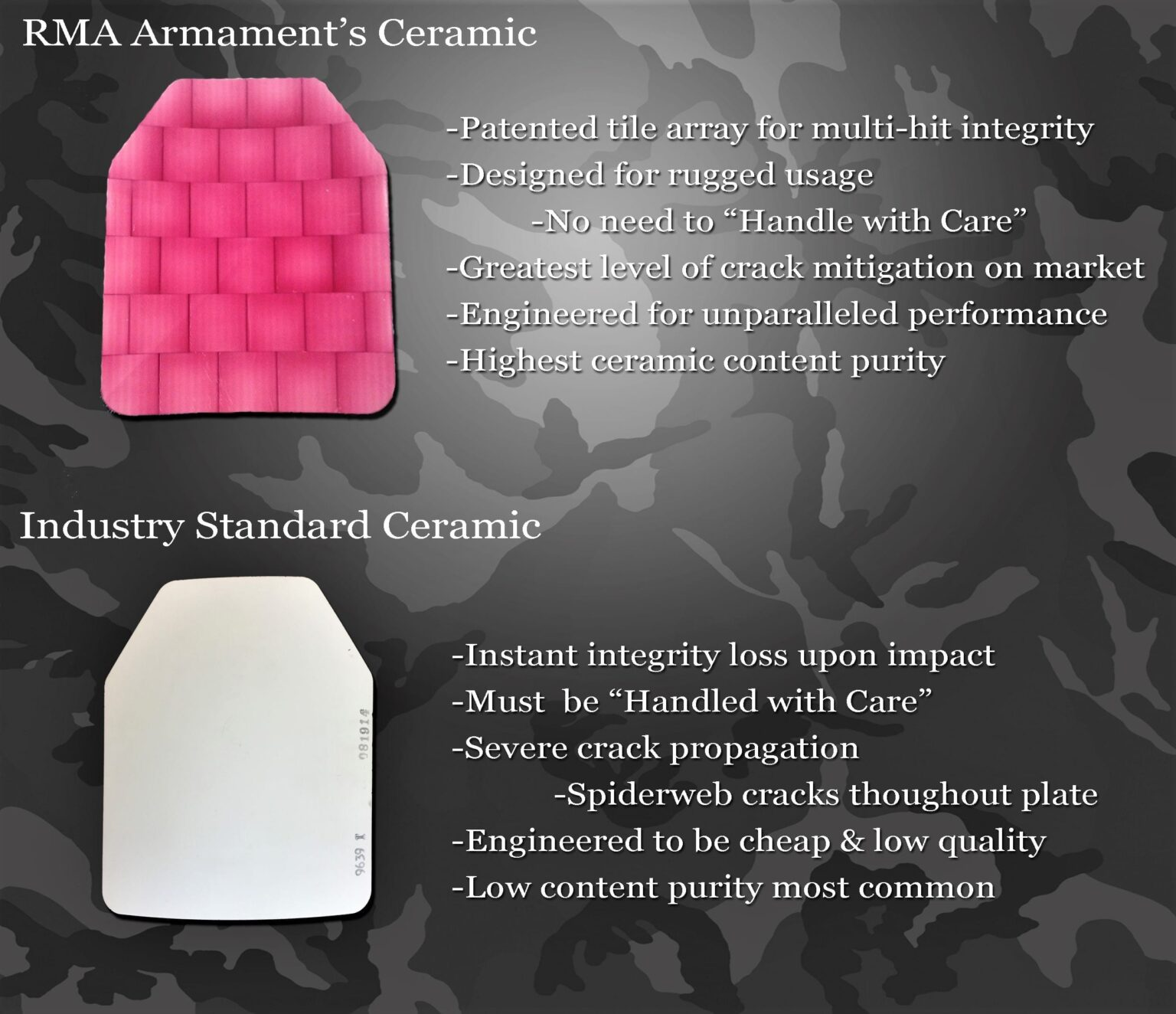 But it didn't stop there. Since RMA Armament launched in 2013, they've been continually raising the bar with ceramic body armor. Wanting to know more, we sat down with team RMA for a little Q&A session:
1. How has RMA Defense's approach to ceramic body armor development evolved over the years, and what sets your products apart from competitors?
Being smaller than a lot of the huge defense contractors has its advantages. Because of our civilian-facing e-commerce business, we've been able to rapidly R&D new materials and products. We've tried a lot of different things, but the one thing that has always ensured the best results has been 100% American-made strike faces.
2. Can you share any real-life examples or testimonials of RMA Defense's ceramic body armor saving lives in the field?
A lot of people contact us out of Ukraine about our plates protecting them from bullets and shrapnel. Most recently, a California man experienced a home invasion. After donning his RMA 1155 plates, he managed to scare the armed intruder off. At some point along the way, his front plate defeated a .380 impact.
3. Are there any new innovations or technologies in ceramic body armor that RMA Defense is currently researching or planning to incorporate into future products?
Looking to the future, you can expect RMA to trim the fat on upcoming products and expand our fitment profiles. We're looking to diversify our product portfolio to create more thin and light end-user specific solutions outside of NIJ standards. You can also expect to see more Level III+ body armor.
Everything from research and development to quality control happens in-house at RMA's own facility in Centerville, Iowa. From where the 'King of Armor' supplies ceramic inserts to foreign military, local/state police departments, government agencies, and everyday law-abiding folk.
How to Choose the Right Ceramic Body Armor
To get the ceramic plate that best suits your individual needs, there's a few key factors to think about:
PROTECTION LEVEL
Above all, make sure the plate provides adequate protection from the ballistic threats you're most likely to encounter.
Non-military body armor is mostly rated according to the United States National Institute of Justice. Graded either NIJ Type III or, the highest level of ballistic protection currently, NIJ Type IV. As well as stopping nearly every caliber of handgun ammunition, both types can resist one or more rifle slugs.
Bear in mind too that any model which is NIJ Certified means it's on the Compliant Products List [CPL]. Guaranteeing the armor meets or exceeds the NIJ's minimum testing requirements.
WEIGHT
Almost as crucial is to purchase ceramic inserts that are as light as possible. For the sake of maximizing mobility and specially if needing to wear them for extended periods.
Generally, an NIJ Level III ceramic plate weighs about 4 to 6 lbs and NIJ Level IV some 7 to 9 lbs.
In addition, remember to take into account the extra burden of any other tactical gear in your load-out.
COST
The price of ceramic plates varies hugely. Depending on the protection rating, type of ceramic, size, curvature, cut, and other things.
As a ballpark, decent quality ceramic armor runs from around $150 for a single plate to 3000+ dollars for a paired set.
Ideally, buy ceramic body armor that fits your budget but without compromising the necessary level of protection and comfort.
THE FINAL WORD ON CERAMIC BODY ARMOR
Ceramic body armor is a tried-and-tested safeguard for everyone from combat soldiers to private citizens. Its super strength and light weight make it the most popular choice for those who live or work in high-risk environments.
Though the cost of ceramic hard plates can be steeper, the merits in terms of personal security make them a worthy investment.
As science and tech progress, count on further evolutions of ceramic armor. Making it ever more effective in shielding those who put themselves in harm's way for the greater good.
Until then, there's RMA Defense. A pack leader and trailblazer in crafting some of the strongest, lightest, and best value ceramic armor out there today.
Take model #1155, our top selling Level IV plate bar none. Or model #1192, the most sought-after hard armor plate with America's law enforcement officers.
For these and their other stand-out ceramic inserts, click straight through to our entire RMA collection!