Here at Bulletproof Zone, we know that when it comes to choosing top-end protection, cost is right up there as a deciding factor. But let's be honest: potentially life-saving though it may be, cheap it usually isn't.
Not wanting to see those on a limited budget go unprotected, one particular entrepreneur decided to take action by making professional-grade protective gear accessible to just about anyone.
Introducing BulletSafe
A decade ago, en route to his favorite potsticker eatery in Chinatown Vegas, Tom Nardone stopped off at a neighborhood bulletproof vest store.
Although vests had switched from using Kevlar to Ultra-High Molecular Weight Polyethylene [UHMWPE] to save money, they still cost a fortune.
A skilled engineer and past hand at Sikorsky Aircraft and the Ford Motor Company, Tom had a lightbulb moment: manufacture bulletproof vests for less. That way, they'd be accessible to people who couldn't normally afford to buy ballistic gear but who could really use it: uniform security guards and the like.
So BulletSafe was born.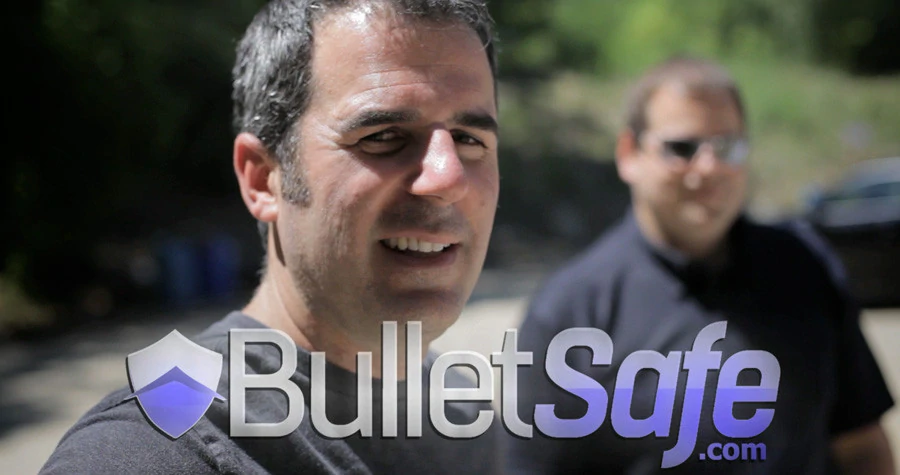 Some 2 years later (in the summer of 2013), the company debuted their flagship product, the BulletSafe Bulletproof Vest under the tagline 'Great Protection. Unbelievable Price'.
While the vest seriously ruffled the competitions' feathers, it proved an instant hit with consumers.
Fast forward to the present, and although BulletSafe was recently sold to Sellmark, the brand continues to refine and expand its pick of all-American made premium yet affordable protective equipment.
The BulletSafe Collection
Having partnered with BulletSafe since 2018, it's hard for us to single out any one of their protective solutions in particular. So here's three:
BulletSafe Level IIIA Vital Protection 3 [VP3] Bulletproof Vest
Not just the latest addition to the BulletSafe inventory, but one of our own best selling vests ever.

Designed to be worn under plain clothes or a uniform.

The perfect vest for first responders: police, EMTs/paramedics, and firefighters; plus, equally popular with correctional officers as well as civilians including urban preppers, recreational shooters, and regular folk.

Officially certified by the U.S. National Institute of Justice; tested to NIJ-STD 0101.06 Level IIIA, the highest protection rating for soft body armor.

Safeguards the vital organs of the torso with wrap-around front and back protection; ballistic panels contain a unique mix of polyethylene and aramid fibers – able to resist at least half-a-dozen hits from most handguns including SJHP bullets from a .44 Magnum handgun; the vest is also multi-threat capable to protect against most stab and slash attacks from edged and spiked weapons.

Low-profile, gender-neutral carrier with a breathable lining; carrier itself is made of rugged 600 Denier polyester fabric and features a hook-and-loop area for placement of an ID badge.

Available in 8 sizes from XS to 4XL, and a weight of only 3.39lbs to 6.90lbs.

Arrives ready to use - simply unbox and go.

And the price of the VP3 vest? Starting at under 300 bucks. Yep, you read that right. If that isn't the most affordable and best value concealable covert body armor out there, we don't know what is!.
BulletSafe VP3 Vest Accessories & Upgrades
BulletSafe Tactical Front Carrier
BulletSafe Tactical Front Carrier
Swap out the standard VP3 front carrier for the over-uniform Tactical Front Carrier Accessory with its rows of Modular Lightweight Load-carrying Equipment [MOLLE] straps for holding tools and supplies.
Stand-alone NIJ-certified BulletSafe Level IV Hard Armor Plates
Stand-alone NIJ-certified BulletSafe Level IV Hard Armor Plates
Apart from extra small, each of the vests' front and rear pockets can accommodate a bigger (10"x12") NIJ Level IV BulletSafe Standalone Ballistic Plate to provide added protection against rifle fire.
BulletSafe Tactical Plate Carrier
Combination 600 Denier polyester and neoprene gives optimal breathability and comfortability; and adjustable padded shoulder and waist straps allow for a custom fit.

Top grab handle, plus front and back MOLLE webbing to custom mount all manner of extras.

Quick and easy removal or insertion of hard armor plates.
Offers protection from swung and thrown objects while providing optical clarity that allows you to accurate assess risk.

Made from optically clear, impact-resistant, high-strength polycarbonate.

At 35.5" tall and 19.5" wide, not to mention, an ultralight weight of 5.8lbs, the RiotReady Shield is effective, protective, and affordable.
Wrapping Up
BulletSafe has become a trusted name in protective solutions that are superior quality, super affordable, and boast a 5-year warranty for further peace of mind.
Sweetest of all, snapping up any BulletSafe gear from us is even easier on the pocket because we let you spread the cost through a number of smart financing options.
Every order over $100 is also eligible for free delivery anywhere in the continental United States, and backed by our price promise.
If getting home safely to your loved ones features in your daily priorities, be sure to check out our entire BulletSafe product line-up today!