Are you looking for the best stab-proof vest?
In the United States, death by knife attacks is the next most common cause of homicide after firearms.
Also, in a 2020 report published by the United Kingdom (UK) government, knife crime is entering its highest point in a decade. As stabbing and slashing attacks are on the rise, people are looking for effective ways to protect themselves.
We'll teach you all about stab proof vests, how they're different from bulletproof vests, and what some of the best options are on the market today.
Let's get started!
What is a Stab Proof Vest?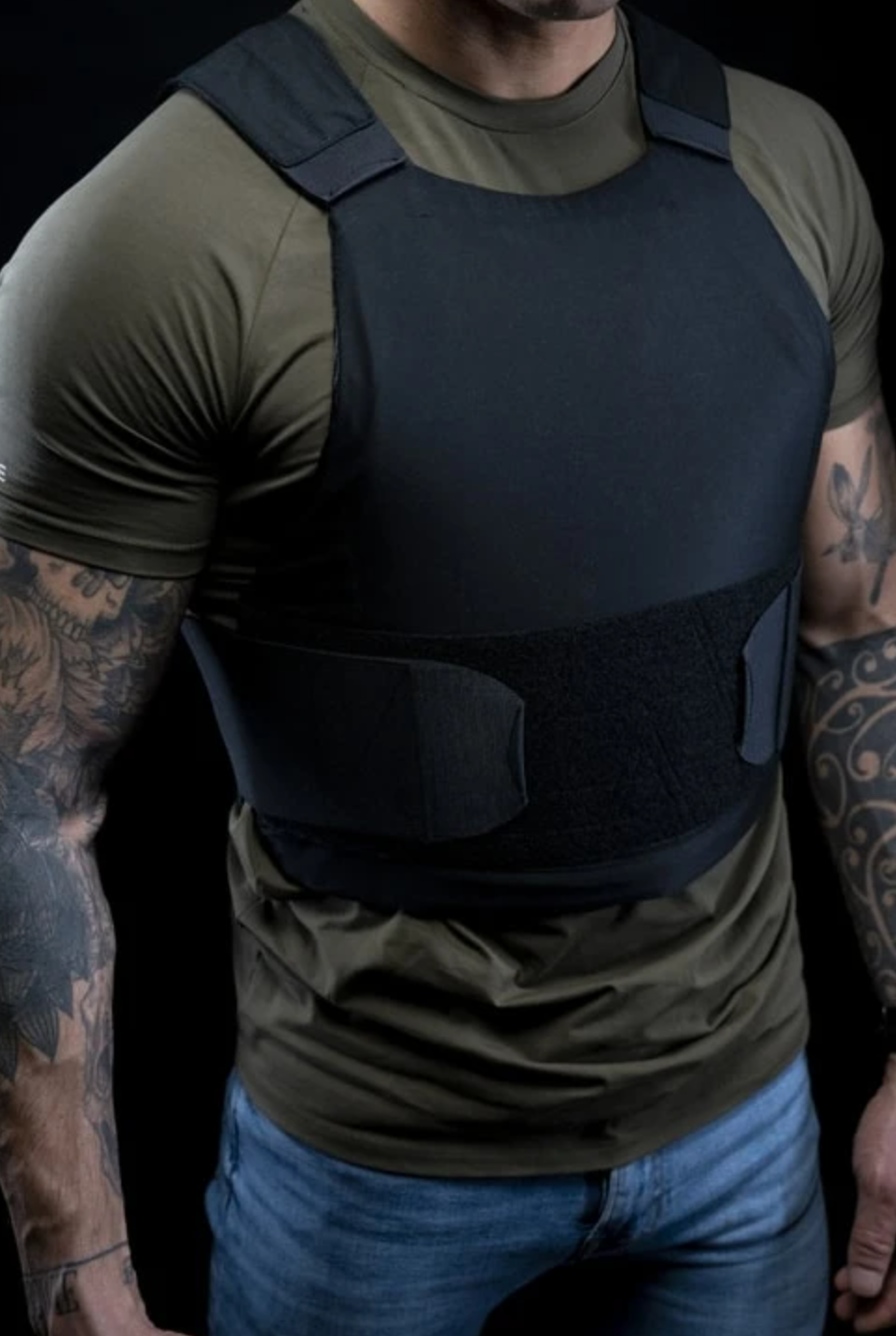 A stab-proof vest or stab vest is a piece of body armor that can be worn under or over clothing, which is designed to resist knife attacks to the chest, back, and sides.
The vest halts knife penetration beyond a few millimeters, thereby preventing serious injury from knife attacks.
Most stab vests are made out of Kevlar material, a synthetic fiber with a very high tensile strength.
When somebody tries to stab an individual wearing a stab vest with a knife, the knife becomes caught in the fabric. The sharp edge of the knife is then unable to penetrate through to the flesh because it is caught within the Kevlar weaving. 
Stab Vest vs. Bulletproof Vest: What's the difference?
While both stab vests and bulletproof vests can be made from Kevlar, bulletproof vests offer protection against handguns and firearms but often do little against stabbing with sharp-tipped weapons such as knives.
Conversely, most stab vests afford little to no protection against bullets. In fact, the higher the degree of stab protection, the lower the degree of bullet protection.
Stab Vest vs. Spike-Proof Vest: What's the difference?
Another important distinction to be mindful of is between stab vests and spike-proof vests.  
Stab vests protect the wearer from edged weapons such as knives, broken glass, and blades.
For protection against sharp pointed objects such as needles, one would need spike protection. Do note that not all stab-resistant gear is spike-resistant and vice versa.
Is Wearing Stab Vests Legal?
Depending on your country of residence, you would encounter different laws for the purchase and wearing of stab-resistant armor. Here are a few of the laws of some larger countries:
In the United States, it is generally legal to purchase and possess body armor. However, special regulations apply in the following states:
Connecticut, where body armor can only be purchased in person, and cannot be purchased online, over the phone, or by mail
Kentucky, where committing a crime while wearing or even owning body armor is a crime in and of itself
Louisiana, where it is illegal to wear body armor on school property or campuses.
In the European Union, body armor use by civilians is restricted.
In the United Kingdom, there is currently no legal restriction on the purchase and wearing of body armor.
How to Choose Your Stab-Proof Vest
To to find the best stab vest for your needs we've put together a few pointers for you. Be sure to go through each step before settling on a stab vest.
1) Assess your threat level
Consider the threats that you are most likely to face and opt for the vest that best protects you against them.
Stab-resistant armor is often preferred by those who work in environments with knives and other sharp objects such as security guards or bouncers. They are also more popular in countries with low firearm ownership such as the UK and Australia.
Bulletproof vests are more commonly used by individuals in countries with greater firearms ownership, such as the United States and Canada.
If you're looking for comprehensive protection against both knives and bullets, look for dual-purpose armor plates that protect against both.
2) Assess the protection level you require
It isn't usually necessary to purchase the most effective body armor on the market. Often, body armor can be uncomfortable to wear, as well as cumbersome.
There is no point getting hold of military-grade protective clothing, or vests worn by S.W.A.T teams, if you'll be wearing equipment for a 10-hour shift atthe doors of a busy nightclub.
Don't be paranoid or reactionary, either. Think back upon the threats you've faced before and try to plan for the threats you may face in the future.
3) Where will your vest be worn?
Another important factor to consider is how you will you wear your body armor.
Most wearers will be looking for covert protection that can be worn discreetly under everyday clothing. If that's the case, consider wearing larger-sized regular clothing to accommodate the extra stab-resistant layers.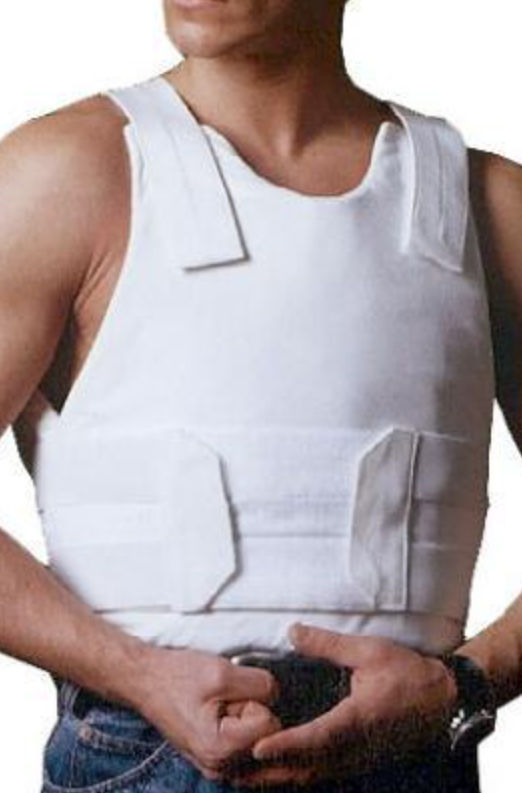 Also keep in mind, overt stab-resistant vests can have the benefit of being a visible deterrence for potential attackers.
4) Other requirements to consider
When shopping for stab vests, consider additional qualities you need your vest to provide, like water-resistance, pockets for carrying equipment, mountings for body cams etc.
Different genders and sizes also require differently designed protection.
Protection Standards of Stab Resistant Vests
The United States Institute of Justice (NIJ) has the NIJ Standard 0115.00, which rates stab and spike proof vests according to their ability to resist blade or spike attacks of different force levels (measured in joules). The ratings are as follows:
Level 1- 24 joules of force
Level 2- 33 joules of force
Level 3-43 joules of force
As a real-world comparison, 24 joules of force is roughly equivalent to being hit by a baseball traveling at about 10 mph. It's slightly weaker than an average man's punch. Keep in mind though, that the force is being focused into the area of a knife's edge, making it far more dangerous than it sounds.
For most people, a Level 1 degree of protection is sufficient enough to protect against most stabbing attacks. This is because attackers usually won't try to stab you with the full force of a punch, attackers don't expect the blade to meet resistance.
But if you expect an attack with more force (like if you're wearing an overt vest), then you should consider higher levels of protection.
Best Stab Resistant Vests
It is best to browse and select the vest that best suits your personal protection needs. Below is a list of some of our favorite stab vests available on the market.
Designed in the Blade runner Oregon Laboratories in the United States of America, this plate offers Level 1 protection against spike from edged weapons.
This stab-resitant plate is the definition of covert. Made from Kevlar, each panel weighs only 285g and is barely 1 cm in thickness.
The Bladerunner stab-resistant plates are made to be easily worn either underneath regular clothing for high discreetness so you can stay protected without attracting unwarranted attention.
Do note that the carrier to wear with the plates is NOT included.
Each panel measures 25 x 31cm and is sufficient for to protect the vital organs on either the front or back. As such, for fuller protection, it is recommended to wear two panels, one in front and one at the back.
The Israel Catalog Ultralight Concealed Vest is a new stab proof vest made for those who face risks of stabbing or blunt-force attacks.
This vest is thin and flexible, but still provides all-around protection for the wearer, specifically high standards of protection for the front and back vital organs.
It easily layers under a shirt or a jacket such that it is ideal for civilians and plain-clothes service occupations who may need a covert vest.
Material wise, the panels are made of stab-resistant Kevlar while the vest is made of cotton and polyester materials for comfort and breathability.
The ballistic panels are also removable for easy maintenance.
The PPSS Group vests offer the best protection against a wide range of blade and spike attacks.
Made from high quality Kevlar, these vests are tested and certified to CAST Knife Resistance Standard KR1 and NIJ Threat Level 1.
The PPSS Group vests are available in both covert and overt designs. You should decide on which depending on the type of threat you face.
For discreet protection, such as for undercover officers or bouncers, go for the concealable option. The outer covers for these covert stab-resistant vests are made out of the lightest and thinnest materials available to further aid concealability. 
If you want to discourage attackers, go for the eye-catching overt model. The user-friendly design means the vest can be put on or taken off within a few seconds.
This vest can also act as a utility vest, with the outer cover made out of the highly durable Cordura material. It can be customized with additional radio loops, docks for body-worn video solutions, and Velcro tapes for identification badges.
Both options offer excellent levels of protection from blunt force attacks like from pieces of iron, furniture, bricks, and also sharp objects like needles and shivs.
Stab resistant vests are usually not bulletproof and bulletproof vests are often not adequately stab-resistant.
The good news is, today's technology maximises the potential of Kevlar to incorporate both bulletproof and stab proof qualities in one body armor. If you're uncertain of the exact threat you may face, you want to consider a vest that protects against knives and projectiles.
For this, we highly recommend the Protection Group Denmark Level IIIA Alpha Bullet and Stab Proof Vest.
This European made vest is the most advanced bulletproof and stab proof vest carrier system made for concealable use.
While bulletproof vests are not always stab resistant, Protection Group Denmark (PGD) has always included anti-stab protection with their ballistic vests.
The Alpha carrier system accepts 2 types of soft armor inserts for different specifications.
This vest is made and designed to the highest quality standards in Randers, Denmark. Bulletproof Zone is proud to be the only authorized and official U.S. dealer of PGD products since 2017.
Do I Need a Stab Vest?
It's up to you to decide if a stab vest is the type of protection you need.
We would point out that attacks from edged weapons in most countries is more likely and frequent than an attack from firearms.
Blunt force and spike trauma injuries can easily lead to organ failure, irreparable injuries, and long term disability.
These vests generally range from $300 to $1,000, depending on the type and degree of protection. Assess the threat level you face in your daily and professional life.
While a piece of protective armor may be expensive, remember that your life is priceless.
Should you see the use of such gear in your daily life, then decide whether you need an overt or concealable vest.
As a general rule of thumb, we suggest concealable ones since they are easier to layer for most individuals, and overt ones for law enforcement officers and security workers.
For a wider range of products, check out Bulletproof Zone's complete catalogue of stab vests.
Have a favorite vest or story about how your equipment protected you in an attack? Share it in the comments below! We love to hear your stories and feedback.