Spartan Armor Systems Omega™ AR500 Body Armor and Sentinel Plate Carrier Package
Product Details
Shipping and Returns
Price Match
Why Bulletproof Zone?
Spartan Armor Systems Spartan™ Omega™ AR500 Body Armor and Sentinel Plate Carrier Package
***Estimated Manufacturer's Lead Time: 2-4 weeks!!

***Return requests should be submitted within 10 days of receiving the package.
Product Overview
The Spartan Armor Systems® Sentinel Plate Carrier is an extremely rugged, lightweight, feature-packed plate carrier that affords users a high degree of comfort and customization. Whether you are shopping for your first plate carrier or your next plate carrier, the Sentinel carrier platform allows the operator significant freedom to build and customize to fit their needs. 
Ready For Anything
Fitting 38" to 48" chest sizes, the Sentinel Plate Carrier is fabricated from 1000 denier fabric and fits 10"x12" shooters cut plates. Featuring anti-slip shoulder padding with velcro, side release buckles, and a highly breathable padded mesh throughout the interior for comfort the Sentinel Plate Carrier affords all-day comfort and wearability. The removable cummerbund features removable side plate pockets for both 6"x6" and 6"x8" plate armor inserts for added protection. The Spartan Armor Systems Sentinel Plate Carrier has been one of our most popular carriers with thousands having been sold to Law Enforcement Officers and Civilians alike.
Spartan Armor Systems® Sentinel Plate Carrier Specs:
Adjustable from 38" To 48" Chest Size
Durable Emergency Drag Handle
Anti-slip Shoulder Padding With Velcro
Side Release Buckles On The Internal Waist Strap
Padded Mesh Separators For The Interior Of The Carrier For Breathability
Fits 10" X 12" Shooters Cut Plates
Removable Cummerbund With Side Plate Pockets For 6" X 6" And 6" X 8" Side Plate Armor
Velcro In Front Of The Carrier Is 8" X 4" With A Velcro Loop On Each Side
Velcro On The Back Of The Carrier Measures 9" X 3"
Stronger Carrier Material That Can Withstand Extensive Wear And Tear Over A Long Period Of Time
1000 Denier
Bottom Loading
Weighs Approximately 2lbs. 9oz.


NOTE: This plate carrier CAN accept 6"x8" side plates. There is a flap of Velcro inside each side plate pocket that must be flipped vertically to allow for 6"x8" side plates.
SPARTAN™ OMEGA™ AR500 BODY ARMOR SHOOTERS CUT SET OF TWO
Product Overview
Armor befitting of a modern-day Spartan… The Spartan™ Omega™ AR500 Body Armor is sold as a pair of plates, and is constructed from ¼" thick lab certified AR500 Omega™ Armor ballistic-grade steel. The Spartan Omega AR500 plates are available in three sizes (8"x10", 10"x12" and 11"x14") and provide the operator with Level III protection in accordance with NIJ0101.06 standards. As with all other body armor sold by Spartan Armor Systems®, our Spartan™ Omega™ AR500 body armor has been independently tested and verified by an independent NIJ credentialed laboratory. 
Spartan™ Omega™ AR500 Body Armor - True High-Quality Ballistic Threat Protection
Not all steel core body armor is created equal! At Spartan Armor Systems® we are honored to provide our customers with the highest quality armor on the market because we understand intimately what is at stake. All Spartan™ Omega™ AR500 Body Armor products use only ballistic LAB CERTIFIED AR500 steel. All purchases of our Spartan Armor products have current lab certificates available on request, ensuring you have peace of mind when it comes to receiving the highest quality and integrity with your Spartan Armor Systems® body armor. For added peace of mind, every plate of armor sold by Spartan Armor Systems® is serialized allowing it to be easily tracked back to the original plate of steel it was cut from should there be any question as to its ballistic properties. Don't settle for sub-standard, ineffective, low-quality steel armor - your life may depend on it. Read our "FAQ" to learn more about the extensive testing and quality assurance all Spartan™ Omega™ AR500 Body Armor is subjected to and to learn about the quality of steel we use to construct our body armor!
Laser Cut to Protect Ballistic Integrity
All steel core body armor is cut and shaped after the ballistic properties have been formulated within the steel. While other steel body armor manufacturers commonly use plasma torch cutting that applies excessive heat (25,000 ˚C / 45,000 ˚F) to a wide portion of the steel plate, Spartan Armor Systems® only utilizes laser cutting to protect the ballistic integrity throughout the entirety of each steel core body armor plate we manufacture. Plasma cutting also requires grinding to clean up the edges after the fact, resulting in increased heat and possible fatigue. At Spartan Armor Systems®, we maintain the highest production integrity and quality standards every step of the way for our customers because we know what is at stake. 
Additional Protection: Full Coat or Base Coat Options
We strongly recommend choosing our full coat option when you buy steel core body armor. Our proprietary plate coating, Encapsaloc™, is a potentially life-saving feature that captures spalling as a result of ballistic impacts on the strike face of the steel core armor plate. Do not settle for steel armor that is merely coated with generic truck bed liner spray coatings that have not been tested for ballistic efficacy. The strike face of our Spartan Armor Systems® Spartan™ Omega™ AR500 Body Armor plates proudly bears the mark of our Spartan logo.  
IMPORTANT NOTE: The base coat option only provides protection against corrosion and offers little to no fragmentation/spall mitigation. Should you choose to select base coat plates, please consider adding our Spall Containment Sleeve (sold separately) as a means of fragmentation mitigation. 
Exceptional Comfort & Engineering
You have the choice of getting our Spartan™ Omega™ AR500 Body Armor formed on a continual radius die (single curve) or with our proprietary and patented Advanced Triple Curve™ (ATC) formation. It is important to note that our single curve plate is the equivalent of what our competitors deem "multi-curve" and our ATC design is a true multi-curve plate with unique curvature at the top, bottom, and sides of the plate. At Spartan Armor Systems® we have machined custom tooling to craft our plates with a sleek curvature that conforms and wraps to your torso for enhanced ergonomics. Spartan Armor Systems®™ is proud to be the FIRST in the industry to commercially offer the triple-curved Spartan™ Omega™ AR500 Body Armor. Spartan Armor Systems®' ATC body armor allows the operator to shoulder their weapon with the most freedom and limited discomfort. The ATC design provides a snug, comfortable fit and "hugs" the operator's body, resulting in a significant increase in comfort and operational maneuverability. Our custom-configured CNC equipment and advanced understanding of what makes Steel Core Armor most effective has allowed us to create dies that form our body armor without any "crease" bends. Crease-bends, "work hardens" the plate, which causes a significant amount of stress to the portion of the plate being placed under load during the manufacturing process. We HIGHLY suggest when doing your research, that you ask any manufacturer under consideration if they crease bend their body armor. This process results in increased potential for plate fatigue and failure, which is why Spartan Armor Systems®™ has gone the extra mile to create this unique die process. 
Chest Plate Weight (per plate): 
10"x12" Plate: Base Coat 8lbs 10oz. Full Coat 9lbs 11oz.
Side Plate Weight (per plate): 
6×6 approximately 2lbs 1oz (base coat) or 2lbs 15oz (full coat)
6×8 approximately 3lbs 10oz (base coat) or 3lbs 14oz (full coat)
Additional Spartan™ Omega™ AR500 Body Armor - Specs: 
Made in U.S.A.
Meets NIJ 0101.06 Level III Specifications
Available in Single Curve (commonly Called "MultiCurve" by other manufacturers) or Advanced Triple Curve™ 
Full Coat Option Provides Fragmentation/Spall Mitigation, Base Coat Provides Corrosion Protection Only
See A Comparison of Our Full Line of Body Armor: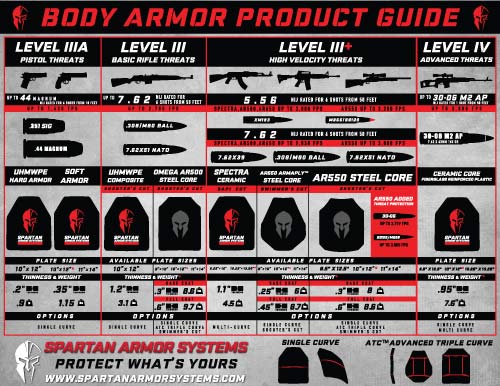 Export Administration Regulations (EAR) and International Traffic in Arms Regulations (ITAR) - US Export Regulations:
Level III and IV rifle rated body armor (Rifle Plates) fall under jurisdiction of the Export Administration Regulations (EAR) and International Traffic in Arms Regulations (ITAR), and are subject to the export control laws of the US Government. Export or re-transfer of Rifle Plates by any means to any foreign end user or for any other end use, whether in the US or abroad without written approval of the US Department of Commerce or Department of State is prohibited.
The sale, transfer, transportation, or shipment outside of the US of any product prohibited or restricted for export without complying with US export control laws and regulations, including proper export licensing, documentation or authorization, is strictly prohibited and may result in civil penalties and/or constitute a federal crime. Spartan Armor Systems, TK Armor Systems, LLC will not engage in any transaction that requires the illegal export of any products and will not assist directly or indirectly with the illegal export or re-export of any products.
*******All products available on this category are sold under and branded under Spartan Armor Systems ™ The Target Man's /Spartan Armor Systems Spartan™ Omega™ AR500 Body Armor Armor products are manufactured from genuine, lab-certified AR500 ballistic grade steel. None of the products available on this website are sourced from, sponsored or approved by, affiliated with or in any way connected with Armored Republic, LLC.
Bulletproof Zone will ship orders as soon as possible. For example, if you purchase three items, they will be shipped to you based on lead time and availability. This way you get as much of your order as soon as possible, which means that your order may come in separate packages, especially if you order products from different manufacturers.
We will bear the shipping cost for products returned because of product defect, misrepresentation, or false description. Afterward, we will initiate a full reimbursement should you decline an offer to replace the item with the same item of equal value and assured quality.
Order Confirmation:
As soon as you place your order with Bulletproof Zone, you will receive an order confirmation e-mail. This means that your order has been logged in our system and your credit card has been pre-authorized for the purchase. Afterward, we contact our suppliers to confirm the availability of the product you are ordering for immediate shipment. If your item is on backorder or unavailable, we will cancel the pre-authorization and duly inform you via e-mail.
Order Shipment:
Orders are shipped within five business days from the date of your order unless specified otherwise on the product page. The product page will contain the most accurate estimate on shipping and lead times. Shipping and lead times provided on the product page are our best estimates based various factors including order volume, information from our manufacturer, raw material fluctuations, etc., and may vary due to these factors. 
You will receive an email containing the tracking information of your order after the order has been shipped to your location. If you do not receive tracking information from us within seven business days of the lead time specified on the product page, feel free to follow up with us at orders@bulletproofzone.com.
Bulletproof Zone is not responsible for lost or stolen packages. A tracking number will be provided when the package is shipped. It is the buyer's responsibility to provide a safe place to receive mail. Once an item has been marked as delivered by the carrier, the seller is not responsible should that item go missing. 
Damages:
We take full responsibility for any obvious damage to your product caused by wrong packaging or delivering an already defective product. Please inspect the packaging of your item(s) when they arrive, if you notice any damage, you should document it when signing for delivery. If the item(s) contained in the package arrives damaged, please send photos to support@bulletproofzone.com, and we will process an insurance claim on your behalf. 
Returns and Cancellation Policy:
We back all our products with a customer satisfaction guarantee, so we created a fair return and cancellation policy.
All sales are final. No Refunds, No Cancellations. In most cases, once the order is processed, it is final and not cancellable. We may allow exceptions due to an order error or wish to return your order after delivery for any reason other than a product defect or misrepresentation. Any cancellation request is subject to an administration and cancellation fee equal to 10% of your order with a minimum of $35, whether order shipment is successful or not.
All sales are final on all closeout items and for custom manufactured bulletproof clothing once the manufacturing process has begun or not returnable unless there is a product defect or misrepresentation. Applicable to brands such as MC Armor, Israel Catalog, Masada Armor, BulletBlocker, Tread Armament, Talos Ballistics, Wonder Hoodie, and others. 
Before returning any product, you MUST obtain a return authorization from our customer service representative. We can only process AUTHORIZED returns for items.
To make a Return or Exchange: 
Obtain authorization for return or exchange by emailing us at support@bulletproofzone.com explaining the reason for the return or exchange.
Please use or indicate your order number as attention
Return or exchanges request submission must be within 14 calendar days upon receipt of shipment unless noted otherwise on the product description page.  Your return must be in original packaging and unused.
We encourage using USPS flat-rate shipping in returning products to receive a shipping expense refund. Buyers must ensure all returned parcels delivery receipt AND signature confirmation. We highly recommend insuring your parcel as we cannot issue a refund for an item that we do not receive back should it get lost/damaged during transit.
Refunds:
Should an item be returned because it was defective, misrepresented, not as described, etc., Bulletproof Zone will issue a full refund and will reimburse the customer for all shipping expenses associated with the return.
Please allow 5-10 business days from the time the item is received to process a refund. Refunds will only be issued to the original credit card that you use when placing your order.
We stand behind our products 100%!
By purchasing any of our items, the buyer certifies they have read and agree to our shipping, return, and privacy policies.
Price Guarantee
At Bulletproof Zone, we ensure that you get the absolute best prices for Bulletproof Vests, Plate Carriers, Bulletproof Clothing, Bulletproof Backpacks, as well as other tactical gear and safety products, all while ensuring the highest quality.
For us, providing products of the highest quality is unnegotiable. As always, high-quality products do not come cheap, but we ensure that it is reasonably priced using our exclusive contracts with the best protective product manufacturers.
We want you to feel confident that you are getting the absolute best price for the product you are ordering. To show our confidence in our prices, we offer a price guarantee to our customers. If you find out within six months from your purchase of an item that our company offered an item for a price higher than our competition, we will refund the difference. 
To get a refund, all you need to do is e-mail us a link to the product on our website and the same product on our competitor's website within six months from the date of your purchase, and we will process the refund accordingly.
Terms and Conditions of our 100% Price Guarantee:
You must have purchased the item from our website before requesting your Price Match Guarantee
Discounted goods and goods received as an Ad on such as; buy one, get one free offer are not eligible
The item must be in stock on the competitor's website
The 100% price guarantee is only valid within the first six months from the date of purchase
The competitor must be an online store; they may not have a retail location
The competitor website cannot be a discounter or an auction website (i.e., eBay, overstock, etc.)
The competitor must be an Authorized Retailer of the product in question
The Price Match Guarantee includes the item price and the shipping charges; it excludes sales tax
Why Bulletproof Zone?
At Bulletproof Zone, we are passionate about protecting lives. Every piece from our catalog is designed and rigorously tested to provide the highest quality of protection you need from firearms, explosives or even close quarters combat.
We've partnered with various manufacturers that operate within the United States under a strict set of guidelines both on a national and corporate level so that when you shop with us, you will be able to select from the highest quality body armor, ballistic plates and tactical gear available on the market.
Whether you are a military service member looking to find your own gear, a professional that operates in the security field, or an avid firearms enthusiast that capitalizes the importance of safety when shooting, our tactical gear will provide you the level of protection you need.
Any questions or concerns? Please call us at (408)-909-4938 or email us at support@bulletproofzone.com and a member of our professional support team will be in touch with you as soon as possible.