Protection Group Denmark-DELTA | bulletproof vest
Product Details
Shipping and Returns
Price Match
Why Bulletproof Zone?
Protection Group Denmark-DELTA | bulletproof vest
***Due to the high demand of this product, please allow 4-6 weeks for delivery!!

This Bulletproof Vest Can Be Shipped Internationally! 

The PGD-DELTA bulletproof vest is the king, the alpha male, the general.The thinnest and most flexible bullet proof vest, offering unmatched protection. Made and manufactured in Denmark. 
What is the advantage of this bulletproof vest?
It is very slim. It keeps the weight down. It weighs only 1.7-1.8 kg (3.7-4 lbs) for a medium size.

It is flexible, so you retain the freedom of movement to perform at your best.

It follows the shape of the body, so you hardly notice that you are wearing it.
DELTA have been tested to the highest level of protection, NIJ level IIIA (3A), to stop the latest and most advanced threats from hand-guns.

DELTA offers a high level of protection from knives up to 55 joules.
They are also very proud that the vest is manufactured 100% in Denmark, at our own ISO9001: 2015-certified factory. The DELTA is designed for a perfect fit and maximum protection. The carrier system is lined with Outlast® PCM-technology, which ensures maximum comfort and allows you to wear it up to 14 hours a day!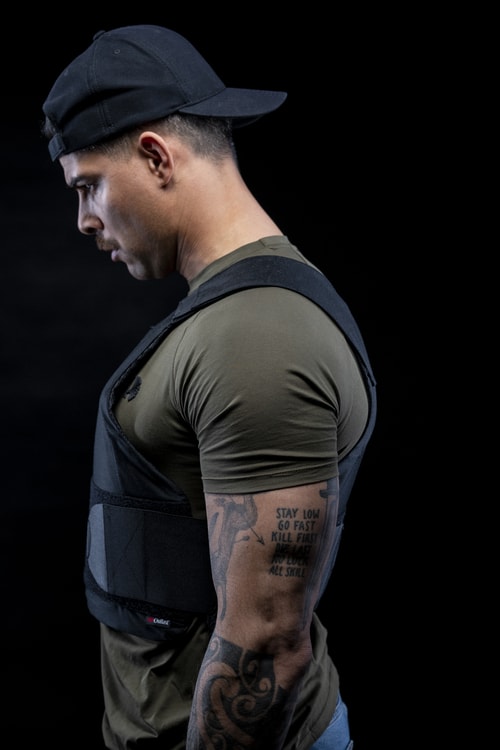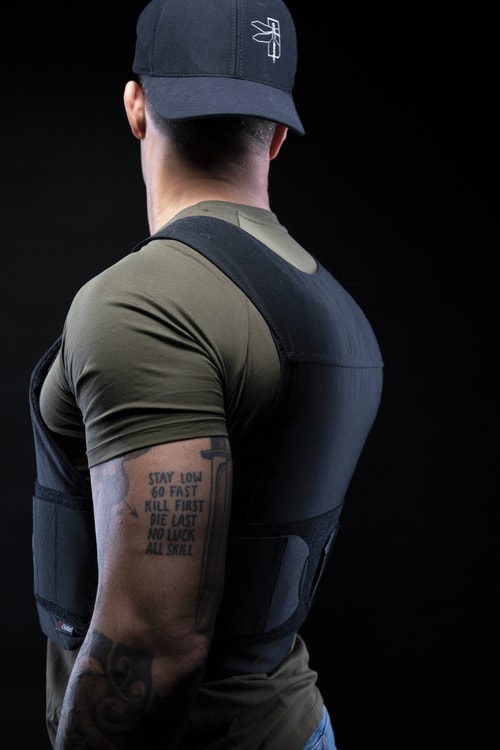 Notice the 2 definitions, IIIA and 55J.
"IIIA" is the ballistic level of protection of the vest.  NIJ IIIA is the highest level of protection against small arms and shows how bulletproof the vest is. If the vest needs to stop more powerful threats than hand-gun threats, then you need to upgrade with hard armor plates.

"55J" is how hard a stab from a knife, the vest stops. "J" stands for Joules and is the unit of measurement for the energy needed to penetrate the vest. 20J is the standard for a bulletproof vest and stops superficial stabs. It takes an incredible amount of force to get through the DELTA vest.
Specifications:
NIJ IIIA 0101.04.

NIJ 0115.00 S1 55 joules, which makes it twice as stab-proof as other bulletproof vests.

Ultra-thin - only 4.9 mm.

Size L = 2.1 kg (including textile and ballistic inserts)

10/10 flexibility.

UNISEX - works as bullet- and stabproof vest for both men and women.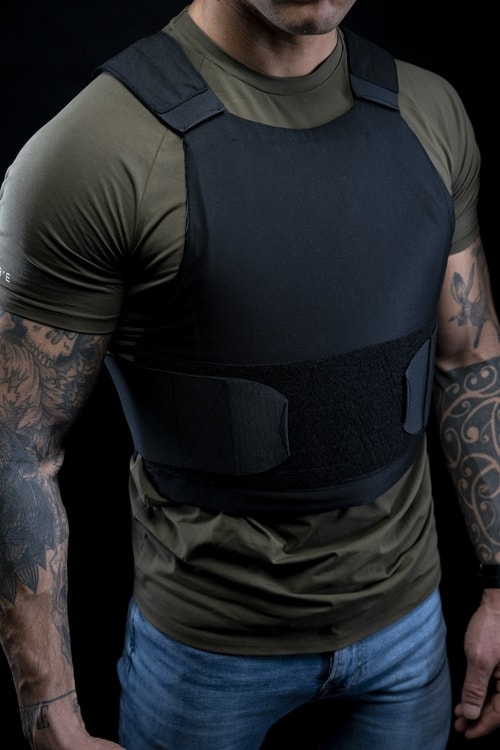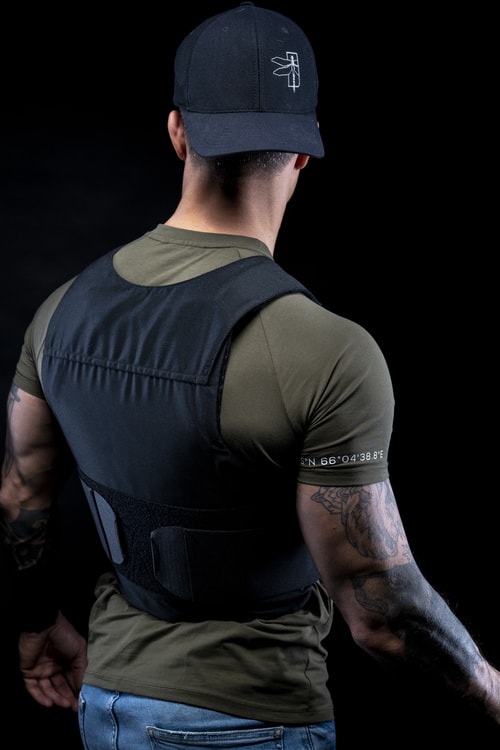 Best bulletproof vest with technology that keeps the body temperature just right.
In our DELTA bulletproof vest we use Outlast® PCM-technology. It is a NASA technology that keeps your body neither too hot nor too cold but keeps the body temperature just right. Outlast® PCM helps you to wear the vest for long periods of 12-14 hours at a time.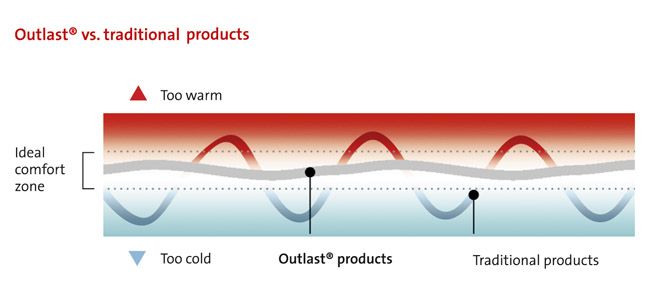 Because Outlast® is a technology - not a material - it can both hold and release heat. Ordinary, traditional mesh / sweat-absorbing materials only help you get rid of the heat, but do not keep you warm if you freeze.
A bulletproof vest with Outlast® is like having a duvet that you do not kick off at night because you sweat, or lack in the morning because you are freezing.
If you are on guard or patrolling, it makes a huge difference to your ability to perform, when the equipment adapts to your needs. Outlast® technology helps with that.
Ultrasonic sealing technology
The bulletproof inserts come in a water-resistant cover, which is sealed with our Ultrasonic sealing technology. It provides a 100% water-resistant seal. All forms of sweat and water are rejected, and this keeps the ballistic property intact.
That's why we offer a 7-year guarantee on all our bulletproof panels. That is 2 years more than the standard requires.
All in all, you get a secure vest that is designed to stop the most advanced threats from hand-guns and knives, where both comfort and level of protection is top-notch.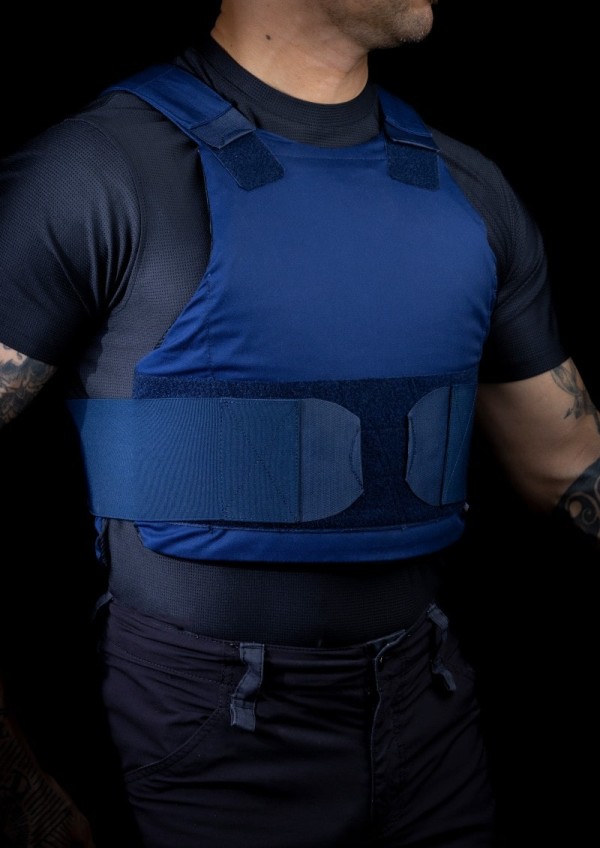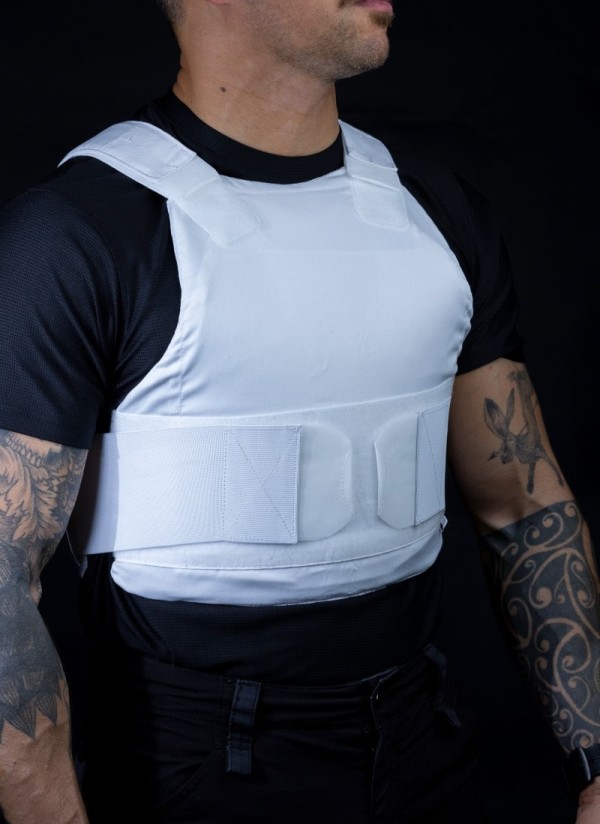 Technical specifications:
7-year ballistic warranty.
100% water/sweat resistant ultrasonic sealed TPU-cover.
Unisex (can be used by both men and women).
Concealed design.
2-year warranty on the carrier.
It is possible to add hard armor plates in both front and back:

S-M accepts S ESAPI
L-XL accepts M ESAPI
XXL accepts 30x25 cm / 12x10 inch, M ESAPI
XXXL accepts 30x25 cm / 12x10 inch, M and L ESAPI
Size guide for concealable bulletproof and stab proof vests:
| | |
| --- | --- |
| Size | Waist measurement (at the navel) |
| Small | 60-70 cm |
| Medium | 70-80 cm |
| Large | 80-90 cm |
| X-Large | 90-100 cm |
| 2X-Large | 100-110 cm |
| 3X-Large | 110-125 cm |
Panel Size Data (Unit: cm)


Manufactured in Denmark by PGD
They have their own factory, and all soft armor you buy at PGD is hand-cut, sewn and heat sealed in Denmark. This ensures you, firstly, that the quality is at the highest possible level, as we control the entire production. Secondly we can sell a premium product at a significantly lower price!

PGD is ISO9001:2015-certified and uses only quality materials from well-known manufacturers. The DELTA IIIA+55J is manufactured with materials from Honeywell.
Who is Protection Group Danmark?
Protection Group Danmark was founded in 2013 and is located in Randers, Denmark. A small family-owned company, its full production is based in Europe. PGD specializes in manufacturing small-quantity, high-quality materials using well-known companies such as Honeywell, Kevlar, Teijin, and DSM. Protection Group Danmark is ISO9001:2015 certified and owns its soft armor factory in Denmark. 
Bulletproof Zone will ship orders as soon as possible. For example, if you purchase three items, they will be shipped to you based on lead time and availability. This way you get as much of your order as soon as possible, which means that your order may come in separate packages, especially if you order products from different manufacturers.
We will bear the shipping cost for products returned because of product defect, misrepresentation, or false description. Afterward, we will initiate a full reimbursement should you decline an offer to replace the item with the same item of equal value and assured quality.
Order Confirmation:
As soon as you place your order with Bulletproof Zone, you will receive an order confirmation e-mail. This means that your order has been logged in our system and your credit card has been pre-authorized for the purchase. Afterward, we contact our suppliers to confirm the availability of the product you are ordering for immediate shipment. If your item is on backorder or unavailable, we will cancel the pre-authorization and duly inform you via e-mail.
Order Shipment:
Orders are shipped within five business days from the date of your order unless specified otherwise on the product page. The product page will contain the most accurate estimate on shipping and lead times. Shipping and lead times provided on the product page are our best estimates based various factors including order volume, information from our manufacturer, raw material fluctuations, etc., and may vary due to these factors. 
You will receive an email containing the tracking information of your order after the order has been shipped to your location. If you do not receive tracking information from us within seven business days of the lead time specified on the product page, feel free to follow up with us at orders@bulletproofzone.com.
Bulletproof Zone is not responsible for lost or stolen packages. A tracking number will be provided when the package is shipped. It is the buyer's responsibility to provide a safe place to receive mail. Once an item has been marked as delivered by the carrier, the seller is not responsible should that item go missing. 
Damages:
We take full responsibility for any obvious damage to your product caused by wrong packaging or delivering an already defective product. Please inspect the packaging of your item(s) when they arrive, if you notice any damage, you should document it when signing for delivery. If the item(s) contained in the package arrives damaged, please send photos to support@bulletproofzone.com, and we will process an insurance claim on your behalf. 
Returns and Cancellation Policy:
We back all our products with a customer satisfaction guarantee, so we created a fair return and cancellation policy.
All sales are final. No Refunds, No Cancellations. In most cases, once the order is processed, it is final and not cancellable. We may allow exceptions due to an order error or wish to return your order after delivery for any reason other than a product defect or misrepresentation. Any cancellation request is subject to an administration and cancellation fee equal to 10% of your order with a minimum of $35, whether order shipment is successful or not.
All sales are final on all closeout items and for custom manufactured bulletproof clothing once the manufacturing process has begun or not returnable unless there is a product defect or misrepresentation. Applicable to brands such as MC Armor, Israel Catalog, Masada Armor, BulletBlocker, Tread Armament, Talos Ballistics, Wonder Hoodie, and others. 
Before returning any product, you MUST obtain a return authorization from our customer service representative. We can only process AUTHORIZED returns for items.
To make a Return or Exchange: 
Obtain authorization for return or exchange by emailing us at support@bulletproofzone.com explaining the reason for the return or exchange.
Please use or indicate your order number as attention
Return or exchanges request submission must be within 14 calendar days upon receipt of shipment unless noted otherwise on the product description page.  Your return must be in original packaging and unused.
We encourage using USPS flat-rate shipping in returning products to receive a shipping expense refund. Buyers must ensure all returned parcels delivery receipt AND signature confirmation. We highly recommend insuring your parcel as we cannot issue a refund for an item that we do not receive back should it get lost/damaged during transit.
Refunds:
Should an item be returned because it was defective, misrepresented, not as described, etc., Bulletproof Zone will issue a full refund and will reimburse the customer for all shipping expenses associated with the return.
Please allow 5-10 business days from the time the item is received to process a refund. Refunds will only be issued to the original credit card that you use when placing your order.
We stand behind our products 100%!
By purchasing any of our items, the buyer certifies they have read and agree to our shipping, return, and privacy policies.
Price Guarantee
At Bulletproof Zone, we ensure that you get the absolute best prices for Bulletproof Vests, Plate Carriers, Bulletproof Clothing, Bulletproof Backpacks, as well as other tactical gear and safety products, all while ensuring the highest quality.
For us, providing products of the highest quality is unnegotiable. As always, high-quality products do not come cheap, but we ensure that it is reasonably priced using our exclusive contracts with the best protective product manufacturers.
We want you to feel confident that you are getting the absolute best price for the product you are ordering. To show our confidence in our prices, we offer a price guarantee to our customers. If you find out within six months from your purchase of an item that our company offered an item for a price higher than our competition, we will refund the difference. 
To get a refund, all you need to do is e-mail us a link to the product on our website and the same product on our competitor's website within six months from the date of your purchase, and we will process the refund accordingly.
Terms and Conditions of our 100% Price Guarantee:
You must have purchased the item from our website before requesting your Price Match Guarantee
Discounted goods and goods received as an Ad on such as; buy one, get one free offer are not eligible
The item must be in stock on the competitor's website
The 100% price guarantee is only valid within the first six months from the date of purchase
The competitor must be an online store; they may not have a retail location
The competitor website cannot be a discounter or an auction website (i.e., eBay, overstock, etc.)
The competitor must be an Authorized Retailer of the product in question
The Price Match Guarantee includes the item price and the shipping charges; it excludes sales tax
Why Bulletproof Zone?
At Bulletproof Zone, we are passionate about protecting lives. Every piece from our catalog is designed and rigorously tested to provide the highest quality of protection you need from firearms, explosives or even close quarters combat.
We've partnered with various manufacturers that operate within the United States under a strict set of guidelines both on a national and corporate level so that when you shop with us, you will be able to select from the highest quality body armor, ballistic plates and tactical gear available on the market.
Whether you are a military service member looking to find your own gear, a professional that operates in the security field, or an avid firearms enthusiast that capitalizes the importance of safety when shooting, our tactical gear will provide you the level of protection you need.
Any questions or concerns? Please call us at (408)-909-4938 or email us at support@bulletproofzone.com and a member of our professional support team will be in touch with you as soon as possible.