Protection Group Denmark Level IIIA Alpha Bullet and Stab Proof Vest
Product Details
Shipping and Returns
Price Match
Why Bulletproof Zone?
Protection Group Denmark Level IIIA Alpha Bullet and Stab Proof Vest
**Due to the high demand of this product, please allow 4-6 weeks for delivery.
This Bulletproof Vest Can Be Shipped Internationally! 
Protection Group Denmark is proud to present the PGD-Alpha, its most advanced bulletproof and stab proof vest carrier system made for concealable use.
The Alpha carrier system accepts 2 types of soft armor inserts for different specifications. This armor is 100% made in Denmark at their ISO9001:2015 certified facilities in Randers with ballistic materials from US Honeywell; Spectra Shield, and Gold shield. You can rest assured that you're getting the best quality in body armor and stab proof vests with Protection Group Denmark.
While bullet proof vests are not always stab resistant, PGD has always included anti-stab protection with their ballistic vests.
Stab force is measured by joules. The higher amount of joules covered, the higher force from a knife the soft armor will be protective against. Compare this to similar stab proof vests available.
This vest is made and designed to the highest quality standards in Randers, Denmark. Bulletproof Zone is the only authorized and official U.S. dealer of PGD products since 2017.
You can choose PGD ALPHA bulletproof vests in two ballistic solutions:
BRAVO IIIA + 27J, is our basic soft armor. It meets all the requirements you want to set for an ordinary bulletproof vest.

DELTA IIIA + 55J, is more flexible, thinner, lighter and more resistant to stabs than BRAVO.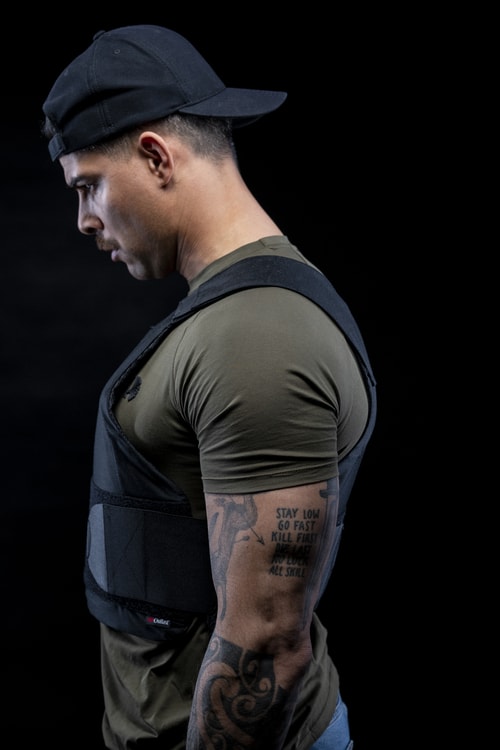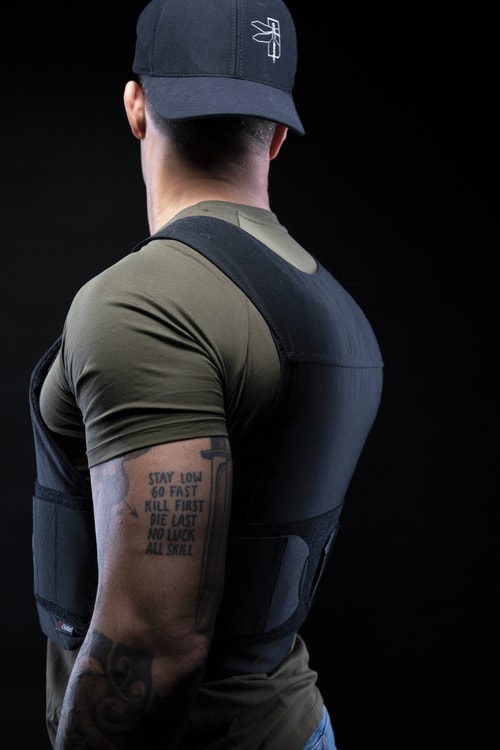 Notice the 2 definitions, IIIA, and 55J.
"IIIA" is the level of protection of the vest. NIJ IIIA is the highest level of protection against small arms and shows how bulletproof the vest is. If the vest needs to stop more powerful threats than hand-gun threats, then you need to upgrade with hard armor plates.

"55J" is how hard a stab from a knife, the vest stops. "J" stands for Joules and is the unit of measurement for the energy needed to penetrate the vest. 20J is the standard for a bulletproof vest and stops superficial stabs. It takes an incredible amount of force to get through the DELTA vest.
The two vests protect equally well against handguns, but very differently against stabbing weapons.
Both vests protect at NIJ level 3a (IIIA) against handguns. However, there is a noticeable difference in how powerful a stab they can stop from a knife, as we have added a unique composition that also allows the vests to stop knives.
DELTA IIIA + 55J

DELTA IIIA + 55J is flexible, thin (only 4.9 mm), and allows a stab proof vest to protect up to 55 joules of stab force.
The Delta consists of a Goldshield from Honeywell material and is our most flexible bullet and stab proof vest, while also shaping itself to both men and women's bodies.
Specifications:
NIJ IIIA 0101.04
NIJ 0115.00 S1 55 joules
Ultra-thin, only 4.9 mm.
10/10 flexibility
UNISEX - works in bullet and stab proof vests for both men and women.
Find out other things you need to consider when buying a concealable bulletproof vest. 
Size guide for concealable bulletproof and stab proof vests:
| | |
| --- | --- |
| Size | Waist measurement (at the navel) |
| Small | 60-70 cm |
| Medium | 70-80 cm |
| Large | 80-90 cm |
| X-Large | 90-100 cm |
| 2X-Large | 100-110 cm |
| 3X-Large | 110-125 cm |
Panel Size Data (Unit: cm)
Utilizing the Best bulletproof vest technology to keep your body temperature just right.
The Protection Group Denmark ALPHA IIIA - DELTA bulletproof vest use Outlast® PCM technology. This NASA technology keeps your body at the perfect temperature, neither too hot nor too cold, just right.
Outlast® PCM means you can wear the vest for long periods, 12-14 hours at a time if needed!
Note: Outlast® is a technology, not a material. Outlast® can hold and release heat better versus traditional mesh/foam absorbent materials that only release sweat and heat.
This makes our bulletproof vest lined with Outlast® significantly more comfortable than traditional vests that only have sweat-absorbing materials.
Who is Protection Group Danmark?
Protection Group Danmark was founded in 2013 and is located in Randers, Denmark. A small family-owned company, its full production is based in Europe. PGD specializes in manufacturing small quantity, high-quality materials using well-known companies such as Honeywell, Kevlar, Teijin, and DSM. Protection Group Danmark is ISO9001:2015 certified and owns its soft armor factory in Denmark. 
Bulletproof Zone will ship orders as soon as possible. For example, if you purchase three items, they will be shipped to you based on lead time and availability. This way you get as much of your order as soon as possible, which means that your order may come in separate packages, especially if you order products from different manufacturers.
We will bear the shipping cost for products returned because of product defect, misrepresentation, or false description. Afterward, we will initiate a full reimbursement should you decline an offer to replace the item with the same item of equal value and assured quality.
Order Confirmation:
As soon as you place your order with Bulletproof Zone, you will receive an order confirmation e-mail. This means that your order has been logged in our system and your credit card has been pre-authorized for the purchase. Afterward, we contact our suppliers to confirm the availability of the product you are ordering for immediate shipment. If your item is on backorder or unavailable, we will cancel the pre-authorization and duly inform you via e-mail.
Order Shipment:
Orders are shipped within five business days from the date of your order unless specified otherwise on the product page. The product page will contain the most accurate estimate on shipping and lead times. Shipping and lead times provided on the product page are our best estimates based various factors including order volume, information from our manufacturer, raw material fluctuations, etc., and may vary due to these factors. 
You will receive an email containing the tracking information of your order after the order has been shipped to your location. If you do not receive tracking information from us within seven business days of the lead time specified on the product page, feel free to follow up with us at orders@bulletproofzone.com.
Damages:
We take full responsibility for any obvious damage to your product caused by wrong packaging or delivering an already defective product. Please inspect the packaging of your item(s) when they arrive, if you notice any damage, you should document it when signing for delivery. If the item(s) contained in the package arrives damaged, please send photos to support@bulletproofzone.com, and we will process an insurance claim on your behalf. 
Returns and Cancellation Policy:
We back all our products with a customer satisfaction guarantee, so we created a fair return and cancellation policy.
All sales are final. No Refunds, No Cancellations. In most cases, once the order is processed, it is final and not cancellable. We may allow exceptions due to an order error or wish to return your order after delivery for any reason other than a product defect or misrepresentation. Any cancellation request is subject to an administration and cancellation fee equal to 10% of your order with a minimum of $35, whether order shipment is successful or not.
All sales are final on all closeout items and for custom manufactured bulletproof clothing once the manufacturing process has begun or not returnable unless there is a product defect or misrepresentation. Applicable to brands such as MC Armor, Israel Catalog, Masada Armor, BulletBlocker, Tread Armament, Talos Ballistics, Wonder Hoodie, and others. 
Before returning any product, you MUST obtain a return authorization from our customer service representative. We can only process AUTHORIZED returns for items.
To make a Return or Exchanges: 
Obtain authorization for return or exchange by emailing us at support@bulletproofzone.com explaining the reason for the return or exchange.
Please use or indicate your order number as attention
Return or exchanges request submission must be within 14 calendar days upon receipt of shipment unless noted otherwise on the product description page.  Your return must be in original packaging and unused.
We encourage using USPS flat-rate shipping in returning products to receive a shipping expense refund. Buyers must ensure all returned parcels delivery receipt AND signature confirmation. We highly recommend insuring your parcel as we cannot issue a refund for an item that we do not receive back should it get lost/damaged during transit.
Refunds:
Should an item be returned because it was defective, misrepresented, not as described, etc., Bulletproof Zone will issue a full refund and will reimburse the customer for all shipping expenses associated with the return.
Please allow 5-10 business days from the time the item is received to process a refund. Refunds will only be issued to the original credit card that you use when placing your order.
We stand behind our products 100%!
By purchasing any of our items, the buyer certifies they have read and agree to our shipping, return, and privacy policies.
Price Guarantee
At Bulletproof Zone, we ensure that you get the absolute best prices for Bulletproof Vests, Plate Carriers, Bulletproof Clothing, Bulletproof Backpacks, as well as other tactical gear and safety products, all while ensuring the highest quality.
For us, providing products of the highest quality is unnegotiable. As always, high-quality products do not come cheap, but we ensure that it is reasonably priced using our exclusive contracts with the best protective product manufacturers.
We want you to feel confident that you are getting the absolute best price for the product you are ordering. To show our confidence in our prices, we offer a price guarantee to our customers. If you find out within six months from your purchase of an item that our company offered an item for a price higher than our competition, we will refund the difference. 
To get a refund, all you need to do is e-mail us a link to the product on our website and the same product on our competitor's website within six months from the date of your purchase, and we will process the refund accordingly.
Terms and Conditions of our 100% Price Guarantee:
You must have purchased the item from our website before requesting your Price Match Guarantee
Discounted goods and goods received as an Ad on such as; buy one, get one free offer are not eligible
The item must be in stock on the competitor's website
The 100% price guarantee is only valid within the first six months from the date of purchase
The competitor must be an online store; they may not have a retail location
The competitor website cannot be a discounter or an auction website (i.e., eBay, overstock, etc.)
The competitor must be an Authorized Retailer of the product in question
The Price Match Guarantee includes the item price and the shipping charges; it excludes sales tax
Why Bulletproof Zone?
At Bulletproof Zone, we are passionate about protecting lives. Every piece from our catalog is designed and rigorously tested to provide the highest quality of protection you need from firearms, explosives or even close quarters combat.
We've partnered with various manufacturers that operate within the United States under a strict set of guidelines both on a national and corporate level so that when you shop with us, you will be able to select from the highest quality body armor, ballistic plates and tactical gear available on the market.
Whether you are a military service member looking to find your own gear, a professional that operates in the security field, or an avid firearms enthusiast that capitalizes the importance of safety when shooting, our tactical gear will provide you the level of protection you need.
Any questions or concerns? Please call us at (408)-909-4938 or email us at support@bulletproofzone.com and a member of our professional support team will be in touch with you as soon as possible.
Customer Reviews
Write a Review
Ask a Question
Filter Reviews:
T-shirt
Denmark
side
people
comfort
questions
piece
Quality
price range
times
10/22/2021
Robert T.

United States
Great Vest
Comfortable, breathable, and near weightless. When I first bought this vest, it was to protect myself from stabbings as I worked in a county jail. Wearing it for 12 hours was no issue. Even during the summer. It was a little warm, but that was to be expected. It was no warmer than just wearing another shirt with the undershirt and uniform short I already wore. With that said, it was easy to conceal under my uniform shirt and comfortable with an undershirt under the vest itself. The straps are a bit rough on the skin to wear completely under (like under a normal t-shirt) but I'm sure you could find something to make it work if you really wanted. The material is flexible, and the bands give a little stretch. Great for a firm fit while not detracting from your ability to breathe. Currently, I am doing Private Security, and I still wear this under my uniform shirt unless I otherwise need to 'make a presence'. Which this does that. I can also attest to the 'stab proof' aspect of the vest as I had been shanked a few times in my last job. While it wasn't with sharp hunting knives, it works against common items you'd expect to see on the streets or in most places. For me, this works. The shipping was pretty quick for coming from Denmark many months ago as well, so that was a pleasant surprise. It took maybe a week or two, rather than what I was expecting and told to expect. For the quality, customer service, reliability, and comfort, this piece is going to be hard to beat. If you're thinking about getting it... get it!
01/14/2021
Nate

United States
Highly Recommend, best armor for the money
I purchased the DELTA version with Goldsheild. It is really thin and flexible. The carrier is extremely comfortable and fits well. I'll update this review about the cooling lining once the weather gets hot, but it's very comfortable now at 70F. Most armors with Honeywell Goldsheild are priced much higher(<$700). It's made from unidirectional aramid instead of being woven, which allows it to be more efficient therefore thinner and more flexible. It is also much more stab resistant. I looked at other armor around the same price range and they either were much thicker, lack stab protection, and/or lack carrier cooling lining. Concaelibity is extremely great. Concealable with a T-shirt, can notice slightly "buffed up" chest, look slightly more rectangle, and slightly printing on the back when pulling arms inward. Most people won't notice a thing. With a buttoned-up short sleeve shirt, it was invisible. The only thing different was that I appeared to have been doing more bench presses. Any cloths made from stiffer fabric (like BDU fabric) would conceal extremely well. keeping in mind, my armor is still new and hasn't broken in. It might even concealable with a Spandex shirt later. I personally contacted Protection Group Denmark, the CEO responded to me in a day. You can ask for Chesapeake testing papers, and armor dimensions for various sizes. Based in Denmark, the company seems very trustworthy. This armor is not listed on the 06 NIJ CPL, but they have a cheaper armor (Beta vest Alpha insert, also sold on this site) on it. Considering PGD is a pretty small company, the cost to be NIJ listed is extremely high, and it's based in Europe while NIJ standards are American. Chesapeake independent testing plus the use of reputable Honeywell ballistic matrail blended me to still trust this armor. The average BFD with .44 Mag was 36mm, where NIJ allowed is 44mm. Indicating they weren't cutting the edge. PGD's website hasn't been updated, so email them directly if you have questions. I ordered one size larger for overlap of the side. The armor arrived 7 weeks after ordering shipped directly from Denmark. The 10x8 pouch sits a bit low. I had a 7x10 Hesco L110 rifle trauma plate. It would sit really low and move. Maybe I'll modify the pouch. Highly recommend this product.
super comfortable, tried it last
super comfortable, tried it last Saturday in 84 degree temp, much more comfortable and cooler than my old vest, would highly recommend, ordered an 8x10 armor plate, hopefully it will stay just as comfortable