Protection Group Denmark ARCH Level IIIA Bulletproof Helmet
Product Details
Shipping and Returns
Price Match
Why Bulletproof Zone?
Protection Group Denmark ARCH Level IIIA Bulletproof Helmet
**Due to the high demand of this product, please allow 6-8 weeks for delivery.
*This Bullet Proof Helmet Can Be Shipped Internationally! 
This ballistic helmet is "high cut" leaving room for communication equipment in the form of headsets and hearing protection. Additionally, the rail system allows you to add; an O2 mask, lights, camera, night vision equipment, flashlight, weapon sight etc. and a GoPro camera on the front shroud to create the perfect tactical helmet setup. 
The ARCH ballistic helmet is made in high-grade Kevlar aramid from Dupont. 
Dupont is one of the world's leading manufacturers of Aramid fiber, making this the strongest ballistic helmet available from the PGD helmet series.

This helmet is made to resist handguns up to a .44 Magnum, and easily defeating the 9 mm at a velocity of 445 m/s with an average back face deformation at only 11.2 mm according to HPW-TP-0401.01B IIIA. 
In addition, the V50 helmet has been tested up to 720 M / S against fragments and shrapnel (17 grains) according to STANAG2920, which is the NATO standard for testing of bulletproof materials.
When a bulletproof helmet stops a projectile or fragment, a standard helmet is affected in a 130mm area around the impact, which is also called Blunt force trauma.
Our ARCH ballistic helmet is only affected in an area up to 75 mm. around the impact. It makes a world of difference in how deep the helmet is bent towards your head and thus also how much the helmet mitigates the shot.
Compared to similar helmets on the market, this is a 50% BFS reduction.
Protection Group Danmark have applied a layer of Polyrea spray paint around the entire helmet, ensuring that your ballistic helmet can withstand rain, oil and similar liquids. This strengthens your ballistic helmet and allows it to last for many years without the painting or the ballistic properties fading.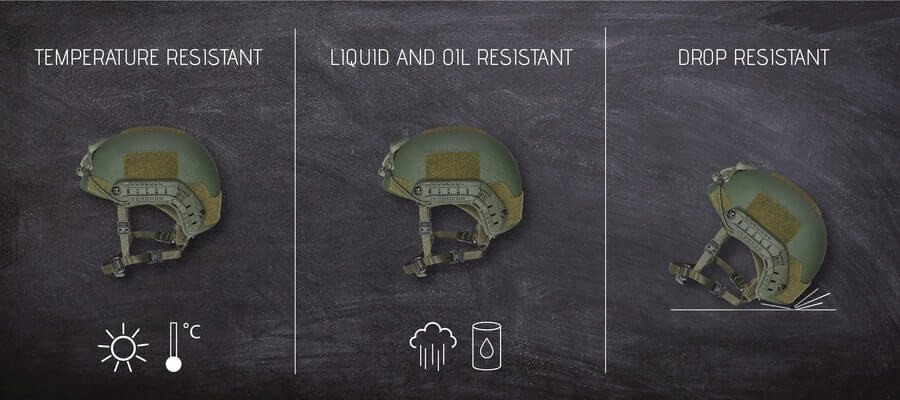 PGD ARCH helmet is a high cut helmet that provides space to wear hearing protection or communication equipment at the same time.
The helmet can be easily adjusted to your needs. It shapes to your head in 2-3 seconds and feels like a "flying" helmet because it fits snugly without feeling tight. We can do that with our 10 Memory Foam Pads liner system in the helmet.
The Liner system inside the helmet consists of 10 Memory Foam Pads, consisting of specially developed foam technology that not only makes the helmet comfortable to wear but also so that the blunt force trauma from bullet impacts is reduced. The Memory Foam pads are attached with Velcro and can easily be replaced with other suspension/padding systems.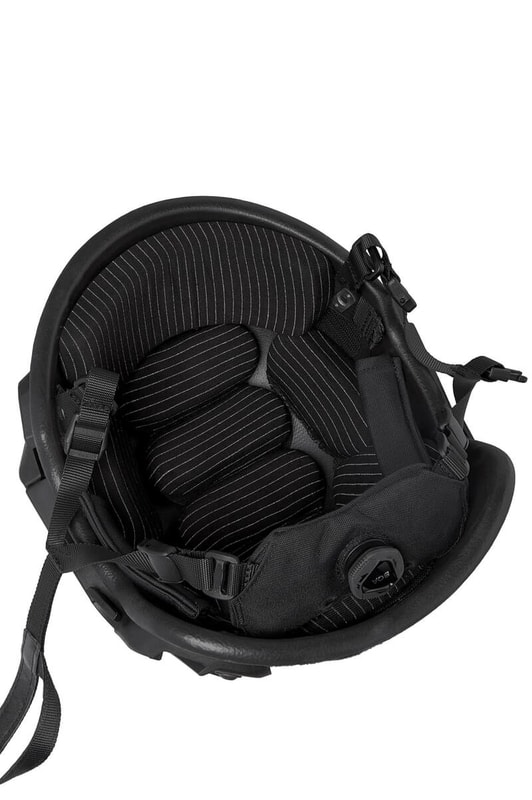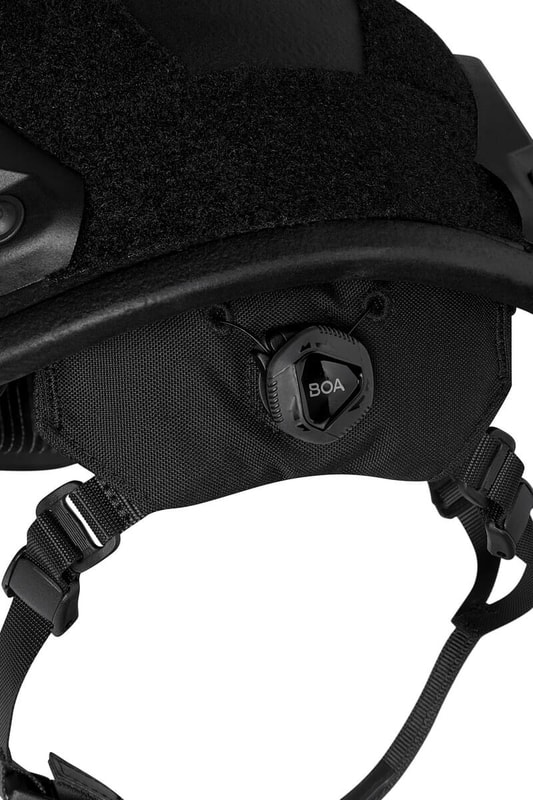 The ​​ARCH helmet also comes with our PGD buckle system, which uses high-quality materials from BOA, ITW Nexus and Duraflex. The BOA Fit buckle system fastens the helmet to the head and can be quickly adjusted via the rotary knob. BOA provides a performance fit at the highest possible level!
In addition the retention system is adjusted with the 4 Duraflex plastic buckles so that they have the correct length for your head.
Accessories can be attached on the rail and front mount system such as:
O2 Mask
COMs headset
weapon light
camcorder
side protection
strobe list
night vision
GoPro camera
Up-armor side covers
Protective visor
NVG Glasses
Picatinny Rail adapter
Covers for the helmet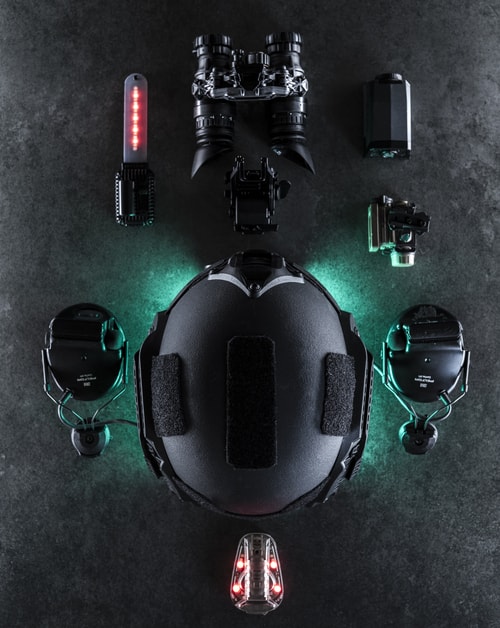 Product Features and Specifications:
NIJ IIIA; V50 ballistic test according STANAG2920, 17 grains at 720 m/s

Designed to stop the most advanced ballistic threats

50% BFD reduction against 9 mm (HPW-TP-0401.01B IIIA)

The weight of the helmet is 1.5 kg (incl. side rails and front shroud)

Manufactured in Kevlar Aramid from Dupont.

Size L. (54-60 cm) XL (60+)

5 year ballistic warranty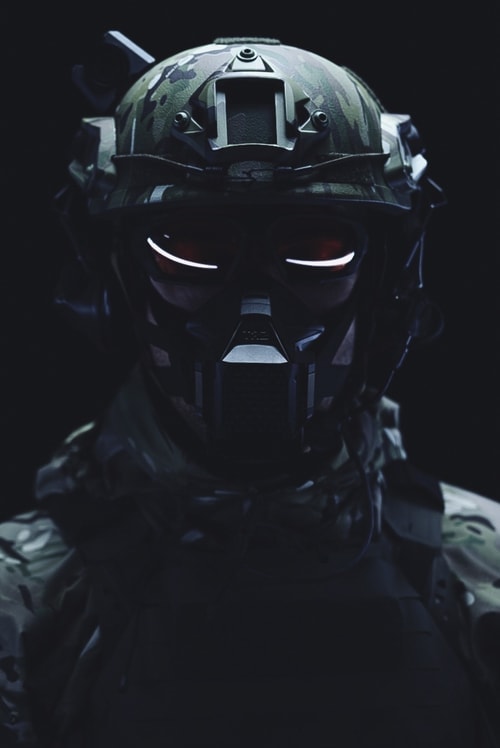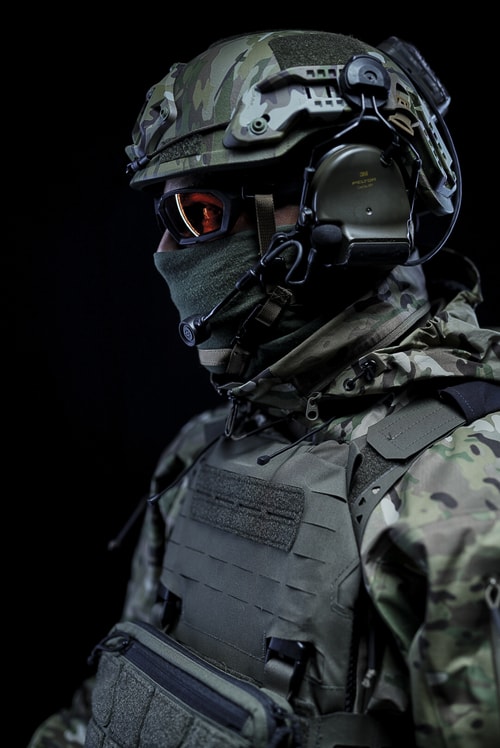 The ARCH helmet weighs only 1,15 kg / 2,5 lbs. (for the helmet shell without side rails, front shroud, boa and Velcro). This makes it a bulletproof helmet, which is one of the lightest aramid bulletproof helmets on the market. The less your equipment weighs, the more mobile you will feel.

(Pictures of ARCH ballistic helmet tested against .44 Magnum, 40 S&W, .357 SIG and 9 mm)
Below video is the ballistic testing from H.P. White Laboratory in the US against .44 Magnum, 9 mm and Fragments.
Bulletproof Zone will ship orders as soon as possible. For example, if you purchase three items, they will be shipped to you based on lead time and availability. This way you get as much of your order as soon as possible, which means that your order may come in separate packages, especially if you order products from different manufacturers.
We will bear the shipping cost for products returned because of product defect, misrepresentation, or false description. Afterward, we will initiate a full reimbursement should you decline an offer to replace the item with the same item of equal value and assured quality.
Order Confirmation:
As soon as you place your order with Bulletproof Zone, you will receive an order confirmation e-mail. This means that your order has been logged in our system and your credit card has been pre-authorized for the purchase. Afterward, we contact our suppliers to confirm the availability of the product you are ordering for immediate shipment. If your item is on backorder or unavailable, we will cancel the pre-authorization and duly inform you via e-mail.
Order Shipment:
Orders are shipped within five business days from the date of your order unless specified otherwise on the product page. The product page will contain the most accurate estimate on shipping and lead times. Shipping and lead times provided on the product page are our best estimates based various factors including order volume, information from our manufacturer, raw material fluctuations, etc., and may vary due to these factors. 
You will receive an email containing the tracking information of your order after the order has been shipped to your location. If you do not receive tracking information from us within seven business days of the lead time specified on the product page, feel free to follow up with us at orders@bulletproofzone.com.
Damages:
We take full responsibility for any obvious damage to your product caused by wrong packaging or delivering an already defective product. Please inspect the packaging of your item(s) when they arrive, if you notice any damage, you should document it when signing for delivery. If the item(s) contained in the package arrives damaged, please send photos to support@bulletproofzone.com, and we will process an insurance claim on your behalf. 
Returns and Cancellation Policy:
We back all our products with a customer satisfaction guarantee, so we created a fair return and cancellation policy.
All sales are final. No Refunds, No Cancellations. In most cases, once the order is processed, it is final and not cancellable. We may allow exceptions due to an order error or wish to return your order after delivery for any reason other than a product defect or misrepresentation. Any cancellation request is subject to an administration and cancellation fee equal to 10% of your order with a minimum of $35, whether order shipment is successful or not.
All sales are final on all closeout items and for custom manufactured bulletproof clothing once the manufacturing process has begun or not returnable unless there is a product defect or misrepresentation. Applicable to brands such as MC Armor, Israel Catalog, Masada Armor, BulletBlocker, Tread Armament, Talos Ballistics, Wonder Hoodie, and others. 
Before returning any product, you MUST obtain a return authorization from our customer service representative. We can only process AUTHORIZED returns for items.
To make a Return or Exchanges: 
Obtain authorization for return or exchange by emailing us at support@bulletproofzone.com explaining the reason for the return or exchange.
Please use or indicate your order number as attention
Return or exchanges request submission must be within 14 calendar days upon receipt of shipment unless noted otherwise on the product description page.  Your return must be in original packaging and unused.
We encourage using USPS flat-rate shipping in returning products to receive a shipping expense refund. Buyers must ensure all returned parcels delivery receipt AND signature confirmation. We highly recommend insuring your parcel as we cannot issue a refund for an item that we do not receive back should it get lost/damaged during transit.
Refunds:
Should an item be returned because it was defective, misrepresented, not as described, etc., Bulletproof Zone will issue a full refund and will reimburse the customer for all shipping expenses associated with the return.
Please allow 5-10 business days from the time the item is received to process a refund. Refunds will only be issued to the original credit card that you use when placing your order.
We stand behind our products 100%!
By purchasing any of our items, the buyer certifies they have read and agree to our shipping, return, and privacy policies.
Price Guarantee
At Bulletproof Zone, we ensure that you get the absolute best prices for Bulletproof Vests, Plate Carriers, Bulletproof Clothing, Bulletproof Backpacks, as well as other tactical gear and safety products, all while ensuring the highest quality.
For us, providing products of the highest quality is unnegotiable. As always, high-quality products do not come cheap, but we ensure that it is reasonably priced using our exclusive contracts with the best protective product manufacturers.
We want you to feel confident that you are getting the absolute best price for the product you are ordering. To show our confidence in our prices, we offer a price guarantee to our customers. If you find out within six months from your purchase of an item that our company offered an item for a price higher than our competition, we will refund the difference. 
To get a refund, all you need to do is e-mail us a link to the product on our website and the same product on our competitor's website within six months from the date of your purchase, and we will process the refund accordingly.
Terms and Conditions of our 100% Price Guarantee:
You must have purchased the item from our website before requesting your Price Match Guarantee
Discounted goods and goods received as an Ad on such as; buy one, get one free offer are not eligible
The item must be in stock on the competitor's website
The 100% price guarantee is only valid within the first six months from the date of purchase
The competitor must be an online store; they may not have a retail location
The competitor website cannot be a discounter or an auction website (i.e., eBay, overstock, etc.)
The competitor must be an Authorized Retailer of the product in question
The Price Match Guarantee includes the item price and the shipping charges; it excludes sales tax
Why Bulletproof Zone?
At Bulletproof Zone, we are passionate about protecting lives. Every piece from our catalog is designed and rigorously tested to provide the highest quality of protection you need from firearms, explosives or even close quarters combat.
We've partnered with various manufacturers that operate within the United States under a strict set of guidelines both on a national and corporate level so that when you shop with us, you will be able to select from the highest quality body armor, ballistic plates and tactical gear available on the market.
Whether you are a military service member looking to find your own gear, a professional that operates in the security field, or an avid firearms enthusiast that capitalizes the importance of safety when shooting, our tactical gear will provide you the level of protection you need.
Any questions or concerns? Please call us at (408)-909-4938 or email us at support@bulletproofzone.com and a member of our professional support team will be in touch with you as soon as possible.